I'm not terribly inspired, so I've let another day go by without updating my blog. I'm getting more and more behind! But anyway. The following are some promotions that might interest you.
_______________________________________________________________________________________
August is National Eye Exam Month and with the new school year having started for some, and for others, right around the corner, it's a great time for the entire family to get annual eye exams.
Did you know that:
80 percent of what all children learn comes through their sight
One out of every four children has a vision problem
Undetected vision problems can lead to learning difficulties

In honor of National Eye Exam Month, Sears Optical is offering free lenses valued at $140 with the purchase of any frame for kids 18 and under.  For more information about Sears Optical, cost savings and Independent Doctors of Optometry, visit www.searsoptical.com.
_______________________________________________________________________________________

Bendaroos has announced the kickoff of their first online contest for kids – the  "Create Your Dream" contest.  The contest challenges children to build, twist and transform Bendaroos flexible building sticks into an art form depicting their dream, whether that means a goal they would like to achieve, a favorite destination or a gift they hope to own.  The three children who design the winning entries will receive a $500 American Express gift card toward making their dream come true, and a chance for their creation to be featured in an upcoming Bendaroos TV advertisement.
To enter the contest, running through September, 30, 2009, children, with the help of an adult, should log onto www.bendaroosfun.com, click on their age category:  3-6, 7-9, 10-12, and then upload an image of their unique Bendaroos building sticks 2-D or 3-D creation.  The sky is the limit on the "dream" children can create – anything from a shiny new bicycle to dance lessons with the hopes of becoming a professional ballerina.
Judges will include an art teacher and a fine artist; they will judge the submissions according to originality, creativity and difficulty factor.  One child will be selected as the grand prize winner in each of the three age categories, receiving a gift card of $500 and a chance for the debut of their winning submission in a Bendaroos commercial.  In addition, one first prize winner in each age category will receive a $100 gift card and a Bendaroos 500-piece set; one second prize winner in each age category will receive a Bendaroos 500-piece set, and five third prize winners per age group will be awarded with a Bendaroos 200-piece theme set.
For more information on how to enter the contest and the official rules, as well as creative idea starters for using Bendaroos building sticks, visit www.bendaroosfun.com.
_______________________________________________________________________________________
Looking  for some last-minute summer boredom busters for the kids?  You can find some great ideas at You Can Make This, specifically in the "'Kids Can Make This" section of the website. There are free downloads that will help you teach your kids to sew with a fun fish pillow, learn how to make homemade beads, paper bag books,  and more!
There are also free newsletters that you can sign up for and you'd receive a bundle package of 7 eBooks and online video. You can find newsletters for everything DIY, sewing, crochet, and embroidery.  Each one of those comes with their own sets of free downloads, including how to make the "Debut" purse, how to appliqué, making a birthday table runner, and more.
_______________________________________________________________________________________
Care.com is running a Back-to-School special offer, where you can save 10% on your membership. For those that don't know what Care.com is:
Care.com provides a trusted place for families and care providers to easily connect, share caregiving experiences, and get advice. The company addresses the unique lifecycle of care needs that each family may go through — including child care, special needs care, tutoring, senior care, pet care, housekeeping and more. The service enables families to find and select the best care possible based on detailed profiles, background checks, and references for hundreds of thousands of mom-reviewed providers who are seeking to share their services.
Enter coupon code: backtoschool to save 10% on your membership. This offer expires September 30th.
_______________________________________________________________________________________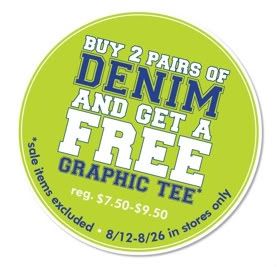 From now through August 26th, pick up two pairs of denim at The Children's Place and receive ANY graphic tee (reg. $7.50-9.50) for FREE!
To help you choose, they've created a new denim guide. Color coded to make shopping easier for mom and dad, the denim guide means no more stressing about styles and cuts – simply remember if your child is a "pink" "purple" or "blue" and you're set!