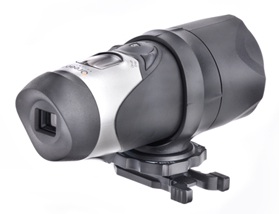 I've reviewed some really great products by Oregon Scientific lately, but the ATC2K Waterproof Action Cam might take the cake! It's a fully functional, hands-free digital video camera that just happens to be waterproof up to 10 feet. Weighing in at only 8 ounces and just over 4 inches in length, the ATC2K mounts easily on helmets, handlebars, or other sports equipment.
I wish I had something like this when we went to Jamaica in September. I could've used it in the pool, while snorkeling, windsurfing… Okay, I'll take back that last one because I wasn't brave enough to try windsurfing, but you get my drift. I can see how this camera would be so much fun for those into winter sports – skiing, snowboarding, snowmobiling. Even attaching it to a kid's sled would make for a great video!
The specs:
The ATC2K is PC and MAC compatible, and works seamlessly with most video editing software. A USB cable is included so you can transfer video to your computer, and an RCA cable for playback on your TV as well. The video produced is full color 640 X 480 VGA at 30 frames per second – even underwater! Onboard memory is 32MB, but it can take SD cards up to 2GB, which I'd say is a must-have. 2GB of memory can hold about 60 minutes of video, but the quality of the video can be adjusted to allow for more recording time. It works on 2 AA batteries, which aren't included. All mounting hardware comes with it – a handlebar grip and a variety of straps (velcro, rubber, etc.) – to easily attach the camera to just about anything. And the actual operation of the camera couldn't be easier. It has a one-touch record button and two other buttons to control the technical aspects of the video (resolution, frame rate, and image size).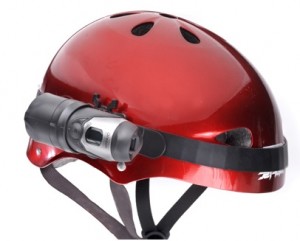 It's valued at $119.99, but for a limited time you can get $20 off the ATC2K by entering code ATC08 at checkout when you shop at the Oregon Scientific online store. A waterproof video camera for $100 bucks seems like a good deal to me! It would be a great gift for an outdoorsy-type or a kid who loves to show off their skills to their friends on YouTube. Visit www.atc2k.com to watch user-submitted video clips and see just what you can do with the ATC2K.
But first… a friend of mine complained that I don't have any giveaways for the "big boys" – so here ya go, Dave! You and the rest of my readers now have a chance to win an ATC2K Waterproof Action Cam of your very own.
All you have to do is visit the Oregon Scientific online store and leave a comment here letting me know what you would use this camera for!
US entries only. Please leave a valid email address or blog URL in your comment. This contests ends at 11:59 pm EST on December 17th, 2008. Winner will be chosen via random.org, and has 48 hours to claim their prize.