I have a little secret I've been keeping to myself for the past 6 weeks – I started eating low-carb on August 1st and have lost 20 pounds so far! I usually announce when I'm making such a huge change, but have realized that when I broadcast something like that to the world I tend to set myself up for failure. Anyway, this post isn't about my weight loss, but to introduce you to a new line of products that fit in perfectly into my low-carb lifestyle – Atkins Cuisine All Purpose Baking Mix and Penne Pasta.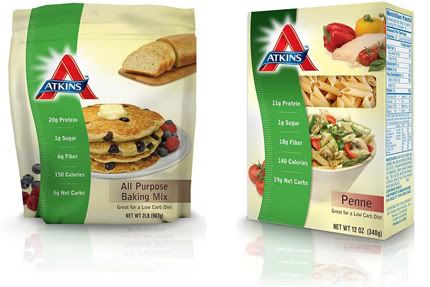 I'm not going to lie to you. Eating low-carb is hard. Especially when it comes to making meals for my family. I haven't experimented with low-carb products or recipes much. Will my family agree to eating faux mashed potatoes made out of cauliflower? No way. And I'm not about to make something different for myself to eat, so everyday I basically eat whatever I make them for dinner, aside from the starch. This means I haven't had pasta, rice, bread, or potatoes in over a month. When Mom Central offered me the opportunity to try out the new Atkins Cuisine products, I was all "Pick me! PICK MEEE!" Seriously. I miss the texture of bread and pasta, you know?
Atkins Cuisine makes it easy to eat your favorite foods without compromising your diet. The Penne Pasta has around half the carbs of regular pasta and is packed with 18 grams of fiber and 11 grams of protein per 1/2 cup serving (dry). Yes, 18 grams of fiber. That's not a typo. Isn't that just crazy!? It takes a little longer to cook, but I was very happy with the flavor and texture of this pasta.
As much as I love pasta, however, the All Purpose Baking Mix was the product I was most looking forward to, since I have a thing for bread and sweets. It did not let me down! There are 6 grams of fiber in 1/3 cup of the Baking Mix and it's just as easy to use as Bisquick. I took a look at the recipes on the Atkins website and saw that I had everything to make biscuits, so that's what I made to accompany steak and veggies for dinner. The preparation took minutes. I mixed 2 cups of the Atkins Cuisine All Purpose Baking Mix with a little baking powder, a stick of butter, dash of Splenda and salt, and a generous amount of heavy cream. I'm lazy so I skipped the kneading and just made "drop" biscuits. They were golden-brown and ready to take out of the oven in around 15 minutes. I immediately opened up a biscuit, spread butter on it, and took a bite. I didn't even wait until they cooled off! One word – HEAVEN. Warm, dense, moist, and at 2 net carbs per biscuit, this is something I could definitely treat myself to once in a while! There are tons of other uses for the baking mix – pancakes, cookies, muffins, pizza dough, bread sticks, waffles, pie crust, etc. – so I can definitely see myself using this product again.
The true test is whether my family likes these new products, and I'm happy to say they do! I tossed the pasta with garlic and olive oil, and my husband couldn't tell the difference from regular pasta. My girls both asked for seconds. The biscuits were gone in minutes. My husband said they were very "whole-grainy" but good nonetheless. I will definitely reach for these products whenever I feel my family needs an extra boost of fiber and protein.
I wrote this review while participating in a blog campaign by Mom Central on behalf of Atkins and received samples to facilitate my candid review. In addition, Mom Central sent me a gift card to thank me for taking the time to participate.