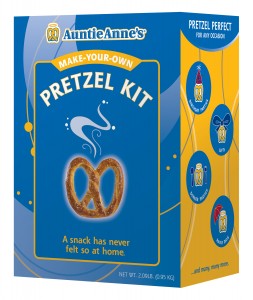 I received an Auntie Anne's Make-Your-Own Pretzel Kit last week and thought it would be a fun project for Maya and I to work on while MJ napped one afternoon. This kit includes all the dry ingredients you need to make 10 huge original or cinnamon sugar pretzels. All you have to provide is vegetable oil, non-stick spray, and butter, which I always happen to have in stock!
Maya loves helping me in the kitchen, so she had a blast mixing, rolling, and twisting the dough. I honestly don't remember ever kneading dough before this. Should I be ashamed to admit that? I wasn't quite sure if I was doing it right, or when to stop. But the pretzels turned out amazing. They tasted exactly like the ones you get at the mall. Tasted is the keyword there, because they didn't turn out anywhere near as perfect-looking. Looking back at the photos, I see now that I didn't twist the pretzels quite right! It could be a bit of a challenge for those that don't bake from scratch much, but the kit seems pretty foolproof!
The instructions are easy to follow, and there's even a template for you to base your pretzel shape on. Rolling them out is a little complicated because they tend to stick, but I found that the faster I did it, the easier it was. I was amazed at how quickly they bake! They were out of the oven in less than 10 minutes.
The entire process took us maybe an hour and a half from start to finish, but that includes cleanup and the 45 minutes we had to (patiently) wait for the dough to rise.
Maya's favorite part was "painting" the pretzels with butter.


Okay, that was her second favorite part of the process.
She loved eating them the most!

We ended up with around 15 pretzels because I lost count when separating the dough, so we had leftovers for a few days. They're best eaten straight out of the oven, when they're so soft and warm, but are also a great crunchy snack a few days later. I had never tried the cinnamon kind before, but I have to say that they are delicious. They taste like cinnamon buns!
As a little pre-Valentine's treat, I twisted a few of the pretzels into heart shapes. They were a big hit with my girls! I think this would be a great alternative to the usual cookies/candy and will keep it in mind for upcoming parties.
Auntie Anne's Make-Your-Own Pretzel Kits are available for $12.95 at your local Auntie Anne's or online at https://www.shopauntieannes.com. I will definitely be buying this kit again! The end result was totally worth the time spent preparing them. Click here to locate a store near you!