Back to school time is always exciting and busy for kids and parents. There is so much thought and preparation that goes into a first day of school. In addition to back-to-school shopping for fall clothes and school supplies, we make a special effort to enjoy and capture those moments of the first day.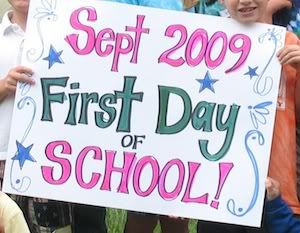 In our family, we have a tradition of having the kids pose with a homemade sign that reads "First Day of School." Any nervousness they may have felt when they left that morning is replaced with giddiness and optimism. They are usually brimming over with stories about their classrooms, teachers, and friends, new and old. Then, we "toast" the year ahead with popsicles.
Traditions, like this, can help kids with big life transitions. The year we moved and the kids started at a new school in another state, the familiar routine of posing with "the sign" brought some comfort on an otherwise anxious day.
My collection of "first day" photos is getting bigger as my kids are growing up. Fortunately, they are still not too old to appreciate this tradition. These photos, as well as the others that I take throughout the school year, are just right for Tiny Prints' adorable back-to-school supplies like personalized notebooks and labels for all their "stuff."
Do you and your kids have any special back-to-school traditions?
Disclosure: Nicole was provided with a Tiny Prints gift card as a thank you for sharing her story with you.