It's hard to believe that this summer is already coming to an end! I'll miss the lazy summer days, but I think I'm ready for school to start. Are you?
Join us for the Back to School with FiOS Twitter party.  We'll be sharing back to school transition tips, loveable stories about our kids and discussing ways to make our children's school projects more successful this year. It's going to be a fun-filled event!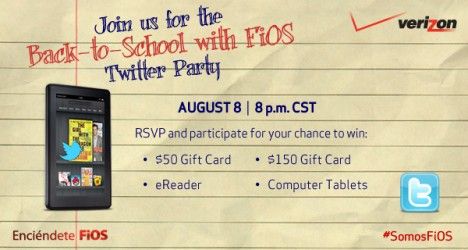 Verizon FiOS, an all fiber-optic based network that delivers the fastest, most consistent, most reliable broadband connection available in America, offers  home communications (Internet, television, and telephone) service in parts of 12 states and the District of Columbia.
Verizon has received top ratings in major studies and from a leading national consumer magazine among cable television and Internet service providers. With bundles available to suit your needs, FiOS TV offers over 550 channels, including more than 135 HD channels. Furthermore, Verizon FiOS offers the most Spanish language HD channels of any other cable provider.
With the introduction of Quantum, Verizon's newest and fastest FiOS internet, Verizon is meeting consumers' need for faster home broadband service in the face of rapidly expanding Internet and multiple device use. FiOS Quantum's new Internet tiers will help customers enjoy connecting to desired content anytime and anywhere, as well take advantage of the rise in bandwidth-intensive activities.
Party Details:
What: Back to School with FiOS Twitter Party
When: Wednesday, August 8th, from 9 to 10:30 PM EST
Where: Twitter
Hashtag: #SomosFiOS
Who to Follow:
Prizes:
Winners will be selected at random, for a total of 5 winners.
(1) $50.00 Gift Card
(1) $150.00 Gift Card
(1) Personal E-Reader
(2) Personal 8 GB Tablets
Rules: For the official rules, please please visit Latina Mom Bloggers.
RSVP: To be eligible to win prizes, you must RSVP at Latina Mom Bloggers.
*This is part of a compensated campaign with Latina Mom Bloggers and Verizon FiOS. All opinions are my own.