A new and exciting partnership with Backyard Discovery!
Backyard Discovery manufactures wooden playsets. You've probably seen their products at Walmart, Sam's Club, BJ's, and Toys "R" Us. We're getting one of their new playsets installed in our backyard tomorrow. I'll be blogging, vlogging, and tweeting about our experience with the set, as well as documenting our adventures in several guest posts for the Backyard Discovery website. And for those of you that are lucky enough to live near me, you may even be invited to a special backyard play date! In exchange, Backyard Discovery will be covering all my expenses associated with the BlogHer '10 conference this summer.
We've been playset owners for 5 years now, so I understand how much though goes into this type of purchase. From researching the playset itself, to figuring out where to put it, what type of mulch/wood chips to put down around it, and maintaining it… it's tough! Such a worthwhile investment, though!
With sets starting at just $399, Backyard Discovery's playsets aren't too hard on the pocketbook, and judging from the descriptions and reviews I've read online, a great value. They've just released their new line of swing sets and playsets for 2010… you'll find the classic belt swings and slides, but also fun accessories like steering wheels, telescopes, rock walls, and trapeze bars. Plus, they have no chemical treatments and are made of 100% cedar, which makes them naturally decay, rot and insect resistant.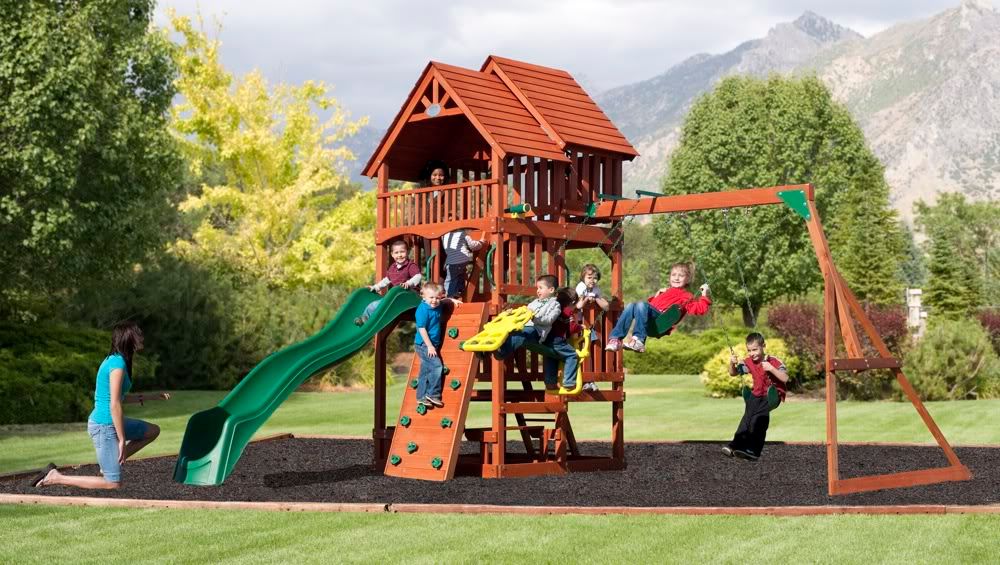 We're getting The Highlander, pictured above, and are so excited about it! With four levels of fun, this playset has two belt swings, a two-person glider, and a wave slide. The lower level has a picnic table and space that we can use as a storage area for toys or maybe even as a sand box. There's a ladder to climb, and a rock wall, for more of a challenge. But the four-level fort is what my girls are really looking forward to! Our old swingset was taken down a few days ago to make room for The Highlander… I'm eager to see what makes Backyard Discovery's playsets different from the rest.
If you're thinking about buying a playset now or in the future, please join me on this fun adventure! I'd be happy to answer your questions, and you can also visit Backyard Discovery's Facebook page for interesting facts and advice on buying a playset that's right for your family. If you're on Twitter, tune in to @swingsetsonline and the #backyardplay feed. Oh, and follow me of course – @ohMariana – if you're not already! 😉
Visit www.swingsetsonline.com to see Backyard Discovery's complete range of playsets.
Disclosure: As part of an ongoing relationship, Backyard Discovery provided my family with the wooden playset pictured above, and will be covering my BlogHer '10 conference expenses.