Are you hosting an Oscar party next weekend? I haven't decided if I will or not. I had friends over to watch the Globes, but this Sunday is a busy day for me and I don't want to stress over cleaning the house and all that. Plus, I kind of like watching the show live, without interruptions, from start to finish. I'm slightly obsessed with awards shows strange like that.
If you're looking for an elegant, yet super easy appetizer to make for your next gathering, look no further. This is another recipe from Everyday Food that I love, love, love! It's not cheap – and not exactly kind to your waistline – but it'll be a hit. I guarantee it.
Baked Brie with Pecans and Maple Syrup
You'll need…
1 wheel of Brie (I usually get an 8 or 9 oz wheel; costs around $6-8)
1/2 cup chopped pecans
3 tablespoons brown sugar
3 tablespoons pure maple syrup
crackers or sliced baguette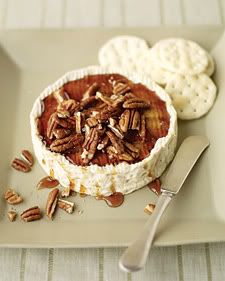 Directions…
1. Preheat oven to 350 degrees. Unwrap cheese and place on a baking sheet. Bake until softened, around 15 to 20 minutes. Transfer to the serving plate, and let cool for 20 minutes or so. Not too long.
2. While the cheese cools, place nuts on a baking sheet and bake until fragrant, 7 or 8 minutes. Watch them so they don't burn! Burnt pecans don't taste good at all. Sprinkle nuts over cheese.
3. In a small saucepan, whisk together the sugar and maple syrup. Bring to a boil over medium heat, and simmer until foamy, 1 to 2 minutes. Drizzle warm sauce over slightly cooled cheese and nuts. Serve with crackers or baguette.
Tip: If you cut off the top of the rind carefully, it sort of turns into a bowl of Brie, making it easier for guests to serve themselves. Otherwise the cheese oozes out when you slice through it. Measurements above are the suggested quantities from the original recipe. I just eyeball it, though, and generally double the pecans and maple syrup because the sweet and salty combination is so, so good! If brie isn't your thing, I just saw this Honey-Drizzled Cheddar Cheese recipe in an email from Kraft.
Bon appétit!
This recipe is shared at the Sabroso Saturday link-up, hosted by Latina on a Mission!
Recipe and photo courtesy of Everyday Food magazine.