At Toy Fair last week, I briefly walked through the Mattel booth, as I couldn't get a full tour. Since it was my first time there, I had no idea that they wouldn't even let me into the showroom without an appointment! Learned my lesson. Anyway, I did get a glimpse of what's new in the Barbie world this year, and these are just a few highlights!
____________________________________________________________________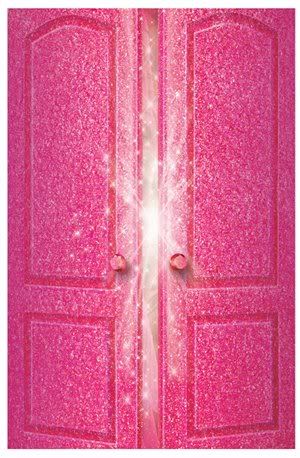 For more than 50 years Barbie has been the world's most popular fashion doll, inspiring girls to 'try on' different roles and encouraging them to play out their dreams. This year, Barbie is opening her pretty pink closet! Girls of all ages will have the opportunity to design, inspire and create with new Barbie products that will be introduced throughout the year.
Barbie I Can Be…Fashion Designer
I Can Be… dolls are a great line. Designed to inspire and delight, they are both affordable and unique. With more than 130 careers under her pink belt, this year Barbie is channeling her inner artist and going 'behind the seams' to embark on her exciting new career as a fashion designer. Wearing a cute and comfy outfit, and sporting tools of the trade such as a wearable wrist pincushion and a tape measure, she carries a tablet so she can sketch, style and research anywhere she finds inspiration. In stores now, and on MattelShop.com and Amazon.com for $13.99.

Barbie Design & Dress Studio Doll
This set, that allows girls to design their very own fashions for Barbie, is one that I know Maya, my 7-year-old, would love! It comes with everything a girl needs to create customized fashions for Barbie and gives girls the opportunity to become a real-life fashion designer using their imagination and creativity. Basically, you choose a dress to decorate, color and embellish it using the stencils and fabric marker, and then tear away the paper frame to finish your one-of-a-kind creation! Design tools include holographic sticker sheet, two stencils, and three marker pens. Refill packs are sold separately. In stores now, and on MattelShop.com and Amazon.com for $21.99.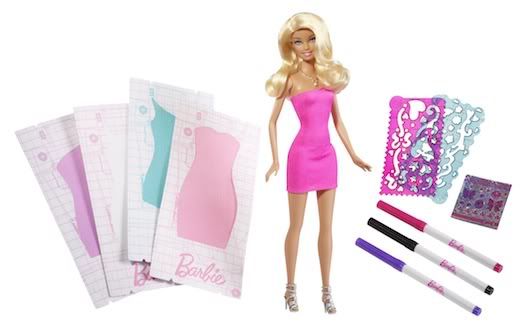 Ken My Cool Mini
For the first time ever, Ken is getting a car of his own! And it's not just any car, it's a fiery red Mini Cooper! With its sleek design and chic black interior, this two-seater is perfect for driving his best gal, Barbie, around in style! In stores now, and on MattelShop.com and Amazon.com for $26.99.

Dolls of the World Collection
Established in 1980, the Dolls of the World Collection is the largest and longest-running series in the history of the Barbie brand, and one of my favorites! After more than 30 years of success and over 100 dolls created, the line has re-launched this year with a fresh new look.
Each doll wears a beautiful ensemble inspired by the traditional dress of various countries and regions around the world. Every doll also comes with a 'passport' and a special pet providing extended play value. Argentina with a puma, Australia, a koala, China, a panda, Ireland, an Irish Setter puppy, Mexico, a Chihuahua, etc. A little stereo-typical, perhaps, but still fun! Visit www.barbie.com/dollsoftheworld to travel the world with Barbie, play games and learn fun facts from each country. Dolls of the World Barbie dolls retail for $29.95 each and are available in stores, and online on MattelShop.com and Amazon.com.
Argentina (the first!), Australia, China, and Ireland are available now: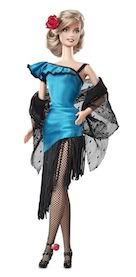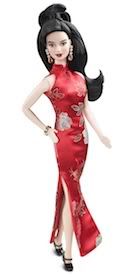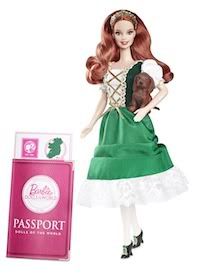 Mexico, India, Holland, and Chile will roll out later this year.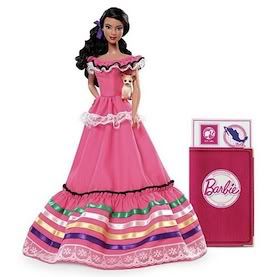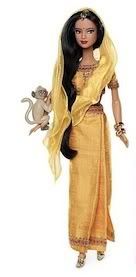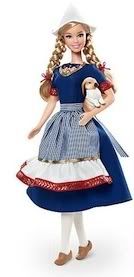 Dancing with the Stars Barbie dolls
Out just in time for the new season of Dancing with the Stars this Spring, these three dolls are ready to dance! Available in Waltz, Paso Doble, and Samba, they retail for $29.95 each on MattelShop.com and Amazon.com.

William & Catherine Royal Wedding Giftset
Last April, the world watched as Prince William and Catherine Middleton said "I Do" at their fairytale wedding. The Barbie Collector William and Catherine Royal Wedding giftset, available this April, commemorates the first anniversary of the royal couple and their momentous wedding day. Wearing wedding day attire inspired by their iconic original outfits, I think these dolls really do the couple justice! The Prince William doll looks regal dressed in his traditional uniform, while the Catherine Middleton doll wears a floor-length ivory gown fit for a princess. This set retails for $100 on www.barbiecollector.com.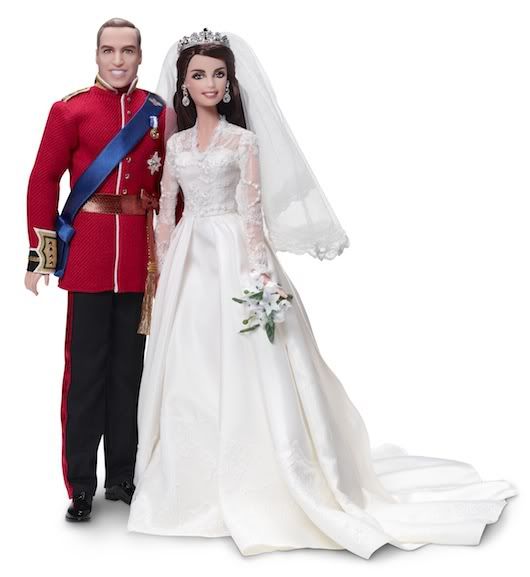 Barbie Ultimate Closet

Barbie doll's closet is just as iconic as her shoe collection and Dreamhouse, and now, girls can fill and organize their fantasy wardrobes with this fabulous new product! The closet includes a ring for girls to wear that unlocks extra content in the Endless Closet Fashionistas mobile app for the iPhone or iPad. A new line of Barbie Fashionistas dolls will also come with this special ring. Available this summer for a suggested retail price of $24.99.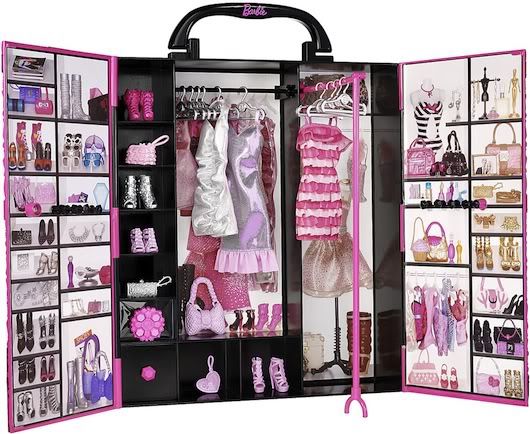 Barbie Photo Fashion Doll
This doll comes with her own digital camera built in. Girls can select from pre-loaded graphics or take their own pictures, which will magically appear right on Barbie's own t-shirt. Using website software, girls can add frames and special effects to photos and create personalized slide shows. The doll holds more than 100 images and features an internal rechargeable battery. Available this Fall for a suggested retail price of $49.99.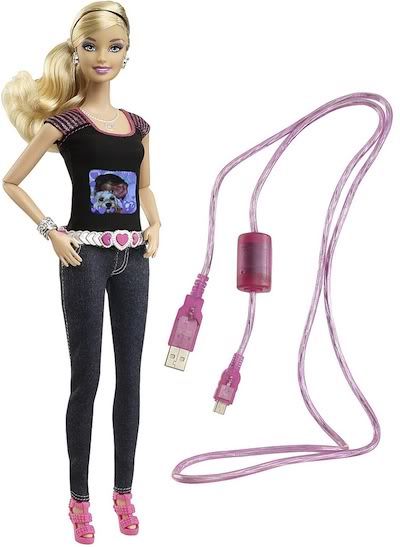 And lastly, a sneak peek at the 2012 Holiday Barbie!
She'll be wearing a gorgeous red gown this year.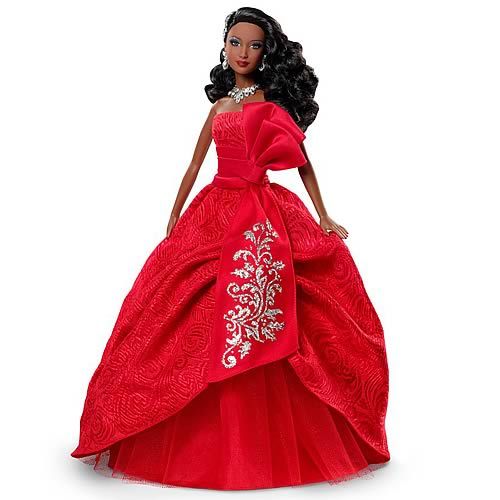 Do any of these new products appeal to you? Right now, MattelShop.com is offering free shipping on new arrivals! On orders of $50 or more only, but that shouldn't be hard to get to if you're a Barbie fan like me! 😉
Speaking of being a Barbie fan, there's a brand new Barbie website for girls of all ages – www.BarbieWow.com – that just launched this month. It's a little slow to load, but there's a lot to see. Once inside, girls can explore a world of endless fashion, accessories and imaginative play, through interactive activities such as a design studio to dress up Barbie and augmented-reality "mirrors" to dress themselves up using the doll's favorite fashions. In partnership with Polyvore, girls can take inspiration from Barbie to create real-life looks and designs that are all their own.