"They say it takes you your whole life to write your first record, and in our case the first two records, and that you have to write your second record in just a matter of months.  So we went into the songwriting process conscious of that, and really made an effort to just leave ourselves behind.  We wrote about about life, the world, how we felt, how we will feel.  In that sense, these songs are like time travelers in that they exist on a much more ethereal plane, and that's what 'give up the ghost' means to us."
That's how Brandi Carlile explains the title of her new album, Give Up The Ghost.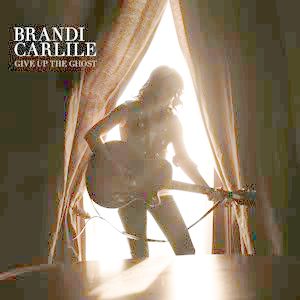 So who is Brandi Carlile, you ask?
Washington state-bred Brandi Carlile was inspired to pick up the guitar and learned to play after seeing the Indigo Girls in concert at Lilith Fair. Her last album, The Story, debuted on Billboard's Top 200, peaking at #2 on iTunes and many of her songs have been featured on various episodes of "Grey's Anatomy". If you like KT Tunstall, Indigo Girls, Missy Higgins, or Rachael Yamagata then you will LOVE Brandi Carlile.
Give Up The Ghost, Brandi's third album, was recorded at Sunset Sound in Hollywood, birthplace of legendary recordings by The Doors and Led Zeppelin. The first single, "Dreams," was written with her longtime bandmates, twin brothers Tim and Phil Hanseroth.
The recording of Give Up The Ghost presented the realization of a dream for Brandi – the opportunity to work with her childhood idol, Elton John. "Brandi has an amazing voice," he says. "She's a great songwriter and has a tremendous career ahead of her." He duets with her on the song "Caroline" and played a key a role in her evolution as an artist: "When I discovered Elton John, I realized that performers could write and perform their own songs, and I immediately went out, got a keyboard, and started writing," Brandi says.
Give Up The Ghost tracklisting:
Looking Out ~ Dying Day ~ Pride And Joy ~ Dreams ~ That Year ~ Caroline
Before It Breaks ~ I Will ~ If There Was No You ~ Touching The Ground ~ Oh Dear
I'm not sure how to describe her voice other than to say it's soulful. Deep. Her lyrics are heartfelt, and many of the songs have a country feel. My favorite song on the album is "Caroline," the duet with Elton John. This song was inspired by Brandi's niece, and is loving and playful, just like you'd imagine a song about a child to be.
On "That Year," Carlile remembers a friend who committed suicide while they were both teenagers.  "You should have taken a long break instead of a long drop from high place…" It's so sad, but so beautifully written. A recent dream about her friend inspired her to write the delicate and heart-wrenching track.
"If There Was No You," "Oh Dear," "Touching The Ground," and "I Will" are all subtle love songs – written almost like poetry – while "Dying Day" is more to the point – "How I miss you and I just want to kiss you and I'm gonna love you till my dying day."
For more information about Brandi, please visit her website and become a fan on Facebook. Give Up The Ghost is available now on Amazon (where you can also listen to samples) and other music retailers.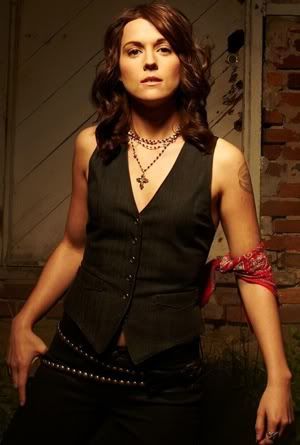 Leave a comment on this post to be entered to win Brandi's new album! Mine went straight to my iPod. 😉
For extra entries:
Subscribe to my feed (or let me know if you already do).
Follow me on Twitter (@OhMariana) and tweet about this giveaway: I just entered to win a Brandi Carlile's new album – Give Up The Ghost –
from @ohMariana! https://bit.ly/1GhXfy
Grab my button (at the bottom of the page) and link to me in your sidebar or blog roll.
Become a fan of Riding With No Hands on Facebook and share this with your friends!
Contest ends: November 1st, 2009 11:59 pm EST. US and Canada entries only. Leave a separate comment for each entry & a valid email address/blog URL. Winner, chosen at random, has 3 days to claim their prize.
BRANDI'S ON TOUR NOW!!
"Give Up The Ghost Traveling Show" kicked off September 10th in Salt Lake City, UT and has stopped at legendary venues across the country. Brandi donates $1 from every ticket sale to The Looking Out Foundation a helping hand foundation she created to aid the many causes she's passionate about. There are a couple of shows left!
Oct 20 San Francisco, CA Fillmore
Oct 22 Portland, OR Arlene Schnitzer Concert Hall
Oct 24 Seattle, WA The Paramount
Written for One2One Network, who supplied the product for review and giveaway. Other than a digital album download, no compensation was received for this post.