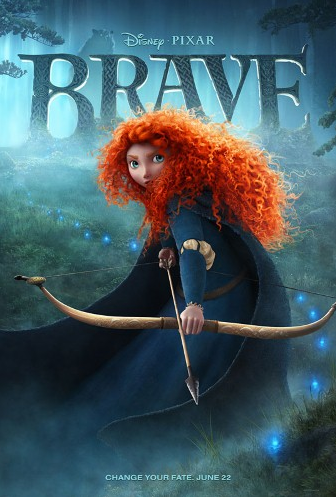 My niece took my girls to see "Brave" last night while my husband and I went to another movie by ourselves. This morning I thought I'd get their thoughts on the film while it was still fresh in their minds…
What did you think of the movie?
Maya: What movie? Oh, that movie. It was scary. A sword popped up in your face. And a big bear, too.
Maura: I wiked it.
Who was your favorite character?
Maya: Merida.
Maura: The mom. Merida's mom.
Why?
Maya: Because she's brave, smart, and she won't let anything stand in her way.
Maura: Because she turns into a bear.
Where did the movie take place?
Maya: In a kingdom, in the forest. I think in South America.
Maura: I forgot.
Did you have any emotional reaction to it? Did you cry, get scared, laugh?
Maya: I cried at the end. I had a bunch of tears. But you haven't seen it yet so I can't tell you why.
Maura: I kind of cried. Not like "waaaah" but a little bit.
Would you want to watch Brave again?
Maya: YES! A million times yes.
Maura: Yes! A thousand times. Infinity times. I LOVED that movie!
About Brave:
Set in the rugged and mysterious Highlands of Scotland, Disney•Pixar's "Brave" follows the heroic journey of Merida (voice of Kelly Macdonald), a skilled archer and headstrong daughter of King Fergus (voice of Billy Connolly) and Queen Elinor (voice of Emma Thompson). Determined to change her fate, Merida defies an age-old custom sacred to the unruly and uproarious lords of the land: massive Lord MacGuffin (voice of Kevin McKidd), surly Lord Macintosh (voice of Craig Ferguson) and cantankerous Lord Dingwall (voice of Robbie Coltrane), unleashing chaos in the kingdom. When she turns to an eccentric Witch (voice of Julie Walters), she is granted an ill-fated wish and the ensuing peril forces Merida to harness all of her resources—including her mischievous triplet brothers—to undo a beastly curse and discover the meaning of true bravery. Directed by Mark Andrews and Brenda Chapman, and produced by Katherine Sarafian, "Brave" is a grand adventure full of heart, memorable characters and signature Pixar humor. Opened on June 22, 2012, in Disney Digital 3D™ in select theaters.
FUN BRAVE STUFF
Download a bunch of printables, recipes, and other Brave-themed activities here.
Purchase anything from Disney's Brave Store through tomorrow (Sunday), and everything in your order ships free! Use code: BRAVESHIP.
LATEST VIDEO CLIPS