This is part of a compensated campaign for Sverve and the Brooklyn Creamery Company.
I just heard about this new product from the Brooklyn Creamery Company… it's an all new, all natural fresh dairy cream that's extra thick and spoonable, similar to British style ''Double Cream."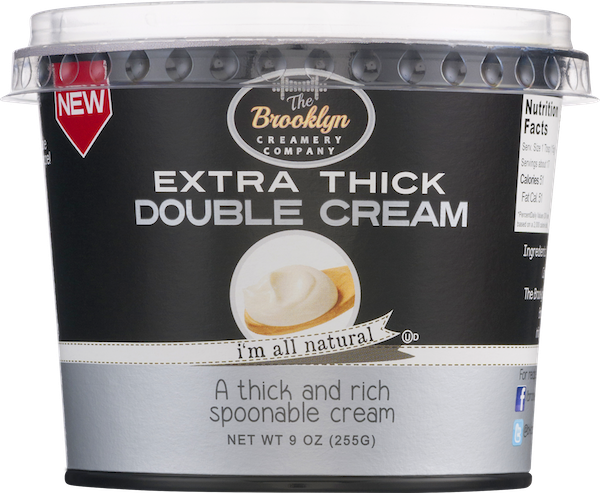 You can choose from an Extra Thick Double Cream and Extra Thick Single Cream. Treated using a unique process that gives it a rich, creamy and spoonable texture, it's much richer and has more uses for cooking than heavy cream, which is a liquid, obviously. The thickness is similar to sour cream or crème fraîche but without the sour or tangy taste. Just pure fresh cream! Nothing like this exists on the market yet, that I know of.
Double Cream has a 42% milk fat content, which is about half the fat of butter. Single Cream has 21% milk fat, and is less thick because it has half the fat, but can also be used as a coffee creamer, so that's a plus. The creams are gluten free, kosher, and made using rBST free milk with no artificial ingredients. They have no added salt, no sugar, and no carbs. What's cool about these creams is that they're not ultra pasteurized the way typical heavy creams are, which keeps more nutrients in the cream as well as giving it a thicker, richer taste.
How can you use it? These creams are very versatile in that they can be used in many ways!
Spread onto toast, waffles, bagels, and scones.
Add texture and thicken dips, soups and sauces.
Dollop onto fresh fruits, like strawberries, peaches, and blueberries.
Used in all types of desserts…

Piping, layering onto cakes
Making homemade ice cream and gelato
Creating delicate mousses
Topping pies

Single Cream can be used to make a homemade coffee creamer – just mix with any flavoring. Ex: Vanilla extract, Peppermint oil..
Single Cream can also make scrambled eggs creamier and thicker.
Double Cream can be whipped to make homemade whipped cream. Add any type of flavor/sweetener by mixing with cream for just a few minutes. Ex: Crushed Oreos, brown sugar cinnamon, honey, vanilla extract…
Double Cream can also be used to make a homemade spread. Whip double cream into a thick consistency (similar to butter), adding your favorite herbs and spices. Leave in refrigerator overnight and enjoy a thick homemade spread.
As you can see… double the flavor of heavy cream, double the uses!
BUY IT!
You can find BK Creamery products at any Stop & Shop and Giant location. If you don't see it in stores, you can request it from the Store Manager – they may stock it just for you! Visit bkcreamery.com for more information, and click here for a printable coupon.
This weekend I'll be heading to my local Giant for an in-store demo of the Double Cream, and I'll pick up a tub. In a couple of weeks, I'll let you know what I think of it and share a recipe or two in another post. If you'd like to attend a demo yourself, see the full list of demo locations here.
Have you ever tried Double Cream before?