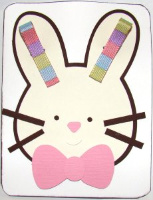 Remember the adorable hair accessories that I recommended for your little Valentine earlier this year? I feel like it was just yesterday, yet spring is already upon us! The first thing that comes to mind besides flowers and warm weather is – Easter!!
I'm happy to report that Bugalug has expanded their product line to include some charming handmade Easter cards. This bunny card is particularly adorable! It has slots so you can clip two of Bugalug's famous barrettes onto the bunny's ears (they have to be bought separately). The inside of the card is blank so you can write anything you want, or you can even have it sent directly to the recipient, and the lovely ladies at Bugalug will handwrite a personal message of your choosing. They also have an Easter basket card, but if you're looking for something not holiday-focused, there are other cute options perfect for spring – butterflies with barrettes as wings, for example.
Besides cards, Bugalug has a great new line-up for spring.




There's a special limited-edition Easter egg barrette, as well as a tulip and a striped option, all in beautiful, bright colors. The Pony Loops come in so many different designs – I think I said it in my previous review, but I'm the one that wears these! I especially love this little pink and brown one. It's so cute and girly, but not childish at all.
We've been using Bugalug products for just about 2 months now, and I can definitely tell you that everything is of good quality. We still have all the accessories that I mentioned in my review, and many of them (like the soother clip) are used daily. In fact, this is the longest that I've had a pacifier clip last without breaking! Even more surprising is the fact that my girls haven't lost any of their barrettes – because they actually stay in their hair.
So check out Bugalug. The gift cards I mentioned above sell for $4.50, and Pony Loops are $3.50. The soother clips will be back in stock next week, so you don't want to miss out. Happy shopping!!