This post is part of a compensated campaign by Build-A-Bear Workshop and The Motherhood.
Opinions, experiences and photos shared here are all my own, and I hope you enjoy them.
Your kids – and kids everywhere – do amazing, selfless things every day. It's time to recognize them! Huggable Heroes is a program created by Build-A-Bear Workshop that does just this – it recognizes and rewards kids for extraordinary acts of service.
From now through June 12th, Build-A-Bear Workshop Guests can nominate a young person age eight through 18 by visiting buildabear.com/huggableheroes or in person at stores nationwide.
How does it work? After the nomination period for the 2014 Huggable Heroes program ends, nominations will be narrowed down to 50 finalists. Ten winners will each receive a $5,000 scholarship and a $2,500 donation to a designated charity of their choice. Isn't that awesome?
The 2014 Huggable Heroes will join the ranks of over 100 young social entrepreneurs who have collectively recruited thousands of volunteers, gathered over 300 million items and raised more than $10 million for their causes. To date, over 12,000 kids have participated in the Build-A-Bear Workshop Huggable Heroes program, which has awarded over $1 million to socially conscious young people over the last 11 years.
It makes me happy that Build-A-Bear Workshop is recognizing these charitable-minded youths for making the world a better place…
Who's your Huggable Hero?
Build-A-Bear Workshop has also partnered with the USO!
To celebrate and give thanks for the service of our military heroes, Build-A-Bear Workshop has teamed up with the USO through the "Every Moment Counts" campaign, in which the USO creates moments that matter for our troops and their families.
To support this effort, Build-A-Bear Workshop Guests can share a message of thanks on social media platforms with the hashtag #babwUSOthanks. For each share, Build-A-Bear Workshop will donate one dollar to the USO, up to $50,000. Guests can also make a monetary donation to support the USO at Build-A-Bear Workshop stores nationwide when they checkout through June 30.
Build-A-Bear Workshop stores will join in the USO's attempt to set a Guinness World Records® title for "most signatures on a flag." At select locations (listed below), Build-A-Bear Workshop Guests can sign the flag in-person or digitally at USOmoments.org.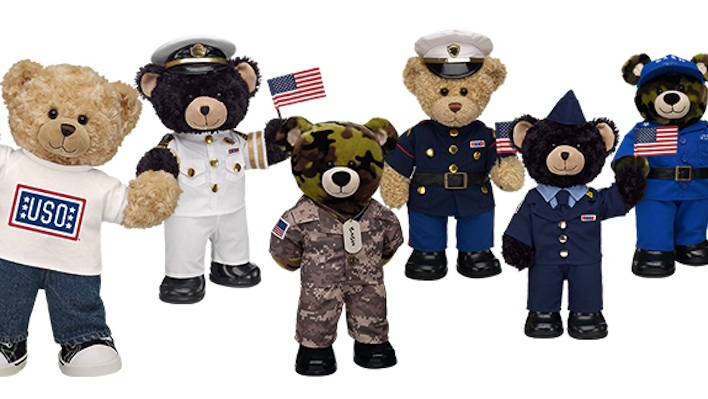 Local Events
Join Build-A-Bear Workshop for an inspiring event that celebrates heroes through the two programs (details above) that launched this month. At the event, you can meet with Build-A-Bear Workshop and USO representatives as well as local military families.
New York City:
Build-A-Bear Workshop
565 Fifth Avenue
New York, NY 10017
Wednesday, May 14, 2014
10AM-12PM

Chicago:
Build-A-Bear Workshop, Navy Pier
700 East Grand Ave., Suite GF12
Chicago, IL 60611
Thursday, May 15, 2014
10AM-12PM

Washington, DC:
Build-A-Bear Workshop
Westfield Montgomery
7101 Democracy Blvd, Space 1258
Bethesda, MD 20817
Thursday, May 15, 2014
10AM-12PM

Los Angeles:
Build-A-Bear Workshop
Westside Pavilion
10800 West Pico Blvd., #248
Los Angeles, CA 90064
Thursday, May 15, 2014
10AM-12PM

St. Louis:
Build-A-Bear Workshop
Saint Louis Galleria
1444 Saint Louis Galleria
St. Louis, MO 63117-3500
Thursday, May 15, 2014
10AM-12PM