Maya and I just visited Strawberryville. No, it's not an actual city – it's an online destination where kids can learn about the wonderful fruit that is the strawberry. This website is geared towards ages 5-12, so it's a little above Maya's level, but she had fun exploring, finding a surprise after every click of the mouse. Strawberryville offers great tips for planting strawberries, fun downloads, yummy recipes, and a few games.
Fun strawberry facts to share with your kids:
If you lined up all of the strawberries grown in California in one straight line, they would wrap around the entire Earth 15 times.
There are about 200 seeds on the outside of each strawberry.
California harvests over a billion pounds of strawberries annually.
One acre of land (about the size of one football field) grows about 50,000 pounds of strawberries – that's the same weight as 4 elephants!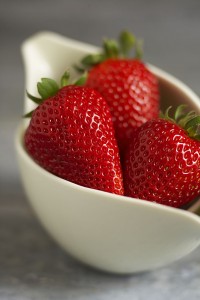 For that matter, have you eaten any strawberries lately? Right now they are at their peak – sweet, plump, and juicy. Saturday morning I took Maya to a neighbor's birthday party; while she was off playing, I was planted firmly next to a big bowl of strawberries. They are the perfect fruit.
Did you know that:
One serving of strawberries contains more Vitamin C than an orange! Strawberries contain powerful antioxidants and rank second among the top ten fruits in antioxidant capacity.
Strawberries may help reduce the risk of heart disease, fight some types of cancer and lower blood pressure. Not bad for such a delicious little berry!
The antioxidants in strawberries also aid in memory performance and may help prevent Alzheimer's disease by reducing oxidative stress and inflammation, two key factors that can cause age-related diminished brain function.
You can find a ton of delicious strawberry recipes here. Usually one thinks of strawberries as being an ingredient in a dessert, but did you ever imagine they could be perfect in a ceviche or as a salsa for grilled fish? I especially like this recipe for bruschetta: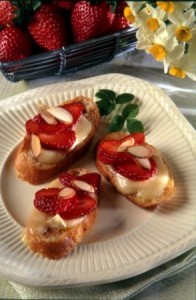 Strawberry and Brie Bruschetta
12 slices French bread, cut 1/2 inch thick
1/3 cup butter, softened
1/3 cup packed brown sugar
2 teaspoons ground cinnamon
12 slices (about 12 ounces) Brie cheese
1 1/2 pounds (about 4 to 5 cups) sliced stemmed California strawberries
1/2 teaspoon vanilla extract
1 cup sliced almonds, toasted
Directions
Prep time: 35 minutes Cook time: 10 minutes
Heat oven to 375ºF. Spread 1 side of each bread slice with butter; arrange, butter side up, on large baking sheet. In small bowl, combine sugar and cinnamon; sprinkle 1 teaspoon over each slice of bread. Reserve remaining sugar mixture. Toast bread in oven for 5 minutes. Remove from oven. Top each with 1 slice cheese; return to oven. Bake an additional 4 to 6 minutes or until cheese is melted. Meanwhile, in large bowl, combine strawberries, vanilla and remaining sugar mixture; toss lightly. Place two bruschetta on each serving plate. Spoon 1/3 cup strawberry mixture over each; sprinkle with almonds. Serve immediately. Makes 6 servings
Tip: To toast almonds, spread in even layer on baking sheet. Bake in 350°F oven for 5 to 10 minutes or until light golden brown, stirring once or twice for even browning.
**************************
How yummy does that sound? A perfect summer appetizer!
When buying strawberries, make sure you choose the ones with the brightest color and that they're shiny and firm, not bruised or mushy. Strawberries won't ripen after being picked; if they have green or white tips, they are probably under-ripe and will have little flavor. Store your beautiful berries in the fridge and eat them within 2-3 days.
Visit https://www.calstrawberry.com for more information.