One of the most traditional Lenten dishes that I remember my mom making is capirotada, a type of bread pudding. She could make it in minutes – tossing in bread, raisins, peanuts, cheese, bananas, and a bunch of other things. Anything and everything she could find in the fridge and pantry, it seemed! I've heard that capirotada was invented as a way to use of leftovers before beginning the Lenten fast, so this makes sense. Well, with her it was more like a way to clean out the fridge before heading to the grocery store. 😉
Funny thing is… I wouldn't eat it. I just didn't get the point. As good as it smelled, the combination of bread with fruit and cheese in an egg custard just did not look appealing. Come to think of it, I don't think I've ever even tasted my mom's capirotada. What a shame, right?
My palate has matured with age, so I'm much more open to trying new things now, and enjoy indulging in a good capirotada now and then. At this time of year, Mexican restaurants often offer it on their menus! I saw this recipe from V&V Supremo, and may even take a stab at making it myself.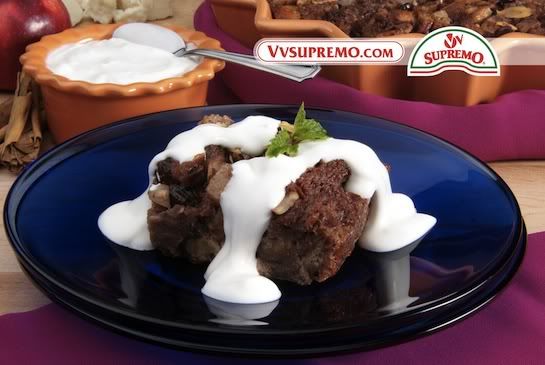 CAPIROTADA
Yield: 12 servings      Prep time: 40 minutes
INGREDIENTS
For the syrup:
6 oz piloncillo (unrefined sugar cones) or ¾ cup brown sugar
1 tsp allspice, ground
6-inch piece cinnamon, broken up
8 whole cloves
1½ cups water
1 cup dry red wine
Dry ingredients:
1 stick unsalted butter, plus extra for baking dish
1 ripe plantain (soft, blackened), diced (½ inch)
1 large apple, peeled, diced (½ inch)
¾ cup raisins
½ cup red wine
1 cup pecans, toasted in 350 degree oven for 20 minutes
½ cup almond slices toasted in 350 degree oven for 5 minutes
15 oz package V&V SUPREMO® QUESO FRESCO diced (½ inch)
8 slices french style bread, diced (½ inch)
For the custard:
4 large eggs
1½ cups milk
1 tsp ground cinnamon
2 tsp vanilla extract
½ cup sugar
For the garnish:
1 cup V&V SUPREMO® CREMA SUPREMO® sour cream mixed with 1 tbsp. honey.
DIRECTIONS
Preheat oven to 350 degrees. Butter a 9×12 inch baking dish.
Place all syrup ingredients in saucepan. Bring to a boil, reduce heat to low, and simmer for 20-25 minutes, or until reduced to 1 ½ cups. Strain syrup, and discard solids.
Cook raisins and ½ cup wine in saucepan over medium heat for 5 minutes, or until wine is absorbed.
Heat large skillet over medium heat, and add 1 stick butter. When melted add diced plantains, and cook, stirring until browned. Add apples and cook 1 minute more.
Place all dry ingredients in large bowl, including all the butter from plantains. Add syrup to bowl, and mix well. Place ½ the mixture in the baking dish. Whisk custard ingredients together in separate bowl. Pour ½ of the custard over the bread layer in the baking dish. Add another layer of the remaining bread, and pour the rest of the custard over bread.
Press down on top bread layer with your hands. Place in oven and bake for 45 minutes.
Can be served warm or room temperature, topped with honeyed sour cream.
Recipe provided by V&V Supremo, one of the nation's oldest family-run Hispanic food businesses, widely renowned for their line of authentic Mexican cheese. 
YOUR TURN: Do you have any traditional Lenten recipes in your family?