My family says I'm hard to shop for. They couldn't be more wrong! I'm just not the type of person that goes around saying "I want this" or "I want that" all the time. As a result, I end up getting a lot of gift cards for Christmas. I'm sure many of you can relate. Is it just me, or is it hard to keep them organized? I never seem to have the right card on me when I'm at that particular store, or I misplace it and find it months later… I've found the solution to this little problem of mine, however, and it's a cute one to boot! It's called a Card Cubby. Even the name is adorable!
You know how much I love supporting 'mompreneurs', and this is another great story. Seeking a means not just store, but to organize all her cards and coupons, Wendy Krepak came up with the Card Cubby. It's an alphabetized mini-card file that fits right into your purse or diaper bag, and holds gift cards, coupons, store discount cards, business cards, subway/bus passes, insurance cards, even my cell phone and some chapstick! Measuring 5″ wide by 3″ high, the Card Cubby can hold about 80 cards. It's made of a soft, buttery material that is wipe-able and very durable. The alphabetized tabs inside are color coordinated with the Cubby, and there are additional "Kool Tools" available to jazz it up even more! If you slip an ID in the outside pocket, cash and credit cards inside, you can easily leave your purse at home and make the Card Cubby your wallet! It's so much easier to find what I need in the Card Cubby than it is in the black hole that is my purse. One of my New Year's resolutions is to be more organized, and with the Card Cubby I'm well on my way to achieving that goal. If there's a lady in your life that's hard to shop for, you can't go wrong with giving her one of these. Red and black Card Cubbys are on sale for just $19.99 until December 25th! The Chocolate Croc is super chic, yet I love my Passion Pink one because it stands out in my bag.
Choosing the color might just be the toughest part!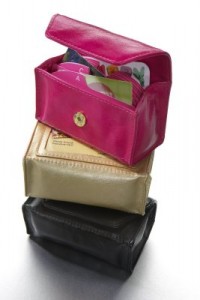 What color would YOU choose? Think about it, because one of my lucky readers has a chance to win a Card Cubby! All you have to do is visit Card Cubby and let me know in a comment what color you'd choose if you win.
For extra entries:
Blog about this giveaway & link back.
Tweet about this giveaway & leave a link to your tweet!
Please leave a separate comment for each entry. US entries only. Please leave a valid email address or blog URL in your comment. This contests ends at 11:59 pm EST on December 24th, 2008. Winner will be chosen via random.org, and has 48 hours to claim their prize.