I don't own a watch. Being a stay-at-home mom, I don't find a need to wear one very often. But for the conference I attended last week, I thought it might be necessary to actually keep track of the time for once, so I was thrilled that Casio let me borrow a Baby-G watch for a while. I've gotten SO many compliments on this gorgeous watch and just want to tell you a little bit about why I love it.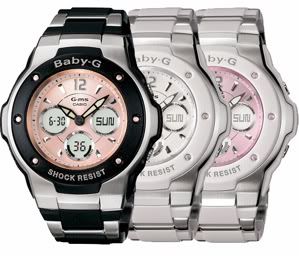 First off, let me just tell you just how mistaken I was about the line of Baby-G watches!
I vaguely remember having one when I was in middle school or high school. It was pink, with a translucent jelly band. To this day I've always thought that the Baby-G line was for teens, but was I ever wrong! Sure, they still make those jelly watches, but there are so many other styles, from sporty to elegant, to suit anyone's taste.
One of the more professional-looking lines is the G-ms collection, which combines metal and resin in a sporty, yet still feminine design that can transition seamlessly from work to play. The style that I test drove is the Baby-G MSG300C-1B.
Features
This watch has so many bells & whistles that you must read the manual to figure everything out! Good thing the instructions are very clear and user friendly. I had it all set up in just a few minutes. There are several modes to choose from, including:
Timekeeping (obviously!)
World Time (with 29 different time zones and 48 cities to choose from)
Alarm (3 alarm patterns give you some variety)
Stopwatch
Countdown Timer
There are four buttons, two on each side of the watch. You press a button to change from mode to mode. These buttons are small and a little hard to push, especially when wearing the watch, but that's excusable, because otherwise they would interfere with the sleekness of the design.
Setting the time is easy. You don't even have to go through changing the hour, minute, etc. You just figure out what your home city is (being on the East Coast, mine is NYC), select it, and tadah! The time and date are automatically set for you. Watching the hands move automatically to match the analog time was very cool!
Speaking of which, do you ever find that analog watches make you lazy about telling time? Someone asked me what time it was the other day, and the hands were blocking the time and I found myself saying "Um, I don't know, I can't see it…" and got a puzzled look in return. Well, DUH. I wanted to hit my head against the wall a couple of times. But anyway.
Look and Feel
This Baby-G has as metal and black resin band and a light pink face, with six studs on the bezel. The actual face doesn't light up, but it does have small LED lights around the rim of the watch that offer a bright orange glow at the push of a button. I love how it looks on my wrist. It's sporty without looking cheap like many all-plastic watches do. I found it to be a little heavy, but again, I don't usually wear a watch so maybe it's just me. It's easy to adjust the fit of the band by removing links using a safety pin.
Durability
The face has a Protective Mineral crystal that protects the watch from scratches. It's said to be shock resistant and water-resistant to 660 feet. I, of course, can't speak for the water resistance because I wasn't about to get it wet when I have to return it! But I'm not sure if I would want to get it wet even if it were mine to keep! It can definitely stand up to a few knocks, though. It's hard to avoid hitting it against a desk here and there, and it's no worse for wear. This watch is protected by a one-year manufacturer's warranty, however.
Buy it!
The Baby-G MSG300C-1B is valued at $160, but it's selling for $98 on Amazon.com right now! For such an elegant-looking watch, that price is a steal!