We are a transportation-loving household. Buses, cars, trucks – if it has wheels, we love it. We, or should I say my two-year old son, C, also has a special place in his heart for trains. Specifically for a famous blue talking train who I'll call N'omas for the purposes of this entry. C's love for N'omas left me wondering if he had room in his two-year old heart for any other track-riding vehicles.
While at Target one day, I saw a Chuggington DVD and on impulse (the best kind of Target buys), I bought "Chuggington Let's Ride the Rails." I was extremely apprehensive about playing this DVD, as its rejection would subject me to yet another viewing of N'omas which had the potential to push me right over the edge. Let me note that we are not glued to the TV, which almost makes watching the same thing over and over worse.
With shaking hands, I inserted this new DVD and we sat down and watched. A strange look came over C's face…puzzlement and then, could it be…a smile! While recognizing that a younger version of myself would have been bewildered at the sight of me getting so excited over a train movie, the prospect that we had added a new DVD to our collection made me want to stand up and dance a jig.
This is why, when we sat down to watch the latest Chuggington video, "Chuggers to the Rescue", I felt as if I was tempting the fates. Should I push my luck or just leave well enough alone? Throwing caution to the wind I attempted a post bath time showing.
"Chuggers to the Rescue" did not disappoint. While slightly less believable with flying trains and a voice activated weather machine (yes, I know that talking trains are not realistic to begin with), the episodes are action packed and still deliver the positive life lessons that fans of the show have come to expect.
Chuggington follows the adventures of three young trains, Brewster, Wilson, and Koko as they "find fun and excitement while helping each other out of jams, leaning emergency rescue skills and taking on new responsibilities." The first three episodes alone teach the importance of exercise, patience, and team work. Each of the six "traintastic" episodes is approximately 10 minutes in length and the DVD also offers bonus features such as a jigsaw game and coloring and activity sheets.
This video is perfect for all ages and even those not in love with trains will find enough action and clever animation to keep their attention. The only downside is that after watching you may be caught sitting at your desk singing the catchy, but somewhat irritating, theme song. "Honk your horns! Chuggington, Chugga Chugga Chugga…"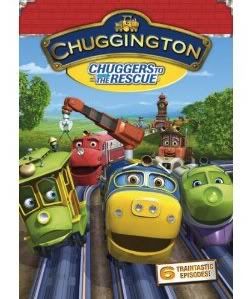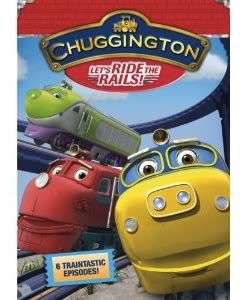 BUY IT!
"Chuggers to the Rescue" and "Let's Ride the Rails" are available at retailers across the country as well as online at www.chuggingtonstore.com and Amazon.com
. For more information and for online games and activities, visit www.chuggington.com. Watch video clips of Chuggington here.
Disclosure: I was provided with a complimentary sample of "Chuggers to the Rescue" in order to facilitate this review; the opinions are my own.