Yesterday my girls were surprised with a traintastic package of Chuggington toys!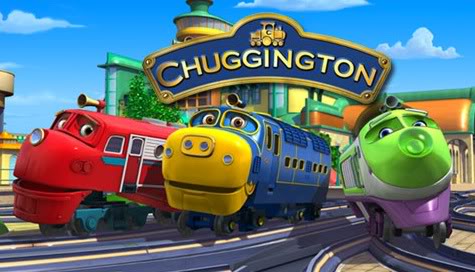 I peaked in the box to discover several different products, courtesy of Learning Curve: a Launch & Go Roundhouse, a Straight & Curved Track Pack, and Wilson, Brewster, and Mtambo die-cast engines.
I'd been anxiously awaiting these new trains for a few months, ever since I heard that Learning Curve would be making them…
You know how much I love new toys, and Learning Curve never disappoints! 😉
Here's a video of Maya and Maura's first impressions… I'll have a full review later on.
BUY 'EM!
The first Chuggington toys from Learning Curve will be available exclusively at Toys "R" Us stores nationwide in early October – just in time for the holidays! If you want to be one of the first ones to get your hands on these toys, www.toysrus.com will begin accepting Chuggington pre-orders on September 19 now!
WIN 'EM!
Great news for you – I'll be giving away a package of Chuggington toys to one of my readers very soon! Be sure to subscribe to my feed so you don't miss it!
Speaking of giveaways, at tonight's #gno Twitter party, the creators of Chuggington will be joining child development expert Dorothy Singer and a variety of panelists (including me!) to chat about Back to School and parenting topics. Four (4!!) amazing Chuggington prize packs will be given away. Visit https://bit.ly/aeCJgF to read more and RSVP for the party.
Now watching Chuggington on Playhouse Disney will never be the same, as the girls will be acting out the stories at the same time. It's so fun to watch! (BTW, the show is on Playhouse Disney weekday mornings at 6am and 11:30am EST.)
So… yeah. I threw a lot of information at you in one post! To summarize:
The new Chuggington toys will be available at Toys "R" Us in early October.
Pre-orders are accepted

starting on September 19

now at www.toysrus.com.
Join us for a Twitter party TONIGHT at 9pm.
Stay tuned for an upcoming Chuggington giveaway right here. Subscribe so you don't miss it!