With two little kids and a messy spouse, sometimes it feels like I spend most of my day cleaning. Vacuuming, sweeping, wiping down counters, picking up dirty laundry, putting away toys, doing the dishes… it never ends! While I may be on my own during the week when my dear husband is working and the kids are at school, I make sure to save the deep cleaning for Sundays, when I can get my kids to help. I wouldn't want them to miss out! 😉 This is when I really get my hands dirty, pulling out my big tub of cleaning supplies so I can tackle the bathrooms, kitchen, and playroom, the messiest rooms in the house.
Clorox is one of those trusted brands that I've been using for as long as I can remember. I mean, it's been around for 100 years so I'm sure we've all used it at one time or another! (And our mamas and grandmas, too!)Its namesake bleach is probably the most popular product, but I also use Clorox Bleach Gel, Formula 409, and Tilex Bathroom Cleaner, among other things. My husband, a contractor, swears by Clorox Clean-Up. He's always stealing my bottle!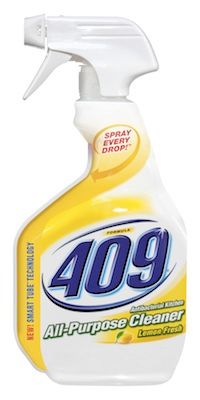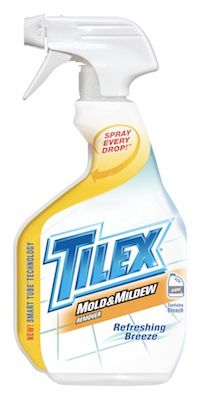 Speaking of bottles, my biggest frustration is when a spray bottle stops working. This usually happens when there's just a little of the cleaner left, but sometimes the sprayer just gets clogged up or the trigger breaks. After a vain attempt at fixing it, I end up just taking the top off and pouring the liquid out directly. Or throwing it away. Ugh. It's a big waste of time.
In developing their new Smart Tube Technology, Clorox decided to do something about this little problem. Now there's a built-in tube that reaches all the way to the bottom of the bottle, which gives you the freedom from frustrating workarounds to get the last bit of product. The satisfaction of spraying every last drop…. ahhh. No more tilting, tipping, unscrewing, shaking, or pouring will make cleaning a little bit easier! As for the trigger problem, spray bottles equipped with Smart Tube Technology also feature a new, more durable trigger that provides better coverage and has a smoother pull so it should take less effort to dispense the cleaner. I haven't quite gotten to the bottom of my bottle yet, but I can tell you that it's the same great formula as always, and compared to older products, the new trigger is sleeker, and does take less effort, seemingly spraying better, too. You can see the difference in the bottles in the photo below. The built-in Smart Tube is visible in the new bottle, so you'll be able to see that you really do use every last drop!
This post is brought to you by Clorox and The Motherhood, and I've been compensated for my time. However, all opinions are my own.
BUY IT!
Smart Tube Technology is available now, and can be found in the following products:
• Clorox® Clean-Up®
• Clorox® Disinfecting Bathroom Cleaner
• Clorox® Disinfecting Bleach Foamer
• Clorox® Bleach Gel
• Clorox® Kitchen
• Formula 409® (Original, Lemon, Stone & Steel, Glass & Surface, Carpet/Pet)
• Tilex® (Bathroom Cleaner, Mold & Mildew Remover, Mildew Root Penetrator™)
• Clorox® Antihongos
• Clorox® Desengrasantes
Make sure to look for the bottles that have the yellow stripe and "SMART TUBE TECHNOLOGY" printed along the left-hand side! Log on to Facebook.com/Clorox or follow @Clorox to receive the latest product news, tips, offers and more!
WIN IT!
To win five free product coupons, please follow the instructions in the Rafflecopter widget and leave a comment below telling me about your biggest cleaning frustration.