I've been a fan of Clif Bars ever since I first tried them at Green Festival a few years ago.
Maybe they saw my glowing tweets about the brand, or perhaps they just read my mind, but I've been getting wonderful surprise shipments of Clif Bar products to my doorstep for a while now. I'm a lucky, lucky girl. The last delivery was a box of Clif Bar's seasonal lineup: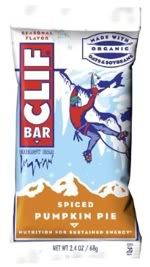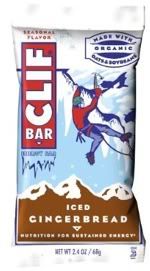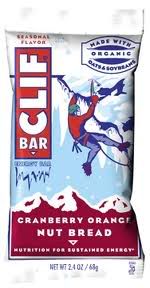 Everyone goes the pumpkin route these days, and Clif Bar is no different. The Spiced Pumpkin Pie bar is good, though I wish it had a little more pumpkin flavor and not quite so much spice. The other two flavors I tried, Iced Gingerbread and Cranberry Orange Nut Bread, were yummy as well!
The latter combines the lovely flavors of cranberry and orange perfectly. I enjoyed this bar a lot, but the Iced Gingerbread is definitely my favorite of the three. It feels like I'm having a real treat when I eat one of these bars. It has the texture of a homemade cookie, with just a touch of icing.
Clif bars are made with 70% organic ingredients, and contain a good combination of carbs, protein, and fiber, which promotes a steady increase in blood sugar levels followed by a gradual decline for sustained energy. Just what you want from an energy bar. The only thing I'd do differently is maybe offer the choice of smaller portions. I actually find myself eating only half and putting the rest away for later (or feeding it to Maura, who will never, ever refuse a Clif Bar) which isn't necessarily a bad thing!
Like everything seasonal, these Clif Bars are only available for a limited time, so if you find a flavor you like, stock up. Me? I just bought two boxes of Iced Gingerbread. Let's see how long they last! If you can't find them in store, try www.clifbarstore.com or amazon.com.
Oh, and in the spirit of the holidays, Clif Bar is donating a percentage of net sales from the seasonal flavors to Winter Wildlands Alliance, a national organization that works on behalf of skiers, snowboarders, winter hikers, and other outdoor adventurers to address issues that impact our winter wildlands.
I received a small box of Clif Bars to facilitate my review, but all opinions are my own.