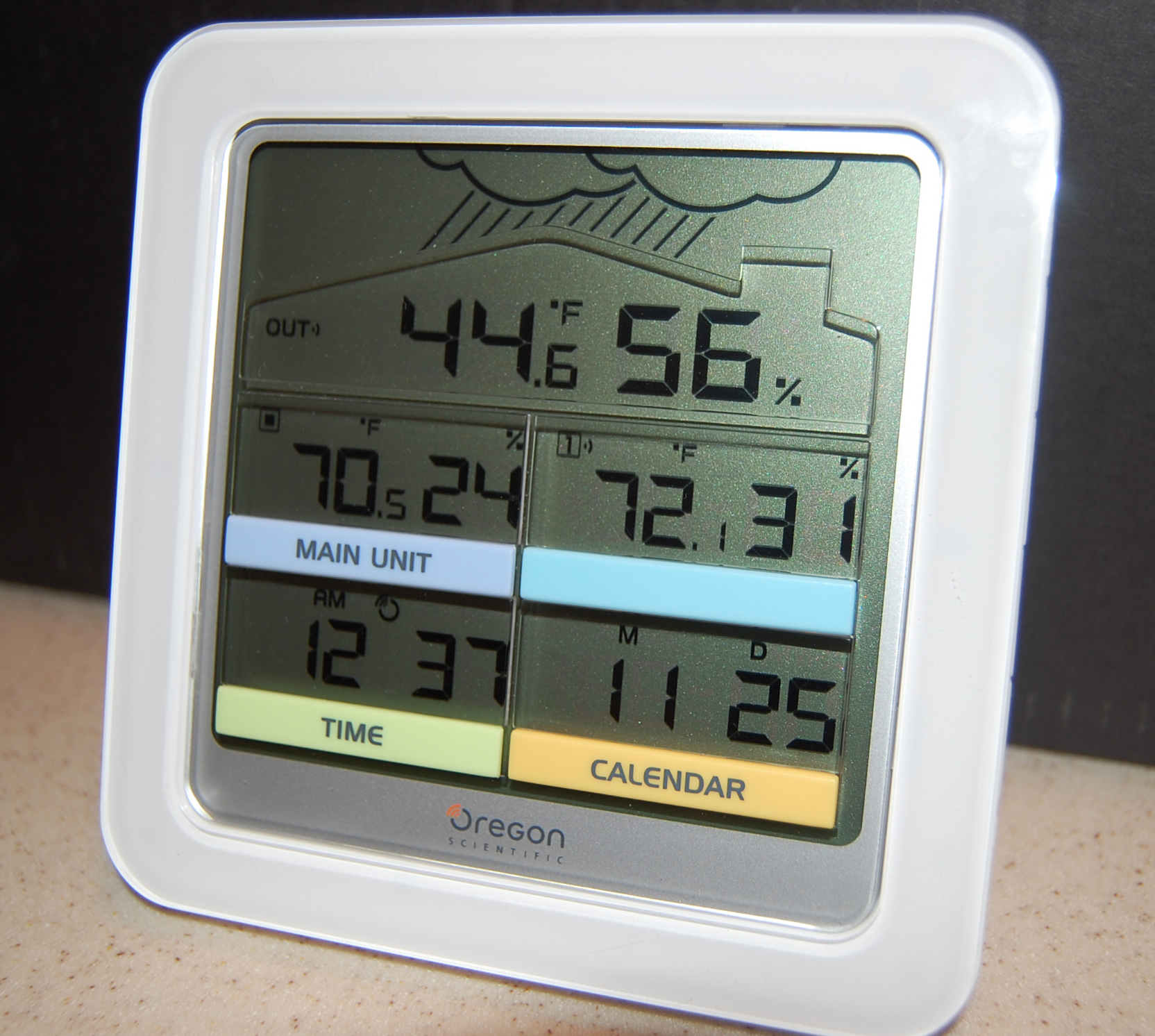 My grandpa loves talking about the weather. It may sound cliché, but it's a frequent topic of conversation for us. He's big into gardening, so he worries whether he should bring his plants indoors. For me the weather forecast is just a mouse click away, but he's never even touched a computer so he has to wait to watch the news. I've found the perfect gift for him – a climate monitor, specifically the Clima Control RMR500 by Oregon Scientific.
With this little contraption you can keep track of your home's outdoor and indoor environment. It even tells you the weather forecast for the next 12-24 hours! According to the user manual it's accurate 75% of the time, although I suspect it might be more accurate than that. The weather forecast has four options: sunny, partly cloudy, cloudy, rainy, and snowy. Every time it showed rain, it was in fact going to rain within the next 12 hours. Not sure how it does that, but it's cool!
The Clima Control can monitor the temperature and humidity in up to four rooms of your house. Each room's data is divided into easy-to-read segments on the large LCD display. It even comes with little tabs so that you can label each segment. Two sensors are included with the purchase of a Clima Control. One is especially made to be used outside. Two more optional wireless remote sensors can be bought separately. I put one in baby's bedroom because I like to keep tabs on how cold her room is. The outdoor sensor is near the front door. Choosing the perfect location for that one took a little bit of tweaking! It couldn't be placed where direct sunlight would hit it, because the temperature would spike. I found that having it near the ground would also give me a higher reading, so it's sitting next to the mailbox.
You don't even have to set the clock or date yourself! It's radio-controlled. I did have to change the time zone, though, but that just took a second to do. Another feature is the built-in mold alert function that alerts you when the humidity gets too high, to reduce the chance of mold. if the humidity is over 60%, the mold alert icon will flash.
To sum up, the Clima Control is a handy little gadget. I have it sitting on my kitchen counter, but it is also wall-mountable. It retails for $89.99, but I found it on Amazon for a little less (plus free shipping!).