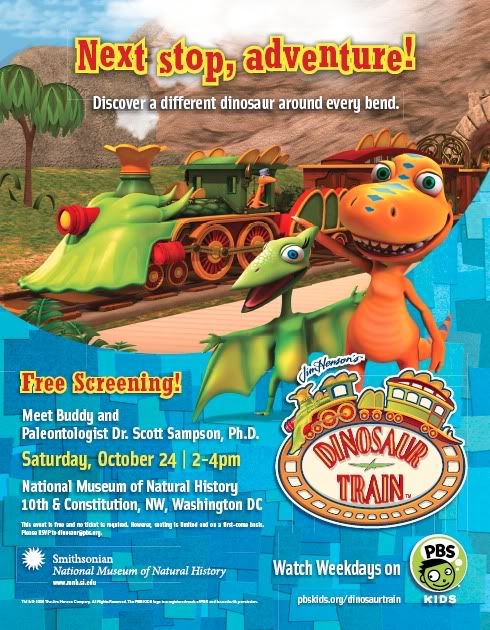 I love living so close to DC. We have some of the most amazing museums in the world just minutes away! One of these is the Smithsonian National Museum of Natural History. Today we went to a PBS KIDS Dinosaur Train event there, and the girls had a blast!
Dinosaur Train is an animated series for 3-6 year olds that premiered in early September. It's about – you guessed it – dinosaurs! Maya had no interest in dinosaurs whatsoever before she saw the first episode of this show, and now she can probably name and describe 20 species. The vocabulary that she's picked up from the show amazes me. Herbivore, carnivore, omnivore, hypothesis, etc. She uses those words effortlessly in sentences. What I love is that the learning doesn't just end when the credits roll. Maya wants to know more about the dinosaurs she saw on TV, so we end up reading a book or playing a game on the computer, or going to see "Walking With Dinosaurs," like we did a few weeks ago.
So back to today's event. Maya gasped when she recognized Dr. Scott on the stage. "THAT'S the paleontologist, mom!!" He's featured in the live action segments on the show and is a real life paleontologist. He spoke for a bit, and introduced the brand-new 30-minute episode of Dinosaur Train that we were about to watch. It included two 11-minute stories – "King Cryolophosaurus" and "Dinosaurs in the Snow" – that were as entertaining and educational as the previous ones we've watched. Maya thought it was "so awesome" that we were the first people "in the whole wide world" to see those episodes and the only people to see them on a giant screen. Her words!
When it ended, there was a short Kids Q&A with Dr. Scott. Unfortunately the questions were cut off 2 kids before Maya, so she didn't get to ask Dr. Scott "how many dinosaurs were carnivores?" as she had planned to. 🙁 She has a little bit of an obsession with the meat-eaters, for some reason. Her favorite is T-Rex, of course!
We were given the Dinosaur Train soundtrack as a parting gift, and have already listened to it 3 times in its entirety; once in the car and twice at home. I actually don't even mind, as the songs are cute and catchy! The afternoon culminated with a stroll through the dinosaur section of the museum.
If you've never heard of Dinosaur Train, watch the short video below. Your kids, whether they are already dinosaur fans or not, will love it. Visit https://pbskids.org/dinosaurtrain/ for more videos, educational games (Maya's favorite is Hungry, Hungry Herbivore!), and activities, and to see when it's on in your city. In Northern Virginia it airs at 10am on WETA and 10:30am on WETA Kids. We haven't missed an episode since it premiered almost 7 weeks ago! A huge thanks to PBS Kids and NMNH for hosting such a fun event!