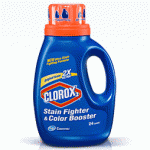 I am very careful about how I wash my 4-year old's clothes. Everything that is in good condition gets handed down to her baby sister, so I can't really afford not to take good care of it. Laundry is probably the chore I detest the most (next to cleaning the bathroom) and it's frustrating when a stain doesn't come out through normal washing!
Clorox has just launched a new, improved Clorox for colors – Clorox 2 Stain Fighter & Color Booster. It is now 2x concentrated and has been reformulated to work better on tough stains and keep clothes bright. Because it's concentrated, it comes in a smaller bottle which means less packaging. The packaging itself is made with recycled materials, so you can recycle it. Clorox 2 also contains biodegradable ingredients and the company now uses less water, plastic and cardboard to make it! Love that they are making an effort to go green!
Clorox 2 is designed to be safe for all loads. Simply add it to the wash with your regular laundry detergent. I tried it with a load of baby clothes.
It feels great when you throw clothes with some of the yuckiest stains imaginable in the washer, and they come out looking brand spankin' new. It makes me feel like I'm doing my job!
Leave a comment on this post for a chance to win one of 4 coupons for a free bottle of Clorox 2, no strings attached. I'll close this giveaway next Wednesday, December 11th.
** Thank you to Clorox and Mom Central for the opportunity to try this product!**