I've used Clorox Disinfecting Wipes for years – in the kitchen, bathroom, home office, playroom – anywhere that germs tend to thrive. A quick swipe of one of these pre-moistened disinfecting wipes, and 99.9% of germs disappear! I love how one side is textured and the other is smooth, and the thickness of the wipe makes it great for tackling those tough jobs. With its special low-streak formula, these wipes can even be uses on shiny surfaces like glass and mirrors. No product is perfect, obviously, but I honestly couldn't think of any way to improve upon these wipes!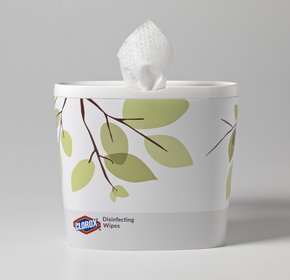 But… with the Clorox Disinfecting Wipes new Décor canisters, the geniuses at Clorox found a way! Now you no longer have to hide your wipes under the counter because they are stylish enough to display. Available in eight designs in shades of purple, pink, green, blue, or beige, there's a Décor canister to match any room in your home.
The new Décor canisters:
Feature a sleek new shape and wider mouth
Have a new effortless single sheet dispensing system
Has the same disinfecting power of their namesake wipes
The redesigned Clorox Disinfecting Wipes have a suggested retail price of $5.49 for a single canister and $8.99 for a twin package of canisters and can be found anywhere cleaning products are sold. In celebration of the new line, Clorox is sponsoring the 'Redesign Clean' contest, where design enthusiasts can try their hand at inspiring a future round of canister designs. Although it's too late to submit a design at this point, since ten finalists have already been chosen, you do have the chance to win a $1000 Macy's shopping spree if you go to www.redesignclean.com and vote for your favorites between now and April 15th.
So a few of you can try out these new Décor canisters for yourselves, I'll give one coupon for a free Clorox Disinfecting Wipes Décor Canister to the first 5 people that leave a comment on this post telling me what you love about this product. If you aren't one of the first five, no worries! There'll be another chance for you to win a little later on this month.
A big thank you to Clorox and the Family Review Network!