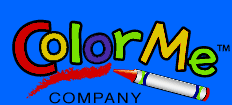 I love reviewing children's products, especially ones that allow my 4-year old to express her creativity. We received a pillowcase from ColorMe Company a while back and have had so much fun with it! ColorMe Company sells cards, t-shirts, pillowcases, and other great products that children can personalize to create unique, meaningful keepsakes for themselves, friends, and family. The designs are draw by children so that makes the products even more special!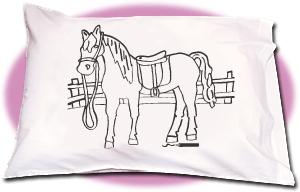 Maya loves horses, and there just happens to be an entire category of horse-themed products available, one being the Waiting for You Horse Pillowcase. It's a 100% cotton standard-sized pillowcase that retails for $24.95 and comes printed with a colorable design. Included in the package is a pack of fabric markers, a matching colorable greeting card, crayons, and instructions for setting the color.
This is a terrific activity for a cold or rainy day, because it's quite time-consuming! Maya probably worked on her pillowcase for at least an hour if not more. She colored the picture, and then went a little crazy on the rest of it, drawing a huge sun, grass, and lots of flowers. The cotton is thick and the ink didn't bleed through to the back. I probably should have put something like a piece of cardboard inside it just to be on the safe side, though.
Next we had to set the color by putting the pillowcase in the dryer on high heat for half an hour. Terrified her artwork would "disappear", it took a little coaxing on my part to convince Maya that it was a safe and necessary step in the process. She was pleasantly surprised to see it come out just as beautiful as it was when we put it in.
It's been a few weeks now, and though the pillowcase has been washed several times, the color hasn't faded at all. Maya refuses to use any other pillowcase and I may just have to invest in several because she insists on wanting to personalize one for all of us. I actually had to hide the fabric markers for fear that she would have a field day in my linen closet!
All ColorMe products are American-made and all fabrics are 100% cotton. Products range in price from $7.95 for a pack of cards, to $49.95 for a Slumber Party Pillowcase Kit, which includes 4 pillowcases to personalize. Although the company is for-profit, 10% of gross proceeds are donated to children's charities through their unique Charity Choice Program. You choose from a list of organizations ColorMe is partnered with, such as First Book, a children's literacy program, and The Marine Corps-Law Enforcement Foundation, which aids children of officers killed on duty or while serving our country at home or abroad.
To celebrate ColorMe Company's 5 year anniversary, late last year they introduced the first ColorMe Madeline product – a pillowcase featuring the classic storybook character, Madeline and her friend Genevieve. The company has a unique connection to Madeline, in that ColorMe founder Paul Marciano's grandfather, Ludwig Bemelmans, created the character way back in 1939. The new Madeline Pillowcase Set is also available on Amazon.
Visit ColorMe Company and tell me what you think! If there's something you like, use code: colormelovesmoms to get 20% off your purchase. Anything on the site would make a great gift or a fun activity for a birthday or slumber party!