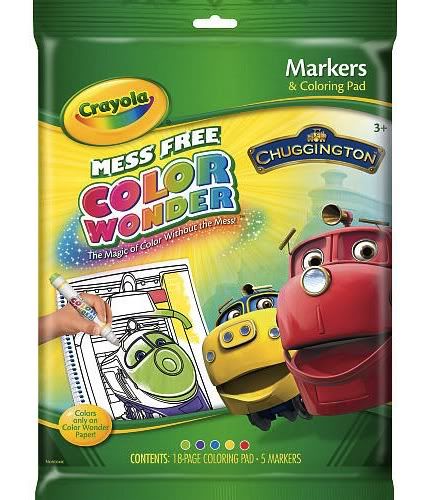 Mess free? Those two words as related to anything toddler seem to be the stuff legend is made of. I would almost believe in unicorns, fairies, and trolls before I could believe in mess free markers, but it seems that Crayola, the Willie Wonka of the arts and crafts world, has done it again. One of Crayola's newer lines, the Mess Free Color Wonder promises the colors, "magically appear on Color Wonder Paper" and "won't color skin, walls, or fabric." We'll see about that Crayola…
I decided to put the Crayola promise to the test by giving the Chuggington coloring book and marker set a whirl. When I say whirl, I mean it literally as I was going to give it to my two-year old son, C. Enticed by the promise of coloring Chuggers, I was able to get C to take a break from running and leaping tall buildings and sit at the table. We opened the foil pouch and found a spiral bound coloring pad (18 pages in all) and 5 colored markers (red, yellow, green, blue, and purple). C chose the blue marker, I uncapped it, and off we went.
The marker tips are not colored, but when the ink hit the paper, the strokes magically turned blue. After some intense coloring (think a lot of blue) we turned to a new page and uncapped a new color, green. The green took a little longer to "develop" on the page, which caused a bit of momentary two-year old angst. While the color showed up after what could only have been a second or two, by the time it appeared, we were already on to the red marker. After testing all of the markers and burning through several pages, I found that the darker colors (red, blue, and purple) appeared more quickly than the two lighter colors (green and yellow). While I don't think this would be a problem for an older child, C didn't have the patience to wait. In all fairness, this product is marked for ages 3 and up, so we were a bit early in our testing.
However, it did keep C's attention for about 30 minutes (how much more could you ask for?). It also kept its promise of being mess free as demonstrated by the fact that C, while covered in remnants from breakfast and exploring, did not have one ink mark on him after our art adventure. Neither did our dining room table which received its fair share of coloring. Now if only Crayola could come up with mess free solutions for other parts of daily life… and where are those unicorns?
BUY IT!
Crayola Mess Free markers and pads are available at retailers across the country as well as online at www.crayolastore.com. In addition to the Chuggington set, there are many other themes/characters to chose from. Crayola has a whole line of other Color Wonder products including paint.
Disclosure: I was provided with a complimentary sample of Color Wonder in order to facilitate this review; the opinions are my own.