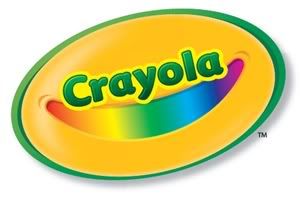 We went on a little roadtrip this past weekend, and all I took to entertain the girls in the car was a variety of Crayola Color Wonder products. No music, no DVDs, no iPad, or even an Etch-a-Sketch. Just some snacks and their creativity!
The products we tried out in the car and at the hotel:
Crayola Color Wonder Stow & Go Studio, which has a solid, compact drawing surface with stay-put clips that can secure a single piece of paper or an entire Color Wonder activity book.
Crayola Color Wonder Lap Desk, which provides a large, hard-top surface for kids to create on the go. The desk is sturdy and has a built-in handle and a soft detachable pillow that can be used as a storage unit for Color Wonder markers and paper.
Crayola Color Wonder Story Stampers, comes with markers, a stamp pad, 6 sea creature stamps, and an 18-page coloring pad with undersea backgrounds. Especially fun if you're going to the beach!
Crayola Color Wonder Fingerpaints, a set that includes clear, fast-drying gels in a hand-shaped storage container, a built-in finger cleaning sponge and 12 extra-wide sheets of Color Wonder paper.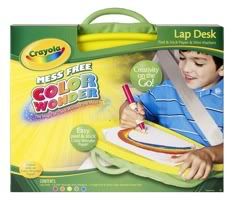 Maura, who's almost 3 years old, just likes to scribble on paper so she loved it all, especially the pad of plain paper and mini-markers. She not afraid to get messy, and got right into the finger paints. It's neat the way the paint is clear on her fingers, but appears magically in color on the paper! And I did say messy. Just because it's Color Wonder doesn't mean it doesn't need clean up! It's great that the paint doesn't stain, though.
Maya, at almost 6 years old, is much more refined. Finger paints aren't her thing. "You expect me to get my fingers dirty, mom?" Okay, nevermind then. 🙂 She prides herself on coloring inside the lines, draws much more involved pictures, and really enjoyed using the stampers. There's an element of surprise on some of the coloring pages, with subtle patterns that appear when you color the pictures. It's a lot of fun. Try out the online demo to see what I mean.
I loved the Lap Desk and Stow & Go Studio, as both products let the girls draw from the comfort of their car seats. If we had to choose one over the other… hmm. The Stow & Go is smaller and more portable, but the lap desk has a larger drawing surface, and also doubled as a pillow for Maya, so… probably the lap desk!
I'm looking forward to taking some of these products on the plane with us when we fly to Texas next week!
Speaking of traveling, Crayola wants you to show them the wonders of America using Color Wonder as you travel this summer. If you show off the Color Wonder artwork your little ones created of the landmark or special spot they enjoyed most on your trip, the photo of your family and a link to your blog post may have the chance to be featured on the "Crayola Color Wonder Wonders Across America" splash page on Crayola.com! Just share the photo on your blog and post it to Crayola's Facebook page, too!
In addition, you can download a printable coupon for $1.00 off a Crayola Color Wonder product! I like that I can find this stuff pretty much anywhere – Toys "R" Us, Target, Walmart, etc. – for whenever we need to buy a new pad or some more paint.
WIN IT!
Giveaway is closed. Winners have been contacted and are listed here.

I have a Crayola Color Wonder "Summer Travel Imagination" pack just like ours, to give away to a lucky reader! It includes a Color Wonder Lap Desk, Color Wonder Finger Paint & Paper, Color Wonder Markers and Paper, Color Wonder Stow & Go Studio and Color Wonder Story Stampers that you can take on your family vacation. Isn't that a fabulous prize pack?! To enter, please leave a comment telling me what you like best about Color Wonder products.
For extra entries:
Subscribe to my feed by feed reader or email (or let me know if you already do).
Follow me on Twitter (@OhMariana) and tweet about this giveaway (one time): #Giveaway! Win a Crayola Color Wonder prize pack, perfect for entertaining your kids on summer trips. https://tinyurl.com/wonderprize #RWNH
Link to me in your sidebar or blog roll. Feel free to grab my button (at the bottom of the page).
The Crayola Color Wonder products featured above, information, and giveaway were all provided by Crayola through MyBlogSpark. Contest ends July 31st, 2010 11:59 pm EST. US entries only, one person per household. Leave a separate comment per entry & a valid email address. Winner, chosen at random, has 3 days to claim their prize.

Scroll down to the bottom of the page for a list of all my latest giveaways!