I learned after ruining many of my first daughter's outfits how important it is to have a good bib on hand at mealtime. And I think I may have just found my favorite one so far. It's from a company called DaBib.

DaBibs come in two styles: DaHugs, which have a micro fiber terry face and a waterproof polyester back, and DaGiggles, which is what we had a chance to try out recently. The DaGiggles bib is entirely made of a waterproof polyester fabric. I chose this particular style because I've been searching for an easy-to-clean bib for a while now that is comfortable for my baby to wear. I find that most of the bibs on the market that can be wiped clean are super-stiff and don't offer much coverage. The DaBib is different from any other bib we've ever used.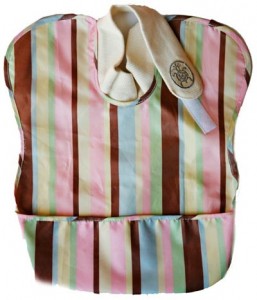 The adjustable "Scrunch Collar" is probably my favorite feature. I love that it closes (with velcro) over her shoulder as opposed to behind her neck, where with other bibs I could easily snag her hair if I wasn't careful. The collar stays snug around her neck to keep liquids from going down the front of her shirt, but because it's made of soft fabric the fit doesn't bother her at all.
The food pouch is awesome! It's very good at catching crumbs and drips of yogurt or anything else that doesn't quite reach my toddler's mouth. I love that you can turn it inside out completely to clean out its contents, or to hide it when it's not in use.
I think I mentioned it already, but this bib completely waterproof. It's easy to wipe clean, but is also machine washable for those extra messy moments! I'm impressed by how well it covers my daughter's torso, even her shoulders, without seeming cumbersome or bothering her when she attempts to feed herself. It also fits my preschooler perfectly (she had to try it on, of course!) and I'm thinking it'll be perfect when she eats spaghetti and soup.
Speaking of spaghetti, here's a funny video that'll show you how the DaBib works:

And lastly, with all the recent news about lead in vinyl bibs, it's nice to know that DaBibs are made of environmentally friendly materials, non-toxic, and completely lead-free. One less thing to worry about!
DaBibs retail for $12.99 and can be purchased from their online store. The DaGiggles style only comes in one print, so that may be a drawback to some, but I happen to like the stripes quite a bit! DaHugs does come in three colors, with the signature striped backing. For a limited time you can get 20% off your entire order if you use code: MOM2009Free AND get free standard shipping with the purchase of 3 or more DaBibs.
Giveaway is closed. Winners are listed here.
But one of my readers has a chance to win a DaBib right here. To enter, please visit DaBib and leave a comment on this post telling me which style appeals to you the most.
For extra entries:
Blog about this giveaway, linking back to this post and to the DaBib website.
Subscribe to my feed (or let me know if you already do).
Follow me on Twitter (@looknohands) and tweet about this giveaway.
Grab my button and link to me in your sidebar or blog roll.
Stumble this page and leave your Stumble Upon name in the comment.
Add my blog to your Technorati Favorites.
Please leave a separate comment for each entry and leave a valid email address or blog URL in your comment. US entries only. This contest ends at 11:59 pm EST on April 4th, 2009. Winner will be chosen at random, and has 48 hours to claim their prize.
Thank you to the Family Review Network and DaBib for this fun review opportunity!