I should start off by saying that I have a huge bias. I love (very present tense) Mister Rogers' Neighborhood. I love the sweater jackets, trademark shoe toss, the field trips (who didn't love seeing how crayons were made?) but most of all, I love the Neighborhood of Make-Believe. That being said, I was a very wary and admittedly skeptical of "The Neighborhood" going 21st Century and entering the digital age with a new animated series and mobile app.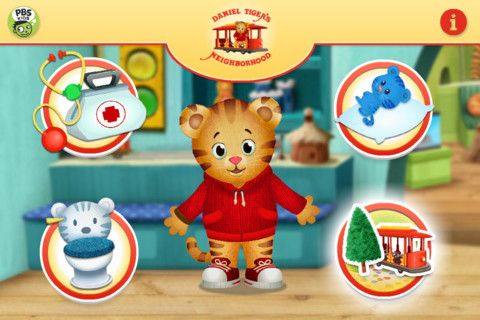 The new app, based on the new PBS show Daniel Tiger's Neighborhood, targets social-emotional skill building for kids 2-4 years old by allowing them to play with Daniel Tiger, son of the original Daniel Striped Tiger, as he goes about his everyday activities. The game opens with Daniel hopping off the red trolley and arriving at his house (no longer a grandfather clock, but strangely a Jimmy Buffet-like tikki hut.) Once inside, there are three games: "Doctor Daniel," "Daniel's Bedtime" and "In Daniel's Bathroom" as well as a sticker book to encourage pretend play.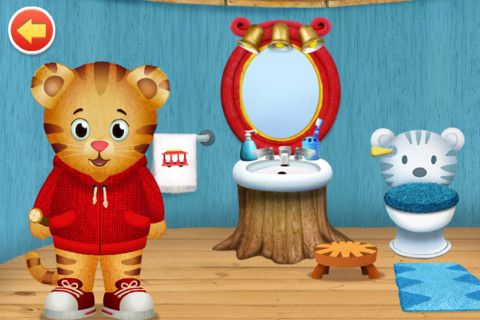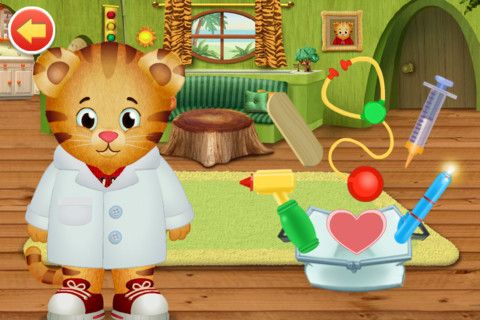 The games are simple, but present honest, real-life experiences in true Mister Rogers' (don't you dare call him Fred!) fashion. For example, when Daniel gets a shot he proclaims, "Grrrrr! That stings, but then it goes away." The games also provide some gentle instruction. In the bathroom, Daniel warns against using too much toilet paper, something every parent who has had to plunge wads of tp, cars, and other assorted objects, can appreciate. The bedtime game allows children to soothe Daniel to sleep and create their own bedtime routine. There is also a sticker book which my son and I found slightly cumbersome (think tap, not drag). Once we got the system down, C (3 years old) really enjoyed stickering up Daniel's world.
All in all, bias taken into consideration, I liked the app as did my son. But I don't think anything can replicate the magic and charm of Mister Rogers' Neighborhood. Mister Rogers had a way of speaking to kids, not at them. There wasn't any glitz, just a quiet, humble man and his puppets. In fact, I recently realized that all the puppet voices were Mister Rogers. Yes, you can laugh at me. The app was fun to play and I think could be very helpful to lessen the fears of transitioning to a big-kid world.
BUY IT
DANIEL TIGER'S NEIGHBORHOOD: Play at Home with Daniel is available for $1.99 for iPhone, iPad and iPod touch. Click here to download the app from the App Store. Just to see if you're paying attention, we'll gift a copy of the app to the first 3 people to leave a comment below.
For more on Daniel Tiger's Neighborhood, visit:
And previous coverage on TDB:
Disclosure: Mariana is a PBS KIDS VIP and provided me with a complimentary app in order to facilitate this review, but the opinions are my own. The giveaway apps are being gifted from her personally.