This is the second post in a series I'm writing as a National Harbor 'Funbassador', but all opinions (and photos!) are my own.
Recently, my husband and I enjoyed a much-needed date night at National Harbor, just outside Washington, DC. We usually only go there as a family, so this was a real treat for us! We were able to visit all our favorite National Harbor attractions and try out a few new things as well. There's so much to do that you can go back again and again, and it'll be a different experience every time!
First on our agenda was Das Best Oktoberfest, which took place in a big parking lot near Gaylord National Resort. Neither of us had been to an Oktoberfest before, so we didn't know what to expect, but that made it even more fun! As we entered the festival, we were given a wrist band and a souvenir tasting glass. An unlimited sampling of beer, wine, and schnapps awaited us.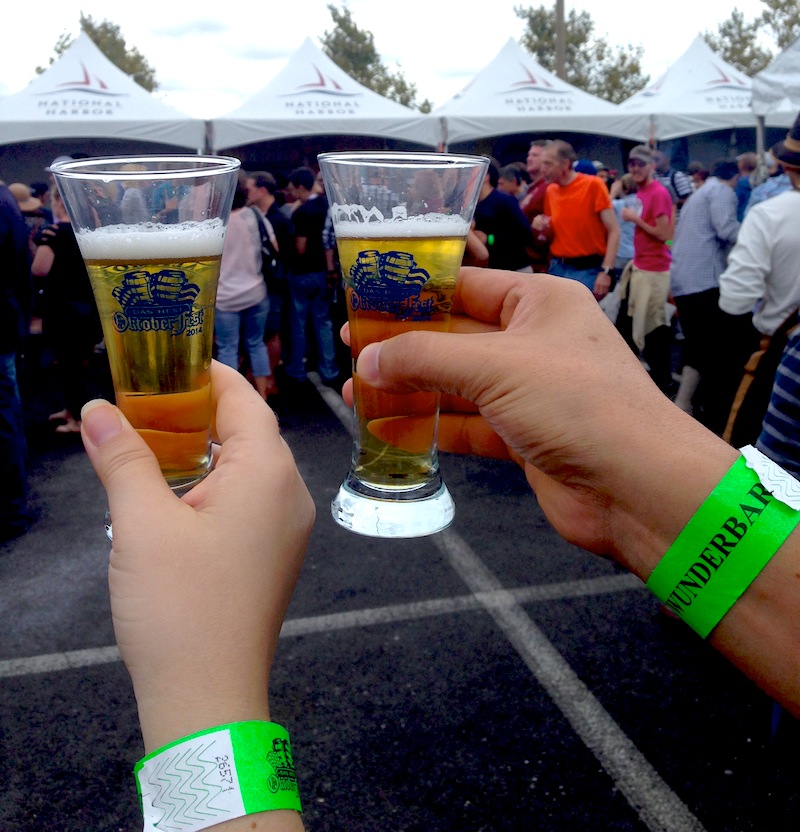 I lost track of how many samples I tried exactly, but my favorites were the Shiner Ruby Redbird (made with real Texas  Ruby Red grapefruit!), Redhook Seedy Blonde apple ale, Spaten Oktoberfest, and the schnapps. Oh, the schnapps. The Schnauer Apfel liqueur was dangerously good! That line was the longest but well worth the wait.
It may sound silly, but some of my favorite activities were the games – cornhole, giant Jenga, and the hilarious tricycle races. Get a few beers in me and I'm easily amused, I guess! The giant Jenga was so fun, especially with the added challenge of it being a windy day! I could have watched people play forever. My handy husband is even building me a set as we speak. That's love!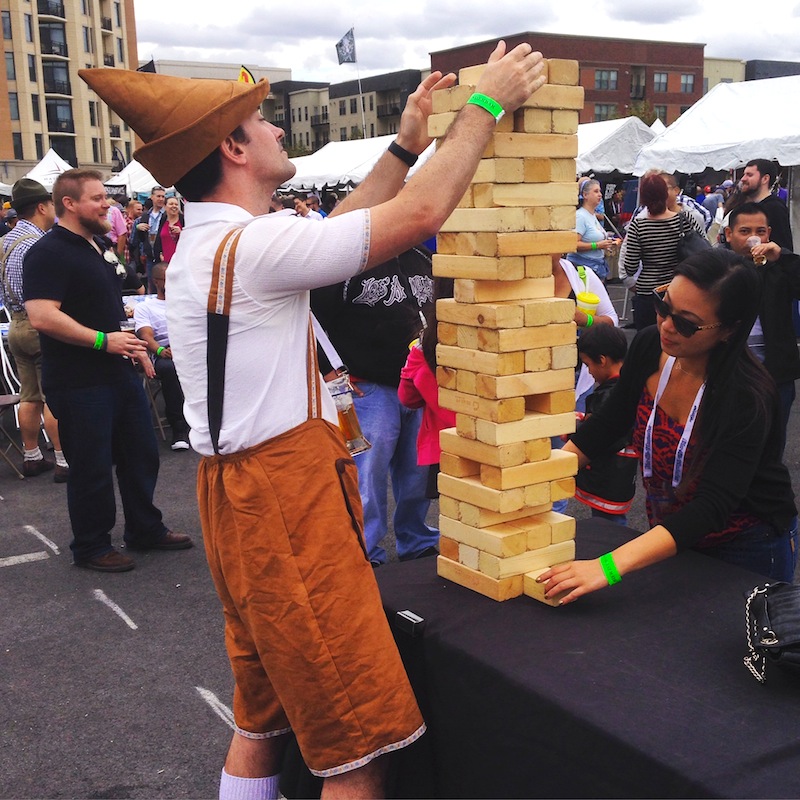 There was also lots of great food (think bratwurst, potato pancakes, pretzels, and pickles!) and some really unique vendors. We'd probably have eaten more and bought some souvenirs if we had taken more cash, because many of the vendors didn't accept credit cards.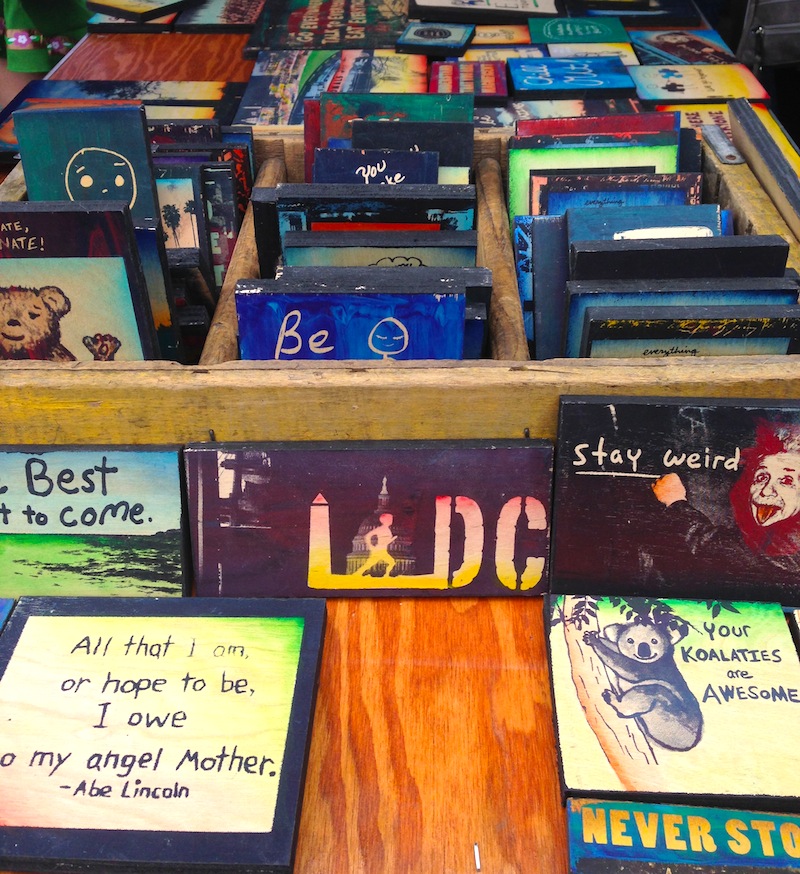 Now I know for next time! My husband did buy this cute hat, though, for only $5!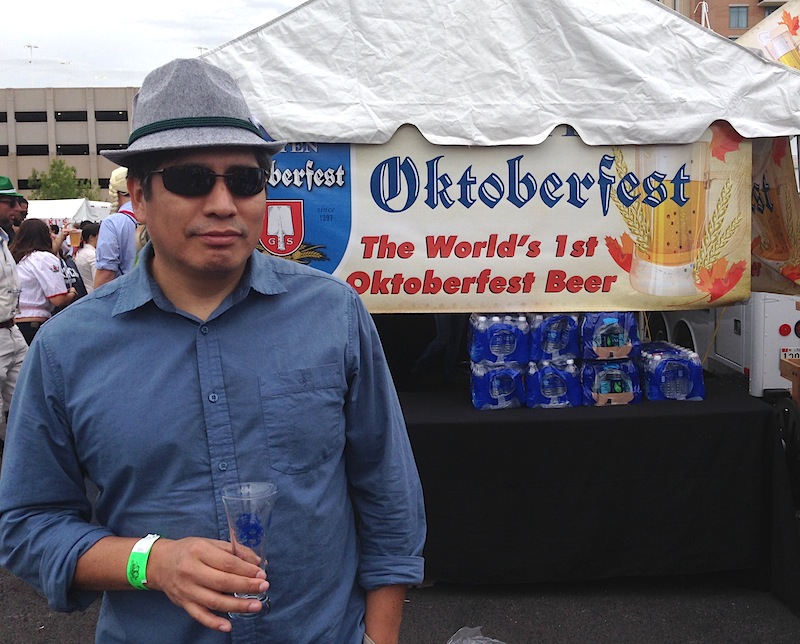 Did I mention the fun rides and live music? There were a handful of carnival rides, and oomph, polka, and rock bands had people dancing and singing, which went well past last call. Everyone we met was just so happy. It was nice to see that most people drank responsibly and were just there to have a good time. I hope Das Best Oktoberfest comes back to National Harbor again next year. We'll be there! Who knows? I might even convince my hubby to wear lederhosen. 😉
We left Das Best Oktoberfest after listening to the band play a few songs, then stopped by SPAGnVOLA Chocolatier for a chocolate tasting on our way to The Capital Wheel. Because… chocolate.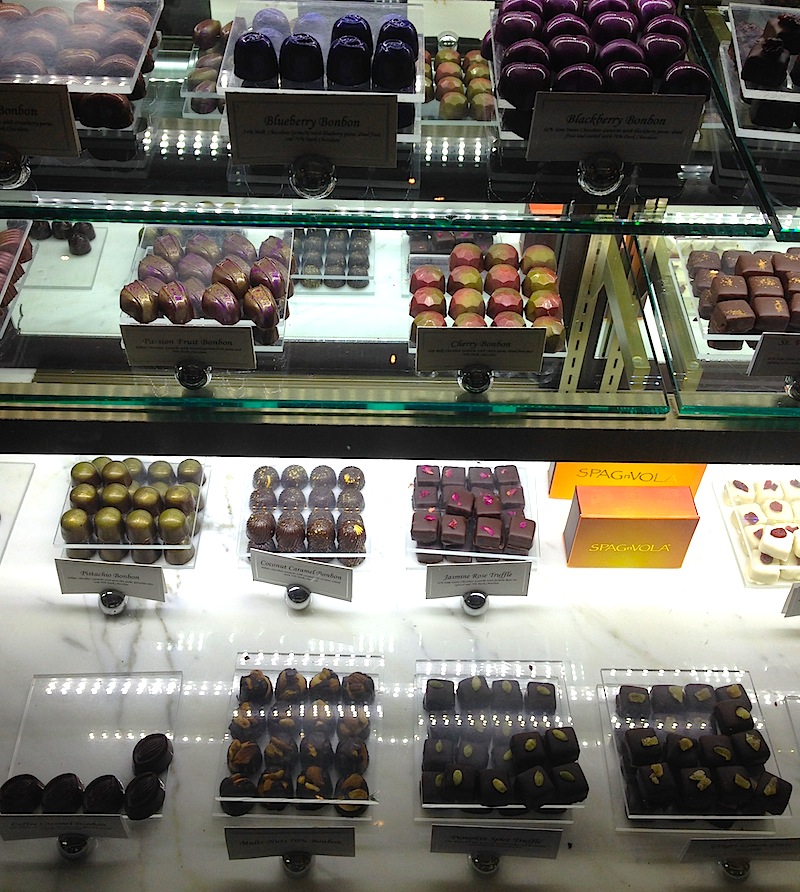 So decadent and flavorful, two handcrafted truffles each was just enough. Bourbon-infused, Jamaican rum, Chipotle, and Ginger & Lavender is what we ordered, I believe. I also couldn't help but walk into Alex and Ani across the street. There's a special new bracelet for breast cancer awareness that I fell in love with! I didn't buy anything this time, but hopefully my husband got the hint. Ahem… our anniversary is next month.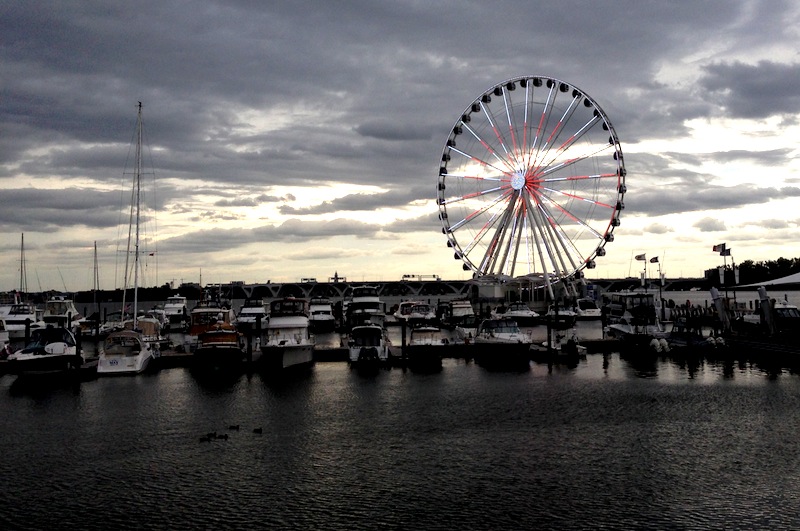 A romantic ride on The Capital Wheel was up next! You know, I've ridden this quite a few times with the whole family, yet I never thought about the ride as being romantic, but it really is! When it's just you and your loved one up there, 180 feet above the water, so peaceful and quiet, it's lovely! The ride even felt a little longer than usual. It was a cloudy day, but I could still see the Washington Monument!
By the time we walked off The Capital Wheel, it was getting dark, and we were SO ready for dinner. Redstone American Grill is just steps away from the waterfront and the menu looked great! I've been a vegetarian for a while, but just started eating seafood again not too long ago, and let's just say when I took a look at Redstone's menu, I wanted to eat. all. the. fish. The restaurant is bigger than it looks and was packed (it was a Saturday night, after all!) but the booths felt cozy and we could hold a conversation just fine, even sitting by the bar. I had a perfect view of the Longhorns football game from our table, which I appreciated, being a Texas girl!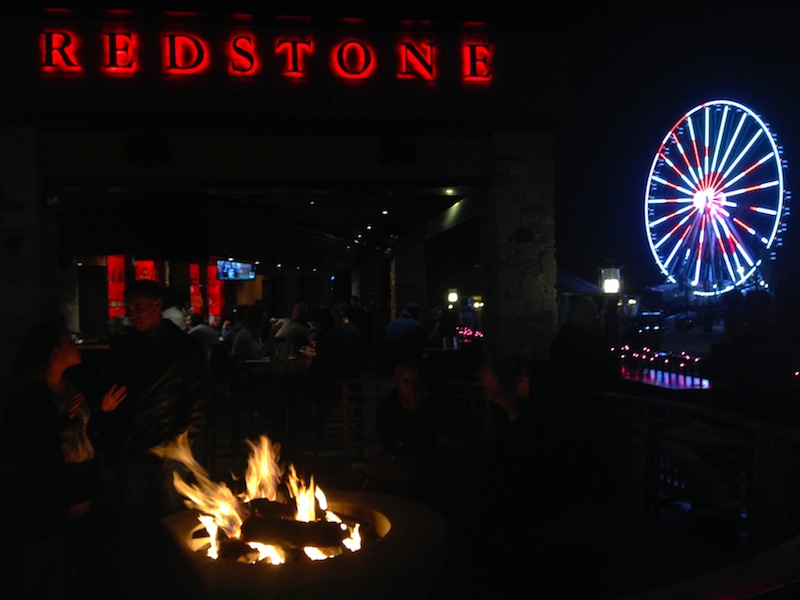 We started with the Buffalo jumbo shrimp. Oh-em-geeee. So good! Perfectly spicy, which contrasted nicely with the blue cheese. After thinking it over forever, I finally decided on the coconut-crusted halibut for dinner, just to find out that they were out for the night. Wahhh! But that means it must be good, right? So I opted for crab cakes instead, and made a mental note to come earlier next time and order the halibut then. My husband ordered a filet and a baked potato. You can't go wrong with that!

His steak was a perfect med-rare, and everything was delicious. It's hard to see in the photo, but the corn salad was a yummy addition to my crab cakes! The portions were ENORMOUS. Even the baked potato was twice as big as what I normally get at a casual restaurant.
I always look at the dessert menu first when I'm at a new place, so I knew what I was going to order from the beginning. This menu didn't disappoint – banana cream pie, chocolate cake, an ice cream sundae, and KEY LIME PIE! My absolute favorite dessert. The serving of pie was again, to quote the Donald – HUUUUUGE. We were so full that we couldn't finish and packed more than half of it up. I'm not ashamed to admit that I had leftover pie for breakfast the next morning!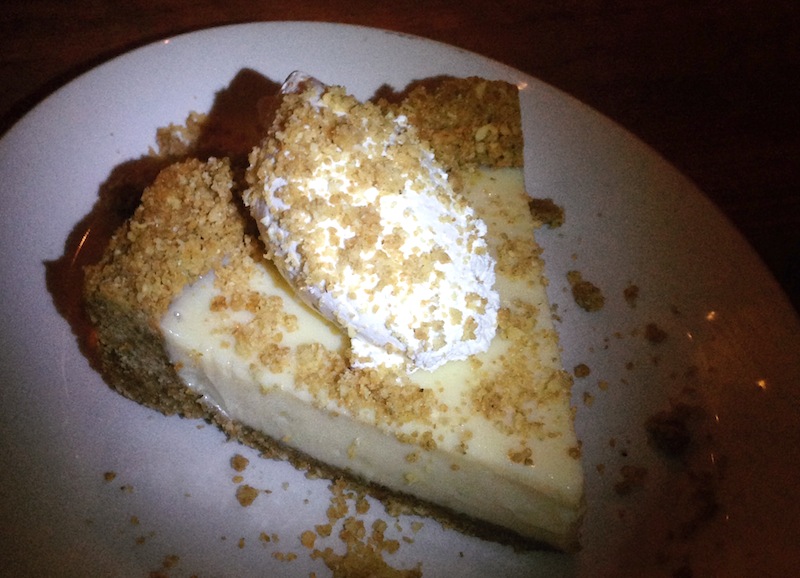 Without even realizing it, we had spent half our Saturday at National Harbor! It was a wonderful experience, as always, and I can't wait to go back again soon. It's taken me years, but I've realized that leaving the kids at home once in a while isn't so bad! Yes, getting a sitter for a date night can be a hassle and costly at times, but it's worth it… trust me. It's essential. Think of it as an investment in your marriage… and what better way to spend a beautiful fall evening than a date night at National Harbor?
A few more ideas for your next date night at National Harbor
Be active! There's kayaking, hiking trails, and frequent 5K races, like The Color Run, Ugly Sweater 5K, and others, that allow you to spend quality time together as a couple, while getting some exercise!
Brunch. It's the best meal of the day, if you ask me! Many of the restaurants offer it, including Redstone and Rosa Mexicano.
Enjoy a relaxing spa day. The Gaylord has a world-class day spa!
Visit the farmer's market. Miller Farms farmer's market is open Saturdays and Sundays from 10am – 5pm on American Way.
Dinner. Eat at one of the many restaurants, many with a view of the waterfront. Next on our list of places we'd like to try is Granite City, Crab Cake Cafe, Walrus Oyster & Ale House, Grace's Mandarin, and Succotash, which just opened last month.
Take in a some live music. There are concerts on the Plaza regularly. Just check the calendar. Bobby McKey's Dueling Piano Bar looks fun, too!
Stroll along the Potomac at sunset. Check out the beautiful sculptures, like The Awakening, a 70-foot sculpture of a giant emerging from the ground.
Shop! Stop in some of the wonderful boutiques or Tanger Outlets for a little retail therapy.
Watch a movie. There are special 'date night' movies on the big screen in the National Plaza every Thursday night for the next month, like Grease, Pitch Perfect, and Hocus Pocus.
Wine tasting. Try the self-serve wine at The Tasting Room… and take a bottle home to share later. 😉
When was the last time you went on a date with your partner?