A few weeks ago I had the pleasure of being invited to special preview of Disney Interactive Studio's newest video games. My girls and I tried out Guilty Party, Disney Sing It Family Hits, and Disney Sing It: Party Hits. Below is a description and a short review of all three. Keep in mind that I only played each one for a few minutes. 😉
Disney Guilty Party
Guilty Party, out next week, is a fun mystery party game, exclusively for Wii. The game tells the tale of the Dickens Detective Agency as they solve crimes set in motion by a criminal known as Mr. Valentine. There's been a crime… can you follow the clues to find the Guilty Party? Players step into the shoes of the Dickens family and work together to explore crime scenes and play mini-games to collect clues and interrogate suspects. It reminded me a little of a board game… like Clue, but in video game format. The game's characters and locations are inspired by classic detective lore, as you can see in the screenshot below. My favorite character was the Agatha Christie-esque Charlotte. There are 8 to choose from, and you can play alone or with up to four people in head-to-head gameplay or cooperative modes.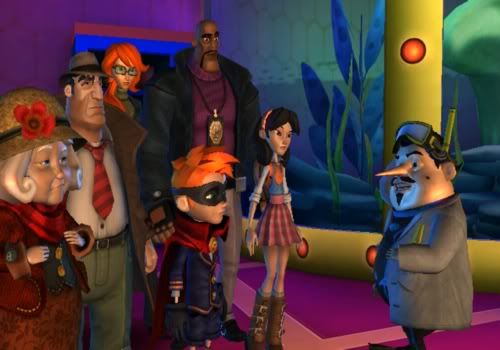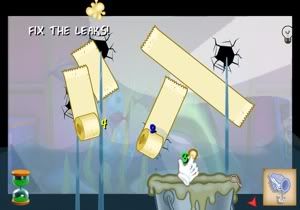 Maya's favorite part of Guilty Party was the mini-games. There are dozens of them that are unlocked during gameplay. In these games, the Wii Remote becomes a lock pick, a flashlight, a magnifying glass, and more. Quick wits and reflexes are needed to win, but it adapts to your skill level, which I found really neat. Players then discuss and piece together the clues in their detective notebooks to deduce the identity of the culprit.
The concern many parents have when considering a new video game is 'replayability' – will my kids want to play the game again and again? Yes. Once the mysteries are solved, players can play Guilty Party again with a new set of clues, suspects and mini-games. Like a board game, it's a different experience (and a different ending) every time. You can also just play the mini-games by themselves.
BUY IT! Guilty Party, rated E for Everyone, will be released this upcoming Tuesday, August 31, 2010, for a suggested price of $39.99. The target audience is kids ages 8 -12, though my 6-year-old daughter played it with me; I just had to read all the text to her.
Tip: Order it now from Amazon and get $10 off a future video game purchase.
Disney Sing It Family Hits
Fans of Disney's popular video-based karaoke series, Sing It, expressed a demand for songs from Disney's classic movies, so Disney Interactive Studios complied and created Disney Sing It: Family Hits! It features songs and videos from classic Disney films like Cinderella, Sleeping Beauty, Mary Poppins and The Jungle Book as well as contemporary favorites from films like The Princess and the Frog, The Lion King, Aladdin, Cars and Toy Story.
This karaoke game allows players to sing solo, partner up for a duet, compete head-to head, or pass the microphone around to up to 8 players in Family Mode, while viewing full screen videos directly from the movies. The Princess and the Frog's Anika Noni Rose provides fun vocal exercises and techniques to help players improve their performances. To relive key moments, the Sing It Encore Mode enables players to play back their performances and add fun effects to customize their tunes. This made for a good laugh!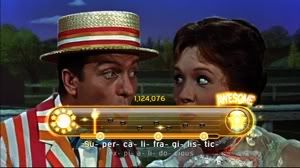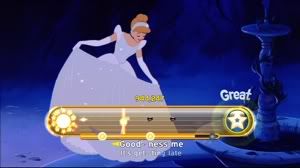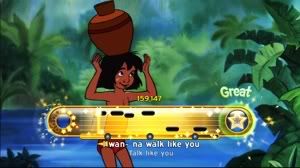 I found the game to be easy to follow and very entertaining. My only disappoint lies in the song selection. I only liked maybe 20 out of the 30 songs. I have a feeling Disney is saving some of my favorite songs for a future release. There's a lot of talking in some of the Disney songs (like Bibbidi-Bobbidi-Boo) which makes them a little awkward to sing at times. Toy Story's 'You've got a Friend In Me' was a lot of fun to sing along to. A song from Toy Story 2, not so much. I can't even remember the name of it. It was really slow and obviously forgettable! You can't unlock any new songs in this game, but can unlock new awards and Disney themes, which aren't really a big deal. You can choose to sing up to 20 songs in Spanish, though. That's what sold me on the game!
BUY IT! Disney Sing It: Family Hits is Rated E for everyone by the Entertainment Software Rating Board (ESRB). It's available now for Wii and Playstation 3. $39.99 for the standalone game, and $49.99 if you get the bundle that includes a Logitech microphone. The target audience is kids ages 4-8, but Disney fans of all ages may enjoy it.
Disney Sing It: Party Hits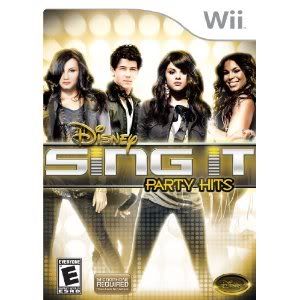 Living up to its name, Disney Sing It: Party Hits is packed with current hits from the biggest names in pop music. You'll find songs that teens and tweens want to sing, from artists such as Justin Bieber, Black Eyed Peas, Jonas Brothers, Jordin Sparks, Paramore, Selena Gomez, Kelly Clarkson, One Republic and many more.
Demi Lovato plays the part of the in-game vocal coach, teaching players various ways to improve their vocals, from breathing and pitch exercises to learning how to harmonize in a duet. As far as game play goes, players can sing solo, or up to 8 can compete in new competitive modes, including Sing Off, Performance and Karaoke mode where players have the ability to reduce the vocal level of the artists. You can also record and create fun special effects with the Encore voice effects feature.
I sang the Black Eyed Peas' Boom Boom Pow… and really got into it LOL. Then Maya chose a Selena Gomez song. Naturally. I recognized the video from seeing it on Disney Channel. I only played Party Hits for a few minutes, but I have to say I enjoyed this game more than Disney Sing It: Family Hits. The target audience is girls ages 8 –12, but fans of the pop music that's found on Disney Channel/Radio Disney and mainstream radio will probably love it as well!
BUY IT! Rated E for Everyone, Disney Sing It: Party Hits will be available on October 12th of this year for both Wii and PLAYSTATION 3. The game will be sold as a standalone (for $39.99) or bundled with one Logitech microphone (for $49.99). You can preorder it on Amazon.