**Update: Had to close contest a few hours early, per sponsor's request.**
Winner is comment #7, Gina! Congrats!
Disney On Ice presents Celebrations! is coming to Northern Virginia later this month, and thanks to Mom Central and Feld Entertainment, I'll be taking my daughters to the show two weeks from tonight. The show will feature tons of characters from 16 different Disney films, including Mickey and Minnie Mouse, the famous Disney villains, and the beloved princesses, including the new Princess Tiana from the upcoming Disney animated film, The Princess and the Frog!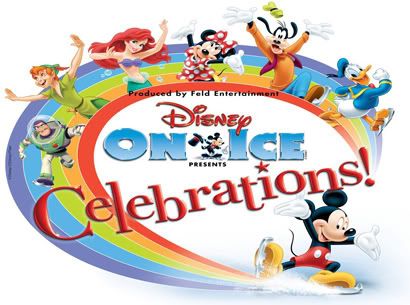 A description from the Disney On Ice website:
Disney on Ice presents Celebrations! It's one colossal party on ice, with all your favorite Disney friends! Enjoy a winter wonderland with Mickey Mouse and Minnie Mouse, a Halloween haunt with the Disney Villains, a Very Merry Unbirthday Party, a Royal Ball with the Disney Princesses and more in a magical medley of holidays, celebrations and festivals from around the globe. Come join the party when this spectacular ice show visits your hometown!
In addition to Celebrations!, there are several other shows touring across the country. Mom Central has partnered with Feld yet again to offer a fantastic discount so that everyone can go see Disney On Ice. Visit Ticketmaster and enter code: MOM to get $11 tickets! For just a little more than the price of a movie pass, you can see something live and really special.
Discount details:
* Four tickets for $44 Monday-Friday, and $4 off tickets for all weekend performances.
* The tickets can be purchased from https://www.ticketmaster.com. Enter the MOM code in the "MC promotion" box when purchasing tickets.
* Minimum purchase of 4 tickets required; additional tickets above 4 can be purchased at $11 each during the week and $4 off on weekends.
* Offer not valid on Rinkside or VIP seating.
* Cannot be combined with other offers. Service Charges, facility & handling fees will apply.
This code is valid in the following cities:
Charlotte: October 8-11, 2009                   –             Philadelphia: October 14-18, 2009
Atlanta: October 14-18, 2009                     –             Oakland/San Jose: October 14-25, 2009
Fairfax: October 21-25, 2009                     –             Sacramento: October 28 – November 1, 2009
Baltimore: October 28 – November 1, 2009    –   Uniondale: November 10-15, 2009
Houston: November 11-15, 2009               –             NYC: November 17-22, 2009
East Rutherford: November 24-29, 2009      –       Denver/Broomfield: December 3-13, 2009
St. Paul: December 9-13, 2009                   –             Los Angeles: December 17-20, 2009
Toronto: December 18-27, 2009                –             Anaheim: December 22-27, 2009
Philadelphia: December 23 – January 3, 2010     –     Boston: December 26-29, 2009
Ontario: December 30 – January 3, 20109     –           Cleveland: January 8 -18, 2009
Would anyone like to join us? I have a 4-pack of tickets for opening night to give away to one Riding With No Hands reader! As a reminder, this is for the show in Fairfax, Virginia. To enter, please leave a comment on this post telling me who your favorite Disney character is.
For extra entries:
Blog about this giveaway, linking back to this post.
Subscribe to my feed (or let me know if you already do).
Follow me on Twitter (@OhMariana) and tweet about this giveaway: Disney on Ice is coming to Fairfax, & I just entered to tickets from @ohMariana! https://bit.ly/5fyuh
Become a fan of Riding With No Hands on Facebook (or tell me if you are already!) and share this with your friends!
Tickets are for opening night, Wednesday, October 21st, at 7:00pm, at the Patriot Center in Fairfax, Virginia, and are non-transferable. Winner will be able to pick up the tickets at the will call window with a valid picture ID the night of the show.
Contest ends: October 15th, 2009 11:59 pm EST. Leave a separate comment for each entry & a valid email address/blog URL. Winner, chosen at random, has 24 hours to claim prize.
I'm participating in the Feld Family Activator program, organized by Mom Central on behalf of Feld Entertainment. I was provided with complimentary tickets to a Disney On Ice show for taking the time to participate and promote the discount.