I love our weekly movie nights! My favorite part is cuddling on the couch with my hubby and the girls, and a big bowl of popcorn, but the movies themselves are fun, too! 😉 This past weekend we had the pleasure of watching not one, but two of Disney's new DVDs – Disney Princess Enchanted Tales: Follow Your Dreams and Mickey Mouse Clubhouse: Mickey's Adventures in Wonderland. They were both released on DVD today, September 8th.
I knew that Disney Princess Enchanted Tales: Follow Your Dreams would be a big hit at our house, since my 5-year old is obsessed with anything princess-related!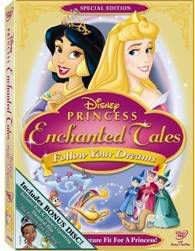 This DVD features two princesses – Jasmine, from the Academy Award-winning Aladdin, and Aurora, from the timeless classic Sleeping Beauty – and isn't your typical Disney fairy tale. The princesses start off their stories by talking to the audience. This engaged my daughter immediately. The stories center around a main lesson – work hard to follow your dreams! In Aurora's case, she shows the importance of not taking the easy way out by using magic. Jasmine's story teaches children about perseverance – "Be strong, never give up!" The music is pretty, especially Aurora's song. We found ourselves singing along after only a few minutes!
After watching, we explored the rest of the DVD's features.
Aurora Dress-Up – Mix and match her wardrobe to create a beautiful outfit for the royal banquet. The instructions are easy to follow for my preschooler. She liked this a lot.
Find Sahara – The sultan's favorite horse, Sahara, has escaped! Take a magic carpet ride and help Jasmine find him. Maya didn't want to play this over and over like she did with Aurora Dress-Up, as this game is a little more challenging, but it held her attention nonetheless.
"You'll never lose this love" video featuring Belle
This special edition DVD also comes with a bonus disc! It includes:
A sneak peak of The Princess and the Frog which is coming out later this year. It's an American fairy tale that takes place in New Orleans, which introduces Princess Tiana, an adorable frog prince, and a new villain, and goes back to the classic hand-drawn animation that Disney is known for.
Two music videos: "Happiness was made to share" with Cinderella and "Working for a dream" music video with Mulan.
Rated G, Disney Princess Enchanted Tales: Follow Your Dreams runs for just under an hour. Spanish and French language tracks are also available on the same DVD.
Mickey Mouse Clubhouse: Mickey's Adventures in Wonderland was enjoyed just as much by my 2-year old as her big sister! We watch the show on Playhouse Disney on a daily basis, so we know all the characters quite well.
Inspired by Disney's classic, Alice in Wonderland, this movie features all-new animation, original songs and an interactive bonus feature. Mickey, Donald and the entire Clubhouse gang embark on their most majestic journey yet as they enter a wondrous world where they encounter Tweedle Chip, Tweedle Dale and Goofy Hatter, play croquet with Queen Clarabelle and more! During their fascinating adventure, they navigate giant mazes and solve mysterious riddles on their hunt for Daisy's birthday present, a lost cuckoo bird, while racing time to get back to the Clubhouse in time for Daisy's surprise birthday party.
The interactive Adventure Mode is my favorite feature of this DVD. It's a great supplement to the movie. Adventure Mode plays just like a regular video, but stops frequently to ask questions about what you just watched. Your children use the arrows on the TV remote to answer. This is such a wonderful way to gauge if they're paying attention or not! And because the questions focus on colors, shapes, sizes, telling time, and logic, your kids will be learning without even knowing it! The best part is that there are two levels. Level 1 is perfect for my toddler, though she doesn't have the coordination to press the right button on the remote just yet, so I do it for her. Level 2 gives more options to choose from and the questions are a little tougher, best for ages 4-6.
The DVD also includes a bonus episode – Mickey Mouse Clubhouse "Goofy Goes Goofy" – where Goofy accidentally gets soaked with the Professor's latest experimental goo – and he splits into six Goofys! Lots of silly Goofy-ness!
The movie runs for 50 minutes and is available in Spanish and French language tracks as well. One of my favorite clips from Mickey Mouse Clubhouse: Mickey's Adventures in Wonderland:
Disney Princess Enchanted Tales: Follow Your Dreams Special Edition, is available in the U.S. for $29.99 (SRP) and in Canada for $35.99 (SRP). Mickey Mouse Clubhouse: Mickey's Adventures in Wonderland, is available in the U.S. for $26.99 (SRP) and in Canada for $29.99 (SRP). Both were produced by Walt Disney Studios Home Entertainment.