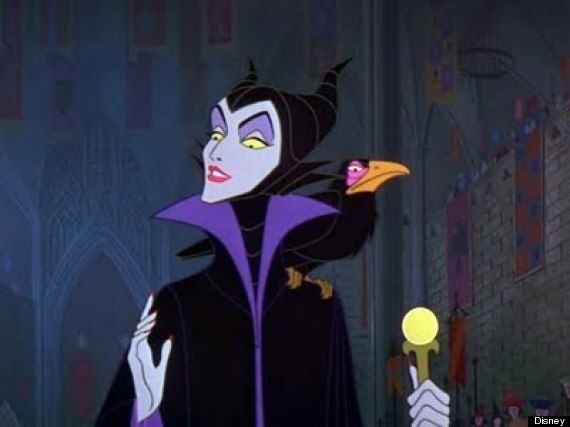 I was excited to learn that production began earlier this week on Walt Disney Studios' "Maleficent," starring Academy Award–winning actress Angelina Jolie! The untold story of Disney's most beloved villain, Maleficent, from the 1959 classic "Sleeping Beauty," this film reveals the events that hardened her heart and drove her to curse the baby, Aurora.
While I'm not a huge fan of Angelina, when I heard a few months ago that she had been cast in this role, I thought she'd be perfect "Mistress of All Evil". Look at the first official photo below! The horns, the cheekbones… just right.
This will be the directorial debut for Robert Stromberg, the Oscar-winning production designer for Avatar and Alice in Wonderland. Also starring in the film:
Elle Fanning – "Super 8" – as Princess Aurora.
Imelda Staunton – "Vera Drake" – as Knotgrass, a fairy that cares for Aurora.
Lesley Manville – "Secrets & Lies" – as Flittle, another one of the fairies.
Juno Temple – "Atonement" – as Thistletwit, the third, and youngest, fairy.
Sharlto Copley – "District 9" – as the male lead, Stefan, the half-human, half-fairy son of King Stefan.
Miranda Richardson – "The Hours," "Harry Potter" – as Queen Ulla, Maleficent's aunt and Fairy Queen.
Sam Riley – "On the Road" – as Diaval, a raven who changes into human form; Maleficent's right hand man.
India Eisley – "The Secret Life of the American Teenager" – as a young Maleficent
Brenton Thwaites – "Blue Lagoon: The Awakening" – as a young prince
Kenneth Cranham – "Hot Fuzz" – as King Henry, a human king who plots to conquer the fairy kingdom.
Most of the cast is British, and the film is set in England… so I'm guessing Angelina and Elle will have British accents as well? We shall see. "Maleficent" is scheduled for a March 14, 2014 release in 3D.