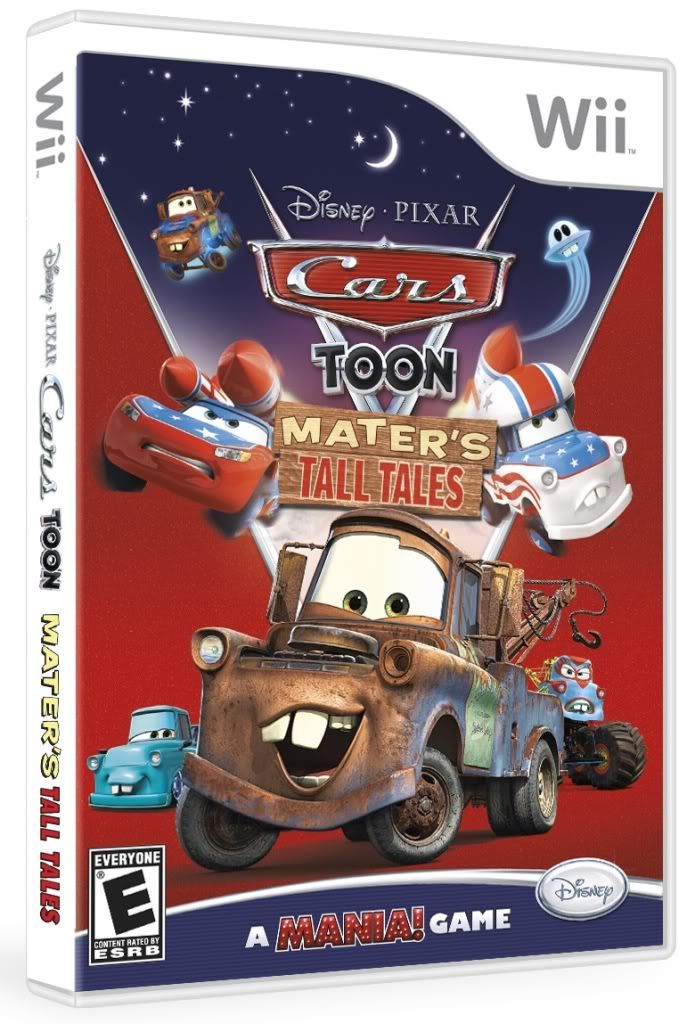 If you watch Disney Channel with your kids, it's likely that you've seen the popular animated shorts called Cars Toons: Mater's Tall Tales. This television series by Pixar features the characters Mater and Lightning McQueen from the movie Cars. Each Cars Toon follows Mater telling the story of something he's done in the past. He tends to exaggerate a bit, turning the story into a tall tale. These are very cute cartoons… I only wish they were more than 3 minutes long! I'm sure I'm not the only one thinking this, as just recently the Cars Toons were released on DVD and Blu-Ray, and a fun video game based on the series, exclusive to Wii, is now available as well. I was sent a copy of the game to try out with my family through a Mom Central campaign.
Cars Toon: Mater's Tall Tales is part of the Mania! video game franchise, featuring fast-paced, multiplayer, family fun. The game is a frenzied pick-up-and-play experience to be enjoyed by everyone in the room. With up to four players at once, Mania! games reward competitiveness and cooperation among players. The game will bring Mater together with Lightning McQueen and the "Cars" gang for a new set of adventures, capturing the endearing sense of humor of everyone's favorite tow truck. Players will join Mater and his pals as they relive the wild stories he conjures up about hilariously unpredictable events that may or may not have taken place.
Gameplay
Up to four players can play simultaneously, but I like to try new games out by myself. My guilty pleasure! 😉 I started by creating my own car, one that I would use to play the mini-games. This car creator is fun. As I advance in the game, I'll earn coins that can be used to – as Xzibit would say – pimp my ride.
There are three modes to choose from – Tall Tales mode, Free Play, and Playlist mode. Tall Tales mode is broken down into 6 individual stories – Mater the Greater, El Materdor, Monster Truck Mater, Tokyo Mater, Rescue Squad Mater and Unidentified Flying Mater. Unfortunately you have to compete each one in a particular order, so you can't just pick your favorite Cars Toon and start with that! The storytelling is fabulous, though. You re-enact each Cars Toon by playing 5 games per story, and have to achieve a certain score to successfully unlock the game. Once unlocked, the game can be played in Free Play and Playlist modes.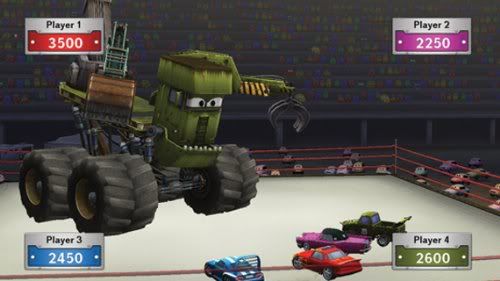 The instructions are described at the beginning of each game through a short animated tutorial. I often had to replay this a couple of times before getting it. I'm sure the younger kids appreciate not having to read instructions, but I wouldn't mind if it was spelled out for me. Like most mini-games in video games, these are addicting. I found myself re-playing them multiple times just so I could get a better score the next time around! There are racing games (not my forte), shooting games (I rocked those), and so much more! I haven't even unlocked half of them yet, and with 30 games in all, this is a video game with a ton of play value. At the end of each game you earn coins based on your performance, and sometimes even a trophy.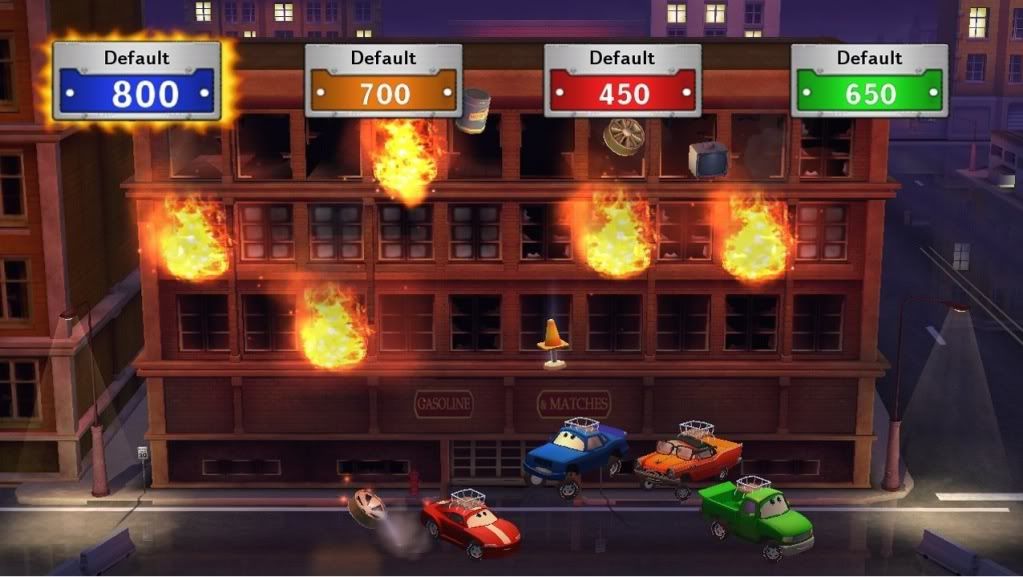 Maya, my 6-year-old, did jump in and play for a bit, but found most of the mini-games a bit challenging. This doesn't surprise me, as she mostly plays dance video games so she isn't too comfortable using the remote. However, she did find the game itself highly entertaining, her eyes glued to the screen the entire time I was playing.
Graphics and Sound
Actual footage from the Cars Toons is seen throughout the game, which is great but does tend to slow things down. The games themselves also feature high quality animation and elaborate details.
As for sound, the voice of everyone's favorite tow truck, Mater, is supplied by Daniel Whitney, aka "Larry the Cable Guy," who also voices the character in the film and cartoon shorts. You can't help but love him! The soundtrack to the game adds to the fantastic storytelling… listening to the Paso Doble during El Materdor, for instance.
Buy It!
Whether you want to try death-defying stunts in "Mater the Greater," running with the bulls in "El Materdor," or want to help a friend with "Rescue Squad Mater," with Cars Toon: Maters Tall Tales you'll have enough variety to keep everyone in your family entertained. Kids between the ages of 6 and 12 would probably enjoy it the most, though judging from how entertained my girls were just watching me play, I'd say this is a great game for all ages! The game retails for $49.99. For more information, please visit the Cars Toon: Mater's Tall Tales' website at www.disney.com/carsvideogames.
Disclosure: I wrote this review while participating in a blog tour campaign by Mom Central Consulting on behalf of Disney Interactive Studios and received the Cars Toon: Mater's Tall Tales Wii game to facilitate my review.