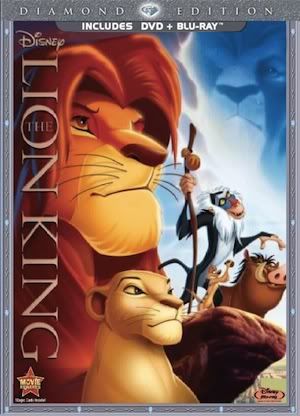 The Lion King became available on high-definition Blu-ray and Blu-ray 3D today, October 4th. It's one of my favorite Disney movies! I remember going to see it with my mom and little sister when it first roared into theaters in 1994. I was a teenager, but loved it nonetheless! I bought the soundtrack and have been a huge fan of Elton John ever since.
Some notable facts about the film:
It's the third highest-grossing animated film of all time with $358.6 at the domestic box office (includes all releases), the highest-grossing traditional hand-drawn animated film of all time, and the highest-grossing film from Walt Disney Animation Studios.
It's the top-performing home entertainment release ever. The Blu-ray debut marks the first time it has been available in any form since 2004.
It's Disney's best-selling soundtrack. It received Diamond certification from the Recording Industry Association of America (10x platinum). Only four other soundtracks in history have been certified Diamond.
Best of The Lion King, a collection of songs from and inspired by the films and the show, is currently the #3 soundtrack on iTunes.
It has won 2 Academy Awards, 3 Golden Globes, 6 Tony Awards and 3 Grammys, among other accolades, including over 70 major theatrical honors worldwide.
The stage show has been seen by more than 60 million people worldwide, grossing over $4.6 billion in 18 productions across 14 countries, spanning 5 continents and 8 languages.
Current productions include Broadway, North American Tour, Las Vegas, London, Hamburg, Tokyo and Singapore. It's also preparing to launch its Spanish premiere in Madrid, the largest stage musical ever presented in Spain, and the first time the musical has been performed in the Spanish language.
It opened on Broadway in 1997 and in January 2011 became its seventh longest-running show ever with a remarkable 5,757 shows thus far; it continues to be one of the highest-grossing on a weekly basis.
The film, which followed The Little Mermaid and Beauty and the Beast, propelled The Walt Disney Studios' animation renaissance. The Lion King won the Oscar for Best Original Score (Hans Zimmer) and Best Original Song (Elton John/Tim Rice, "Can You Feel the Love Tonight") and earned Golden Globes in both categories as well as for Best Motion Picture-Comedy or Musical.
The Disney classic follows the adventures of Simba, the feisty lion cub who "just can't wait to be king." His envious Uncle Scar has plans for his own ascent to the throne, however, and forces Simba's exile from the kingdom. Alone and adrift, Simba soon joins the escapades of a hilarious meerkat named Timon and his warmhearted warthog pal, Pumbaa. Adopting their carefree lifestyle of "Hakuna Matata," Simba ignores his real responsibilities until he realizes his destiny and returns to the Pride Lands to claim his place in the "Circle of Life." The all-star vocal talents—including Matthew Broderick, Nathan Lane, Whoopi Goldberg, James Earl Jones, Jeremy Irons, Ernie Sabella, Jonathan Taylor Thomas, Robert Guillaume, Cheech Marin and Moira Kelly— and uplifting messages of courage, loyalty and hope make this a timeless tale for all ages. It's a combination of the beloved characters, unforgettable story, breathtaking animation, and the award-winning music that gets me every time.
That said – and even though it's rated G – I still have some reservations about having my daughters (4 and 7) watch The Lion King. They don't take so well to sad movies. Have your kids seen it? What did they think about it?
By the way, it was just announced today – on the heels of the phenomenal success of The Lion King 3D – that The Walt Disney Studios will release four of its classic films for the first time in 3D in 2012 and 2013:
Beauty and the Beast – January 13, 2012
Disney•Pixar's Finding Nemo – September 14, 2012
Disney•Pixar's Monsters, Inc. – January 18, 2013 (Monsters University, a prequel to the original film, arrives in theaters in Disney Digital 3D on June 21, 2013)
The Little Mermaid – September 13, 2013 (can't wait for this one!!!)