My daughters couldn't be more different when it comes to reading and writing.
Maura, my 7-year old, LOVES to read. That's probably an understatement, actually. She can easily read a short chapter book in one day. Since the beginning of this school year, she's read all of the nearly 30 books in the Junie B. Jones series (and even re-read a few) and has started the Whatever After fairy tale series by Sarah Mlynowski, and is already 5 books into that.
Maya, my 10-year-old, is at the other end of the reading spectrum. She wouldn't pick up a book for fun if I paid her. And yes, I have tried to bribe her with money in the past.
BUT she does love to write. She has journals and journals of stories, some fictional and others more like diary entries. She writes every night before bed. She writes notes to me and her friends. Maura, however, doesn't write more than what is required in school… and she has the worst handwriting!
To encourage Maura to write during some of the snow days we had last week, I asked her to enter the PBS KIDS Writers Contest. She kind of shrugged until I mentioned that there are prizes. 😉 The Writers Contest is designed to promote the advancement of children's literacy skills through hands-on, active learning. It is open to children in grades K-3 and encourages creative thinking and storytelling, while building literacy skills through the creation and illustration of original stories. Perfect for Maura!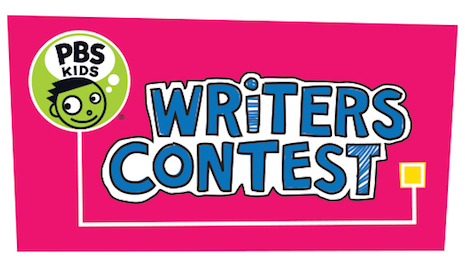 How the Contest Works
PBS stations throughout the country will collaborate with schools, public libraries and other community-based organizations to present the PBS KIDS Writers Contest in their local communities. To enter, kids can submit stories to their local stations. Each station will select local winners and award prizes, which will then be entered into the national contest.
A panel of esteemed judges will rank the top 12 entries. This year, the judges include acclaimed writers, producers and children's media creators, including Marc Brown, author and illustrator of the ARTHUR book series, the Kratt Brothers, Martin and Chris, from the PBS KIDS show WILD KRATTS, Billy Aronson and Jennifer Oxley, creators of PEG + CAT, and Tim McKeon and Adam Peltzman, creators of ODD SQUAD. National winners will be announced during the summer of 2015, and the winning stories will be featured on pbskids.org/writerscontest. The national winners will receive prize packages including ARTHUR® books and a personal technology device courtesy of PBS.
Creative Writing Resources
To help young writers get started, PBS KIDS offers some great resources for children, parents and teachers. Story ideas and activity sheets, along with the previous winning entries, are available on the contest website to inspire children during the brainstorming process. PBS LearningMedia is also offering a collection of online teacher resources for use in classrooms nationwide.
To enter the contest and for more information on entry rules and contest resources, visit pbskids.org/writerscontest or your local PBS station website. But do it soon because the deadline is coming up later this month! I'll share Maura's story here if she lets me!
Do your kids like to write?