As I write this, I'm enjoying a couple of scoops of Dreyer's/Edy's Slow Churned Limited Edition holiday ice cream. For the sake of a review, of course! It just hit me that ice cream is just as comforting when it's 16 degrees outside as it is on a hot summer day! So yummy!
If you live West of The Rockies, you probably know this ice cream under the Dreyer's brand, and if you live from the Midwest all the way to the East Coast, like me, you're likely a fan of Edy's ice cream. William Dreyer and Joseph Edy were the company's founders. The reason there are two different names is to avoid confusion with the Breyers brand, which was already established when Dreyer's expanded towards the East Coast back in the 80's. As you can see from the photos of the ice cream cartons, aside from the name, both brands are identical.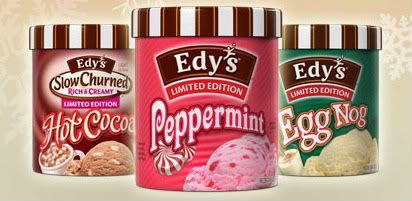 To celebrate the holiday season, Dreyer's/Edy's is selling a few special holiday inspired flavors of their Slow Churned light ice cream. Peppermint, Eggnog and Hot Cocoa. You can create delicious desserts with them (there are recipes on the website!) or enjoy a few scoops on their own.
I've tried the Peppermint and Hot Chocolate varieties and it's hard to believe they have 50% less fat and 30% fewer calories than regular ice cream. Rich, creamy, and full of flavor, you won't miss that extra fat one bit! The Peppermint ice cream has real peppermint candy pieces swirled through it, which makes for a unique but holiday appropriate dessert. The Hot Cocoa ice cream tastes like that hot cocoa you make from a powdered mix, complete with marshmallows! My daughters were a little perplexed by it because the flavor is spot on! And the Egg Nog ice cream I just picked up at the market today and had a couple of spoonfuls of… so good. I'm thinking it would make a great milkshake!
BUY IT!
Through the end of December, get these flavors in your grocer's freezer section (while they last!)
WIN IT!
Giveaway is closed. Winners have been notified and are listed HERE.
I have a handful of ice cream coupons that I'm itchin' to give away! Four readers will win (2) coupons each for free Dreyer's, and three readers will win (2) coupons each for free Edy's ice cream. To enter, please visit icecream.com and leave a comment below telling me which limited edition holiday flavor you would like to try the most. Also, please specify if you'd prefer Dreyer's, Edy's, or either.
For extra entries:
Subscribe to my feed by feed reader or email (or let me know if you already do). 1 entry
Follow me, @ohMariana, on Twitter and tweet about this giveaway one time using the Tweet button below, or copy this – FREE ice cream!! Win Dreyer's or Edy's ice cream at The Domestic Buzz: https://ohsohungry.com/?p=12574 – 1 entry
Like The Domestic Buzz on Facebook. 1 entry
Dreyer's provided me with the product samples pictured above to facilitate my review, as well as the coupons for giveaway, but all opinions are my own. Contest ends December 21st, 2010 at midnight EST. US entries only, one person per household. Leave a separate comment per entry and a valid email address. Winners, chosen at random, have 3 days to claim their prize.