I found out about the EA SPORTS Active 5K Challenge on Twitter earlier this month.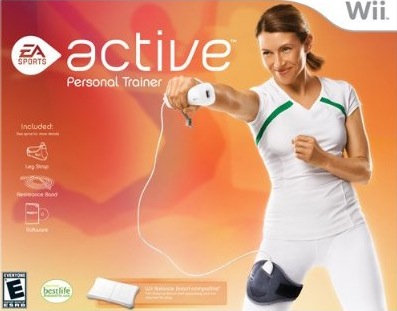 Basically, the purpose is to take your exercise routine to the next level by training for a 5K using EA SPORTS Active for the Wii. No specific race, just one in your community that's being held between October 17th and November 15th of this year.
I've walked my share of 5Ks, but never run one, so I decided to sign up and make that my goal. The question was which one? I've done the Turkey Trot in DC before, but that's not until Thanksgiving, so I had to search for something sooner. When I saw the list of races in the DC Metro area, "Get Your Rear in Gear" stuck out to me because of its clever name. When I clicked on its homepage for more information, I got it. It's an event run by the Colon Cancer Coalition to raise funds and increase awareness about this terrible disease.
I teared up. This was meant to be. My aunt Annie lost her fight with colon cancer just 6 weeks ago.
So I registered for the run and also signed up to become an EA SPORTS Active 5K Challenge Community Leader. As a Community Leader, I'll be leading a group of challengers through the 5K, keep them motivated, host training sessions, and write about my experience. We'll all get team t-shirts to wear during the run, and I'll receive a complimentary copy of the new More Workouts program (coming out in November), as a thank you. I named my team Joie de Vivre, in memory of my aunt, who was so full of life!
Check out the list of Community Leaders and see if there's a 5K being organized in your city! Email the leader in your area and then sign up: easportsactive5kchallenge.eventbrite.com to officially be included in the challenge. If you'd like to donate to my fundraising efforts, I'd greatly appreciate it! You can do so by visiting my donation page.
I'm traveling this week, so I'll officially start training on Saturday. That will give me 6 weeks to get in running shape! Now all I need is a few good team members to join me. There's a training schedule on the EA SPORTS Active website to use as a guide with a 4-week program for those that want to run/walk the 5K and another for those that would like to run the entire distance (me!). Each workout is about 20-30 minutes in length and alternates between workouts on the Wii and jogs/walks outside. To make it a 6-week program, I've added one week of easy intensity workouts and an extra week of medium intensity. I've already loaded the workout into my Wii. It includes a little bit of cardio and a whole lot of lower body exercises. The great thing is that I can totally customize it if there's something that's not working for me, or if I find it to be too easy. That's what I love about EA SPORTS Active. That and the fact that it's helped me lose 20 pounds since August! If you don't have a Wii already, now might be the right time to get your hands on a console, since the price just dropped by $50 yesterday.
I have a copy of EA SPORTS Active to give away so that one of my readers can join me on this challenge! To enter, please leave a relevant comment. I'd love a little motivation. 😉
For extra entries:
Blog about this giveaway, linking back to this post.
Subscribe to my feed (or let me know if you already do).
Follow me on Twitter (@OhMariana) and tweet about this giveaway: I want to 'get my rear in gear' with #EASActive! Win a copy from @ohMariana – https://bit.ly/1RfflI
Grab my button (at the bottom of the page) and link to me in your sidebar or blog roll.
Become a fan on Facebook (or tell me if you are already!)
Contest ends: Monday, October 12th, 2009 11:59 pm EST. US entries only. Leave a separate comment for each entry & a valid email address/blog URL. Winner, chosen at random, has 3 days to claim their prize.