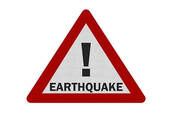 I was sitting on my computer at my dining room table this afternoon, when I felt a rumble. I stood up and looked through the front window, seeing a guy on a ride-on lawn mower in the yard across the street. It sure was loud, but could I really feel that way over here? Then the rumble turned to shaking, which quickly intensified.
You know that feeling where you think you're going to faint? Light-headed, dizzy, weak in the knees? That's how I felt. I almost lost my footing. The shaking got stronger, and Maya yelled "What's going on?" from the family room, where she was playing with Maura. I yelled back for them to get under a table, because the noise that came from above us was definitely scary. Which table did they crawl under? The glass coffee table. Yeah.
Walking around the house after, surveying for damage, I found that my half-full cup of coffee swished around enough that a little spilled on the table. The front door had opened wide, as did several kitchen cabinets. Books had fallen over on their shelves, a few frames were crooked, and the shampoo bottles sitting on the side of the bathtub fell in. I couldn't find any cracks in the walls or anything broken. Thank goodness. The entire thing had to have lasted at least 30 seconds, which doesn't seem long at all, but certainly felt like forever when you're afraid the roof is going to collapse!
Maya was probably the one who was the most shaken up by it all, no pun intended. She had a panicked look on her face afterwards, almost wanting to cry, and played quietly under the kitchen table with her Barbies for a while, before I decided to head outside with them, in case there was an aftershock. She asked me if there was a hurricane coming (which there is… Irene!) but she meant a tsunami ('one of those really big wave things,' she explained), and I reassured her that there wasn't and that we were really far from the beach anyway. She was also afraid to go to bed tonight, and asked me "What happens if another earthquake comes at night and I don't wake up in time?" "In time for what?" I asked. "In time to run under a table!" That broke my heart. On top of that, minutes after finally falling asleep I heard her cry and ran upstairs to find that she had thrown up all over her bed. I think it might be a bug, as Maura was sick last week, but it's been a bad day for her regardless.
Maya's reaction makes me realize how ill-prepared we are for this type of thing, and how sad it is that instead of thinking "earthquake," the first thing that comes to mind to many of those in DC and New York is terrorist attack.
Did you feel the earthquake?