Every time we have a family gathering, it's my responsibility to make the Mexican rice. Well, to me it's just rice. My mom, my abuelita (grandma), and all my tías (aunts) have made it this way since I can remember. Once I was old enough to work at the stove, it became my job.

Recently, Mazola sent me some of its Sobrecitos to try. These convenient bouillon packets, pictured above, dissolve completely and instantly so that you don't have to worry about leaving big salty chunks of bouillon in the food. I thought I'd try it in my rice, to see how it compares to using regular bouillon. Mazola® Sobrecitos® are made with all natural sea salt, which is less processed than regular table salt, so that's a plus! These packets are also cholesterol and fat free, and are available in both Chicken and Tomato flavor. As far as measuring goes, one Sobrecito® = one bouillon cube. Easy peasy.
Easy Mexican Rice
(measurements are estimates; I generally just eyeball it!)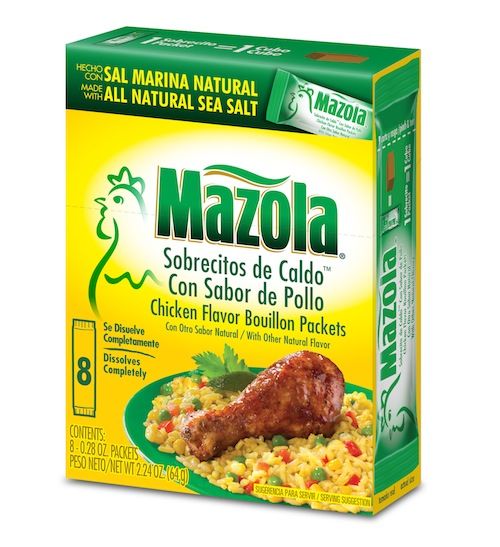 Ingredients
1 tablespoon olive oil
1 small onion, finely chopped
1-2 cloves garlic, minced
1 cup white rice
2 large, ripe tomatoes, or a can of diced tomatoes, drained
1.5 cups water (or chicken broth, if you have it!)
1 packet Mazola® Sobrecitos®, chicken flavor (instead of a bouillon cube)
Salt and pepper to taste
Directions
Drizzle a bit of olive oil in a pan, and set it on medium heat. Add the onion and garlic and sauté this for a couple of minutes, then add the rice and cook until it turns golden, careful not to brown it too much.
Blend the tomatoes in a food processor until they liquify but still have some chunks, and add this to the rice. Or, if you're like me and rarely have fresh tomatoes on hand when you need 'em, throw in a can of diced tomatoes, drained.
Add the water (or broth), stir in Mazola® Sobrecitos®, and bring to a boil over medium heat.
Reduce heat to low (very low) and cook rice for about 20 minutes, keeping an eye on it so that it doesn't dry out too much. Add more liquid as needed, and salt and pepper to taste.
*I usually like to add some green bell pepper or peas, but my kids aren't too fond of "green stuff" these days.

My rice came out delicious, but I didn't expect anything less! I mean, it's hard to mess up rice! I do appreciate the time-saving convenience of Mazola® Sobrecitos®, however, and will use the product in future recipes as well.
You, too, can use Mazola® Sobrecitos® instead of bouillon in a recipe! If you need ideas, look through all the yummy dishes on Mazola's Spanish-language Facebook page: www.facebook.com/MazolaEspanol and visit Mazola's website.
WIN IT!
One lucky reader will win (1) $25 Walmart Gift Card and a box of Mazola Sobrecitos.
To enter, please visit www.facebook.com/MazolaEspanol and leave a comment below with your favorite recipe (receta). Let me know if you need help finding one!
For extra entries:
Entry period ends July 31st, 2012. US entries only, one person per household, 18 years and up. Leave a separate comment per entry and a valid email address. Winner, chosen at random, has 3 days to claim their prize.
Disclosure: This is part of a sponsored campaign with Latina Mom Bloggers and Mazola® Sobrecitos®. However, all opinions expressed are my own.