This summer, Hallmark is focused on helping people spread encouragement – both to moms and to children – with two new collections of their famous greeting cards.

For Moms
A recent national survey commissioned by Hallmark revealed two-thirds of moms say they handle the imperfect moments of motherhood by sharing funny stories with other moms about their experiences, and that 8 in 10 moms turn to each other for candid, empathetic, and unapologetic support and reassurance that "we are all in this together."
Giving a card from this new "Edge of Motherhood" collection is a perfect way to show a fellow mom that you've "been there, done that" and know what they're going through – and they start at just 99 cents.
All the cards are funny, but this is one of my favorites: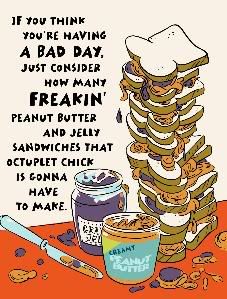 And the inside reads: "There now… feel better?"
I frequently make dinner for new moms in the neighborhood, and am going to keep a few of these encouragement cards on hand for when I deliver the meal!
For Kids
Hallmark's new collection of encouragement cards for kids are designed to help parents provide an extra boost of confidence for kids as they experience "everyday" moments. Some of the cards even include originally recorded sound clips too! For example, there's a card that says "I'm so proud of you…" on the cover & "…and I'm not LION!" in the inside, and plays jungle sounds when you open it. Wouldn't that just be perfect to give to a child after their first day of school?
Both collections of cards are available at select Hallmark Gold Crown stores and other retailers where Hallmark cards are sold. The regular cards start at 99 cents, and the cards with sound retail for $2.99. Some styles of the "Edge of Motherhood" cards are available online at hallmark.com as well, and can even be personalized!
This post was written for Family Review Network as part of a program for Hallmark, who supplied the cards for review.