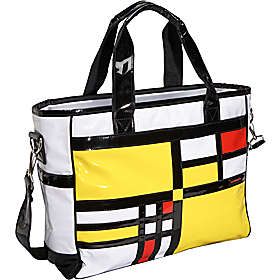 If you were to ask my husband, he'd probably tell you that I change purses like he changes underwear. That may be exaggerating just a wee bit, but I have to admit it's probably true. I've amassed quite a collection over the years – from clutches to diaper bags, and everything in between.
Thanks to the Family Review Network I was recently introduced to eenamaria handbags, and was lucky enough to be able to add yet another amazing bag to my growing collection! With several different designs from the Chelsea Boi line to choose from, the hardest part was deciding which one. After much deliberation I finally decided on the Workin' Weekend Baby Tote, mostly because I love it's Mondrian-inspired look.
With one large zippered storage area in the center, and two on the outside, the design of the tote is very simple.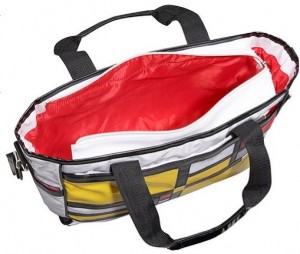 It has a bright red interior lining and double handles, with a removable shoulder strap, 30 inches in length. Made out of patent vinyl, the tote is very light-weight and easy to wipe clean. My first impression was that the Workin' Weekend Baby Tote doesn't look like a typical diaper bag. It doesn't have all the bells and whistles of a traditional baby bag, like a changing pad, pockets for every little thing, etc. I honestly found this refreshing because I rarely have use for all of that anyway. I've actually been using it to carry around my laptop for the past couple of weeks! My 13″ macbook fits perfectly inside, though I do have it in a sleeve because the bag is obviously not meant to cushion a laptop.
Sarah Morgan is the creator and designer of eenamaria handbags. She is definitely someone to watch out for. Not only has she been nominated twice for the Fashion Group International's 'Rising Star Award', she was most recently involved in London's Fashion Week, and will be airing her new line on QVC early this Spring. With her placement on QVC, Sarah hopes to share her new collection with modern, confident and strong women on-the-go. She hopes to inspire and empower any woman who wears her bag – creating bold looks that represent an attitude and lifestyle that is full of passion and adventure.

Visit www.eenamaria.com for more information, and keep an eye out for Sarah on QVC this Spring! Right now her handbags can be found at eBags, selling for $25-70. An advantage to buying from eBags is that they have a wonderful rewards program. You earn points on every order that then convert into dollars, which are redeemable towards a future order… so you can go back and buy that second eenamaria handbag that you had your eyes on! I can't wait to see what Sarah Morgan comes up with next. I've heard the next line is 40's inspired!
Written for the Family Review Network as part of a campaign for eenamaria, who supplied the product for review. Other than a product sample, no compensation was received for this post.