I went to Walmart last night for a little late-night shopping sans kids, and found the CUTEST spring and Easter-themed products at really great prices. Hasbro has such fun stuff! These are just a few of the things that I found that may or may not make an appearance in my girls' Easter baskets! 🙂
Below this are even more ideas! Happy Spring!
TOYS
You can find most of these toys at Target and Walmart, though the selection may vary.
PLAY-DOH Spring Eggs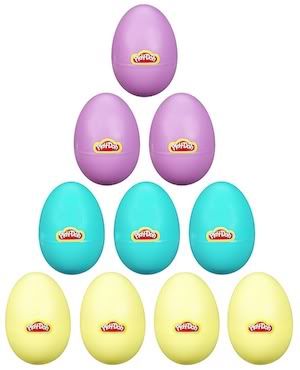 These pastel-colored egg containers hold a special surprise inside: each one is filled with PLAY-DOH Modeling Compound! Perfect for egg hunts, these fun egg containers and the PLAY-DOH inside allows you to create anything you can imagine! "Crack" them open, and you're ready for some molding fun! The package comes with ten eggs, each filled with one ounce of PLAY-DOH. For ages 2 & up, these eggs have an approximate retail price of $5.99. A smaller 4-pack is also available (with two ounces of PLAY-DOH per egg) at Target for $2.99.


PLAY-DOH Treat without the Sweet Bunny and Chick Stampers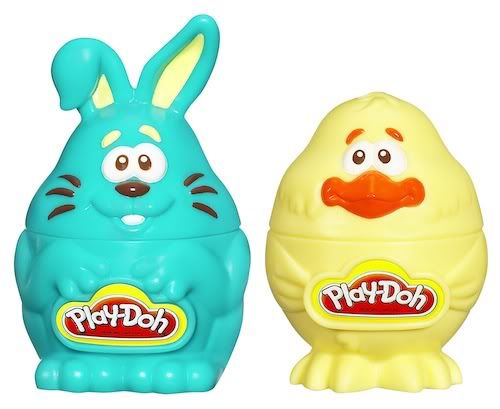 I love the sets that PLAY-DOH comes out with for the holidays. These bunny and chick figures hold a couple of surprises just for you. Open each one up and you'll find PLAY-DOH Modeling Compound hidden inside! Then, look under their feet — you'll find stamps for creating fun shapes! Stamp, mold and shape all kinds of imaginative creations with these two little pals. When you're done, you can store your PLAY-DOH Modeling Compound inside them until it's time to play and create again! An easy, affordable way to add a few new items to your PLAY-DOH tool box, the two stampers each come with two ounces of modeling compound. For ages 3 & up, this adorable set has an approximate retail price of $3.99.
Wheel Pals Animal Tracks Spring Friends
Gets the springtime fun rolling! These two egg and bunny vehicles feature easy-rolling wheels so your little one can zip and zoom them all over the floor. Sized just right for little hands, this squeezable pair loves to go, go, go in the spring — and all year long! The two-pack includes egg and bunny vehicles. For ages 12 mos. & up. Approximate retail price: $4.99.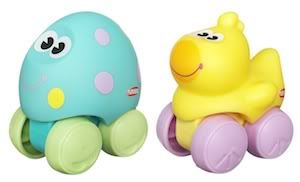 Mr. Potato Head Spud Bunny
The classic, face-changing friend for kids, all dressed up as a bunny for spring! Store extra accessories in a compartment built into the potato body. Includes potato body, two arms, nose, pair of bunny slippers, muzzle, one pair of ears, pair of eyes, tail and basket. So cute! For ages 2 & up. Approximate retail price: $7.99.

Playskool Weebles Spring Basket 2-pack
Topsy-turvy, springtime fun! This Weebles two-pack includes yellow chick and blue bunny figures in the classic, easy-to-grab shapes. Little ones will love the excitement of these two animal characters, who sway and wobble with glee – but never, ever fall down! They may be geared towards infants 12 months and up, but my girls LOVE Weebles. They're going to look super cute in their Easter baskets! Approximate retail price: $6.99.

Littlest Pet Shop Spring Eggs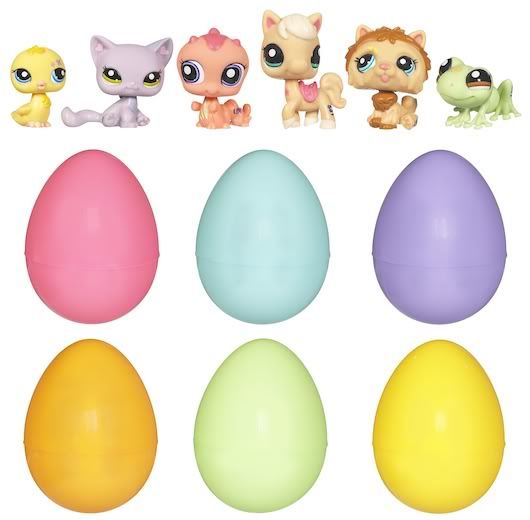 Celebrate spring with two adorable friends! These cute chick and bunny pets are already springtime favorites, but in their pretty egg accessories, they're also perfect Easter basket gifts. Cut out the egg stand on the back of the package and you'll have pet-themed places to put your own decorated eggs! For ages 4 & up, this set has an approximate retail price of $5.99. There's also a pack of 6 different pets for $12.99, which is a better value!
Littlest Pet Shop Spring Pets
Add two friends at once to your Littlest Pet Shop collection! Two adorable pets come with accessories for springtime fun all year long! There are two sets to choose from, Chow Chow and bird pets come with binoculars, apples, dog biscuit and park bench accessories; Lamb and bumblebee pets come with stroller, bottle, bow and teddy bear accessories. For ages 4 & up, each set is sold separately and has an approximate retail price of $6.99.
FurReal Friends Snuggimals
These adorable puppy or kitty figures come with bunny ears to welcome in the season! When you press your puppy or kitty pal's back, he'll move his head and tail, just to show you he's ready for more snuggling! Give 'em lots of attention and cuddling love – they love this more than anything! There are a bunch of different Snuggimals available, but both the Puppy and Kitty figure come with fun and festive bunny ears! For ages 4 & up, each has an approximate retail price of $8.99.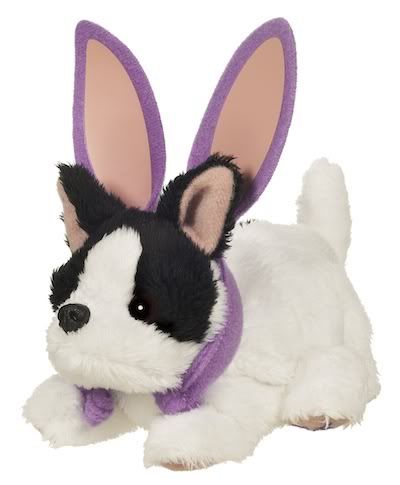 SNACKS
Kids love candy – that's no secret – but I prefer to include some healthier snacks in my girls' Easter baskets. General Mills makes fun fruit gummies that come in snack-size bags with a variety of different characters. You're sure to find something your kids will love, like Transformers, My Little Pony, and Scrabble Junior Fruit Shapes. Available at grocery stores nationwide, these snacks have an approximate retail price of $2.50-$2.99 per box.
Speaking of Scrabble, have you seen the Scrabble Junior Cheez-Its? Maya loves to practice her spelling with these yummy crackers. I often pack them in her school lunch, and they'd be an easy snack to hide in some of those plastic Easter eggs! Each box costs around $2.50-$2.99, like the regular Cheez-Its.
ORAL CARE
For Christmas, my girls always get a new toothbrush in their stockings. They should get a new one every 3 months… so it's about that time! My Little Pony and Littlest Pet Shop have cute oral care lines that include toothbrushes, toothpaste, and sets that come with both.
With an approximate retail price of $2.99-$7.99, you might see these products at Wal-Mart, Target, Toys R Us, CVS, Rite Aid and some grocery stores.
_________________________________________
I hope this gives you some good ideas! I'm done with my shopping for now, but I'll be heading back to Walmart first thing Monday morning to see if any of this stuff is on sale! 😉
What are you putting in your kids' Easter baskets?