I only have two kids… okay, three if I count my husband… and can't keep up with the laundry that piles up on a daily basis. So I just can't even begin to imagine what the laundry routine is like for families with 5 or 6 kids! But we're not going to get to that point, so I guess I shouldn't worry about it.
What I do worry about is how to make the process of washing and drying clothes a little more efficient and eco-friendly. I've taken little steps, like only washing with cold water, switching to a green laundry detergent, replacing fabric softener with a splash of vinegar, and no longer buying dryer sheets, but I'd love to take a big leap and buy a new washer and dryer to replace the ancient set that came with our house. An Energy Star-qualified washer would save me hundreds of dollars and would easily pay for itself over its lifetime. My dream set would be a pair of appliances from Electrolux. I've had my eye on the red washer and dryer for a long time now, but after I saw what the company just unveiled today, I may have a new favorite!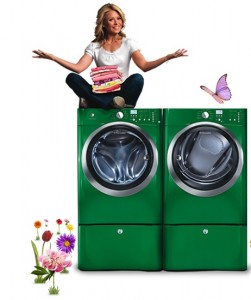 Just in time for Earth Day, Electrolux has teamed up with superstar Mom Kelly Ripa to introduce an eco-friendly washer and dryer in an exclusive, limited edition shade inspired by the great outdoors – Kelly Green. This set is 83% more energy-efficient and uses 56% less water, so it's green inside and out!
Visit electroluxappliances.com for more information, and while you're there take a moment to join the virtual flower garden campaign. For every flower planted, Electrolux will donate $1 to Global Green USA to support their healthy green schools initiatives across America! Global Green USA is an incredible organization that builds green schools across America and helps to create a sustainable future for our children. Everyone who logs on to the site and plants a virtual flower will be automatically entered for a chance to win a new eco-friendly Kelly Green front-load washer and dryer!
In addition, Mom Central will also be giving away one set to a member of their community!  To enter, simply go to Mom Central's Electrolux post and (1) tell them which flower you planted on the Electrolux site and (2) share your own "laundry tips" for saving time and energy.  Mom Central will pick one lucky winner in a random drawing from all entries received!
Unfortunately I can't make a huge purchase like this at the moment, but I can enter to win a set, and so can YOU! So don't miss out on these two chances to win a terrific washer and dryer from Electrolux and Mom Central, not to mention the opportunity to give back to a worthwhile organization!
Good luck!