This is part of a sponsored collaboration with DiMeMedia and Disney Channel.
However, all opinions expressed are my own.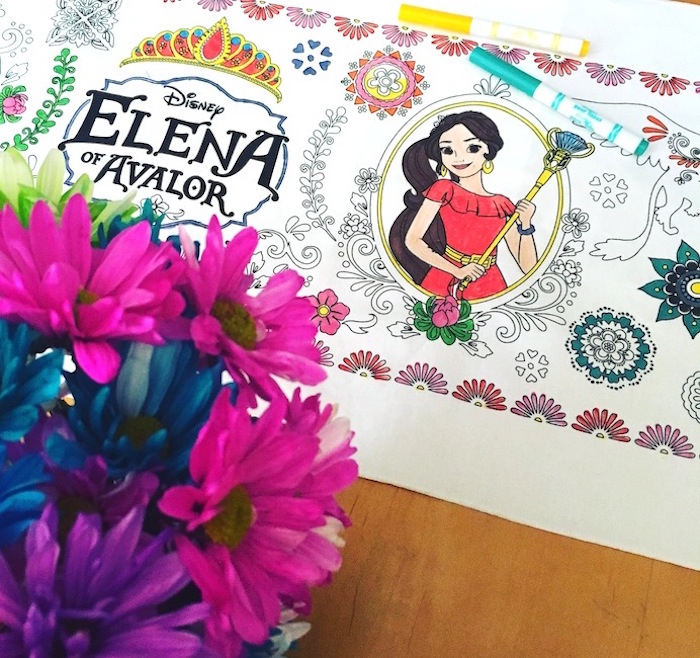 I was thrilled when Disney announced in early 2015 that they would be introducing their first Latina princess, Elena of Avalor, this year, but I never imagined I would like her so much! After great anticipation, Princess Elena finally made her royal debut in the new animated series Elena of Avalor Friday, July 22nd on the Disney Channel and Disney Junior. We watched the one-hour premiere with a handful of my daughters' friends, hosting a little viewing party here at home. It just happened to be Maura's birthday, which made the experience even more memorable!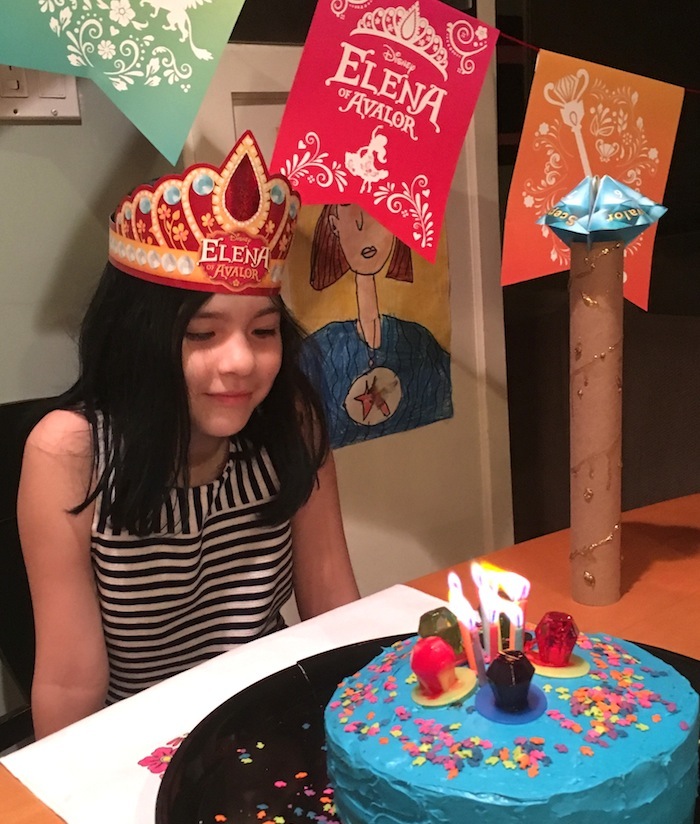 Set in the enchanted fairy tale land of Avalor, the series tells the story of Elena, a brave and adventurous teenager who has saved her kingdom from an evil sorceress and must now learn to rule as crown princess until she is old enough to be queen. After losing her parents and faced with unbelievable challenges, Elena doesn't retreat… she tackles problems with confidence and bravery. Elena may be a princess, but she is no damsel in distress! If something doesn't work, she tries and tries again. That determination is something our children can learn from. She's funny and full of life, wearing brightly-colored dresses and playing guitar. Elena also knows her way around a sword! With her dark hair, brown eyes, and olive skin, many of our daughters will see themselves in her.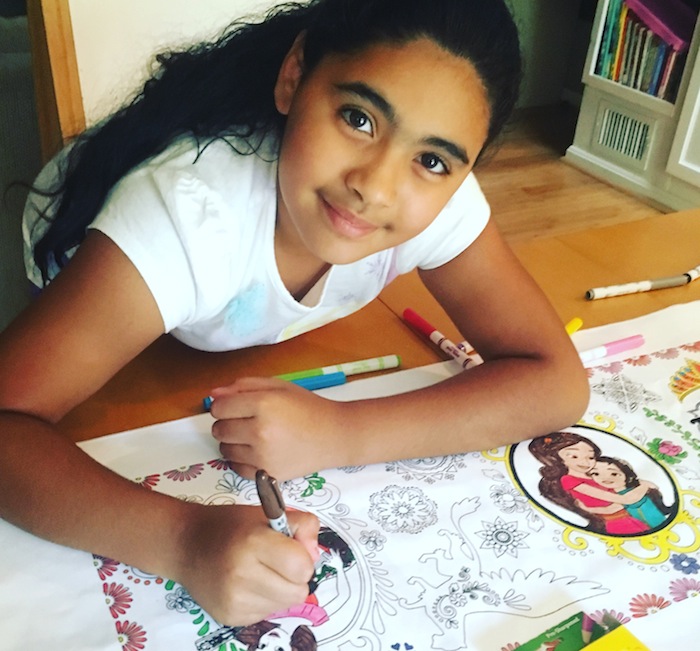 As I mentioned above, Elena isn't from a specific country… it is Disney, after all. She's from a fairy tale land that seems to be a melting pot of Latino cultures, as so many of our communities are in the United States today. Take my daughters, for example. They are Mexican, Bolivian, and American, and don't identify with one culture more than the other. We may listen to Mexican mariachi music, eat Bolivian food, and speak mostly English with some Spanish thrown in, but we also embrace other Latino cultures just as much! And that's exactly what this series does.
Elena of Avalor does a great job of showcasing all the diversity found in Latin America, from its wonderful music to its beautiful architecture. The music is so infectious, with mariachi, Latin pop, salsa, banda and Chilean hip hop influences. I found myself singing along to the songs after just a few bars and am so happy there's going to be a new song in every episode! I also noticed that some of the characters have Spanish names – Elena, Isabel, Francisco, Luisa, Mateo, for instance – and a few of them even have accents. My heart warmed when Elena's abuela calls her "mija," or "my daughter," just like my abuelita called me (and my mami still does!)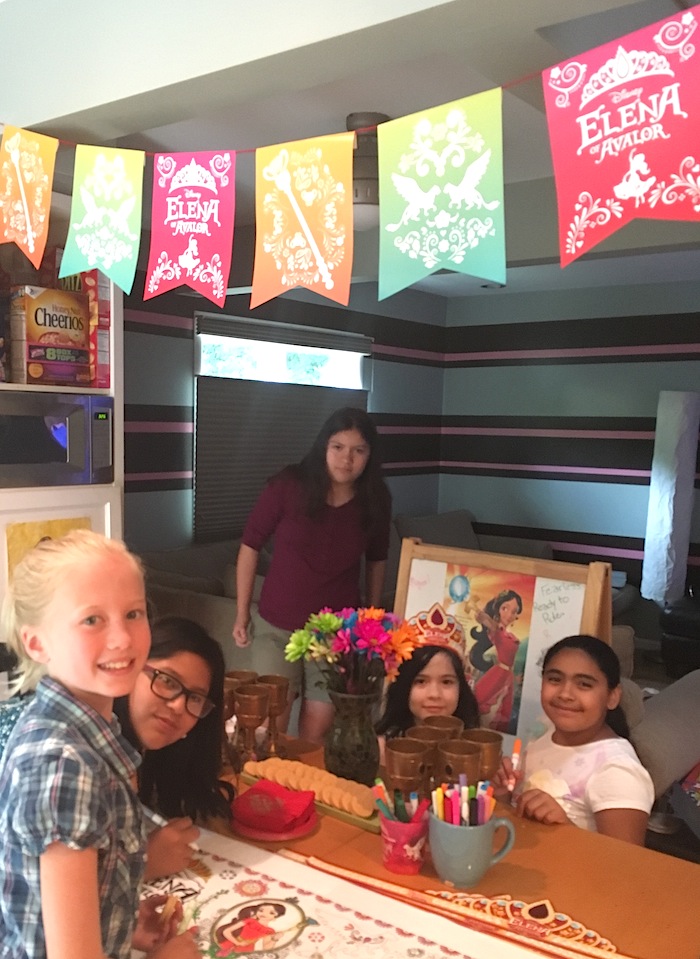 I've heard some people question why Disney didn't produce a movie instead of a TV series so Elena could make a bigger impact, but I think it was a really smart decision, actually. Disney will be able to tell SO many more stories this way! I can't wait for Día de los Muertos and Navidad, celebrating a cumpleaños with a piñata, and all the other surprises that Elena has in store for us. This wouldn't be possible in a 90-minute film.
Visit Elena of Avalor's official website to watch videos and listen to music from the series, and access tons of fun printables, including Elena's tiara, decorative banners, a table runner, Skylar craft, jeweled scepter, calligraphy art, and more, in addition to a party board with other festive ideas you can use to throw your own Elena of Avalor-themed party. Pretty much everything pictured in this post!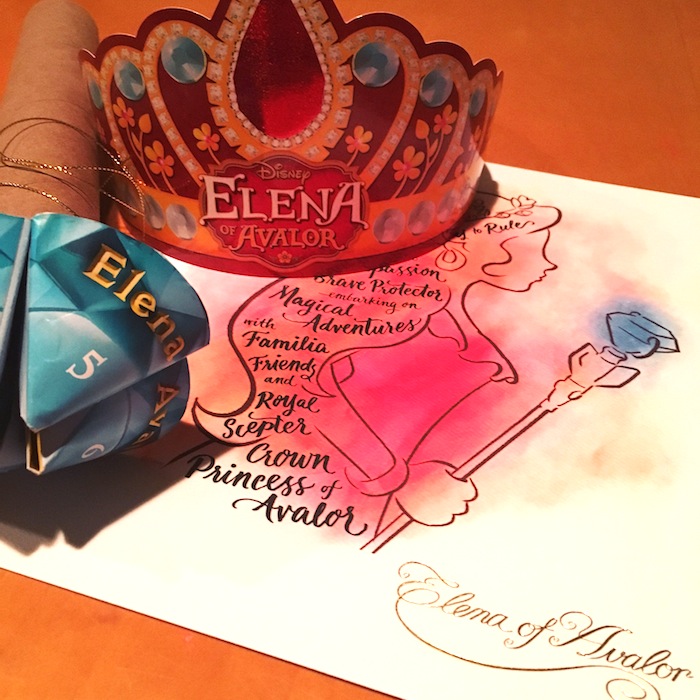 Elena of Avalor as a Leader
Elena is a crown princess, which makes her the heir to the throne and not the queen, just yet. This means Elena has time to learn what it takes to rule her kingdom. Elena's journey will lead her to understand that her new role requires thoughtfulness, resilience and compassion, the traits of all truly great leaders. Leadership is an ongoing theme in Elena of Avalor, which inspired me to have a conversation with my daughters about what it takes to be a leader.
I gave Maya and Maura notecards and asked them to write down qualities they believe a leader should possess. To get them going, I suggested they think about what made Princess Elena a good leader, and gave them a couple of ideas, like her being thoughtful and kind. Between the two of them, this is what they came up with, just from watching two episodes! In addition to their life experiences, of course. Watch this video they created:
Leadership Qualities, inspired by Elena of Avalor

Download the PDF of this image HERE and print
it to share with your daughters while you watch!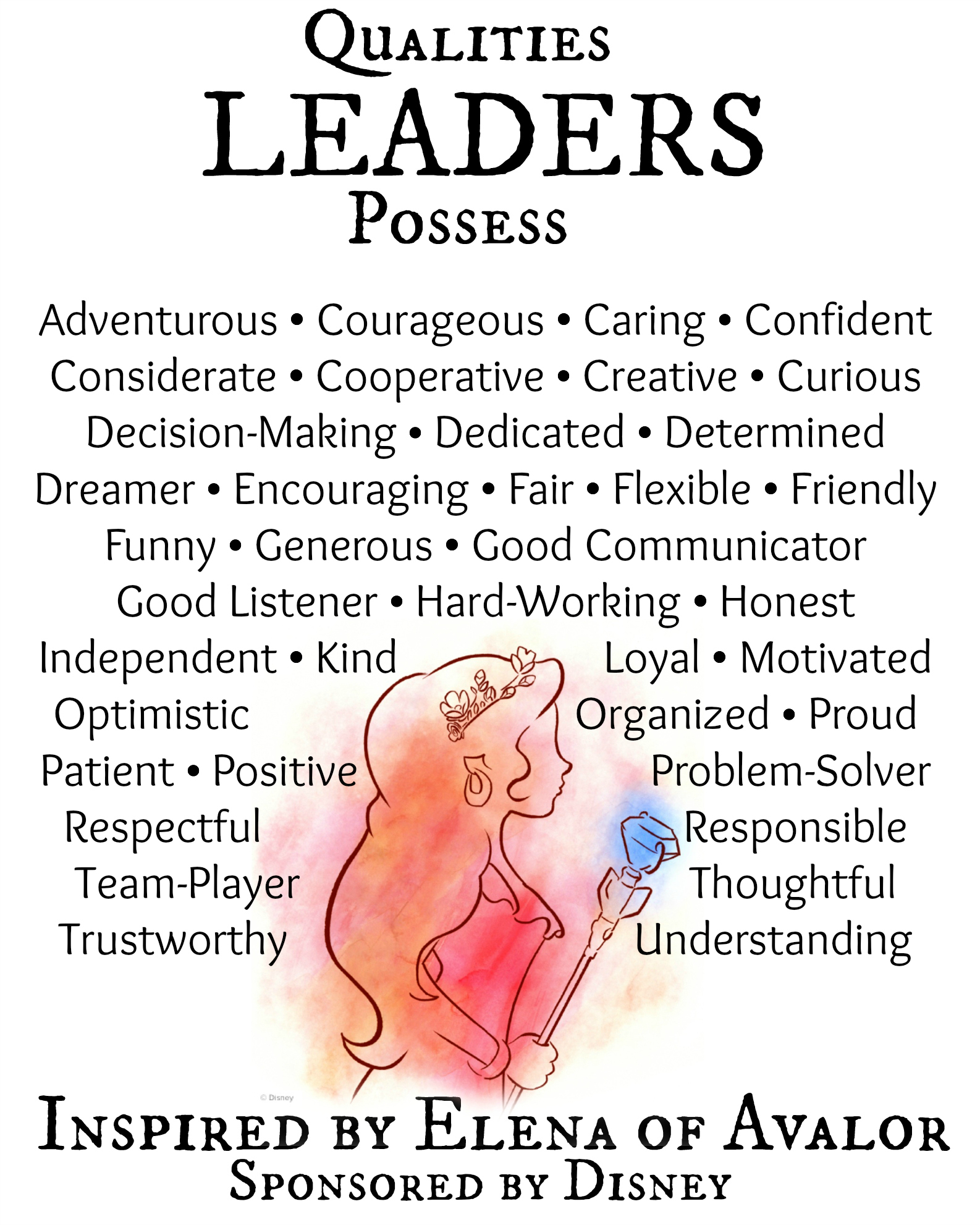 • Adventurous… Not scared to try new things!
• Courageous… Stands up for what she believes in.
• Caring… Sensitive to others' feelings.
• Confident… Believes in herself.
• Considerate… Thinks of others and not just herself.
• Cooperative… Works well with others.
• Creative… Uses her imagination to come up with new ideas.
• Curious… Always wants to learn new things.
• A Decision-maker… Can make decisions and understand the consequences!
• Dedicated… Finishes what she starts.
• Determined… Even when things are hard, she doesn't give up!
• A Dreamer… Has lots of goals for the future.
• Encouraging… Motivates people to be the best they can be.
• Fair… Treats everyone the same way.
• Flexible… Doesn't mind change and can bounce back if something bad happens!
• Friendly… Always smiling.
• Funny… Likes to make others laugh.
• Generous… Is a giving person.
• A Good communicator… Speaks clearly so people listen.
• A Good listener… Listen to other people's ideas and feelings without interrupting.
• Hard-working… Doesn't mind working hard for what she wants.
• Honest… Tells the truth and does the right thing.
• Independent… Can do things on her own.
• Kind… Looks for ways to be a good citizen.
• Loyal… People can depend on her. She's a good friend.
• Motivated… Excited to get things done!
• Optimistic… Hopeful about the future.
• Organized… Plans ahead and figure out the best way to accomplish things.
• Patient… Doesn't mind waiting (she'll be queen eventually!)
• Positive… Has a positive attitude.
• Proud… Takes pride in and feels good about what she does.
• A Problem-solver… Can come up with solutions to problems.
• Respectful… Is polite and plays by the rules.
• Responsible… Takes responsibility for her actions and can admit when she's wrong.
• A Team-player… Works well in groups and knows when to ask others for help.
• Thoughtful… Is always looking for ways she can help others.
• Trustworthy… People can trust her.
• Understanding… Accepts others for who they are.
As you can see, Elena of Avalor is not just a powerful role model for Latinas, but all girls as she embodies all of the true qualities of a real leader! I commend Disney for producing shows like this that share stories our kids can relate to and learn from. Be sure to tune into the Disney Channel each week to follow Princess Elena's latest royal adventures. Elena of Avalor airs on the Disney Channel on Fridays at 7:30pm ET/6:30 pm CT and 7:30 pm PT!
Watch the trailer here:
YOUR TURN: Have you watched Elena of Avalor?

Do you think you're born a leader, or is it something you learn and can teach your kids?