I participated in an Influencer Program on behalf of Mom Central Consulting for Eppa SupraFruta Sangria. I received product samples to facilitate to my review and a promotional item to thank me for participating.
Sangria! I love it. Named after the Spanish word 'sangre' which means blood – which makes sense since it's typically made with red wine – it's a beverage that originated in Spain and Portugal. I order it at restaurants all the time. By the glass. By the pitcher. It's delicious! But it's a little bit of a hassle to prepare at home, having to chop up all the fruit and let it sit for a few hours (or a day!) in the fridge to let the flavors blend together. I don't usually plan anything that far in advance, so I don't make it at home very often.
Not any more! Making this tasty beverage at home can often be messy, time consuming and involve lots of ingredients, but now you can skip the complicated recipe and enjoy sangria that tastes just like homemade with Eppa SupraFruta Sangria, the only organic premium bottled sangria made with real juice. Simply unscrew the cap, pour over ice and enjoy!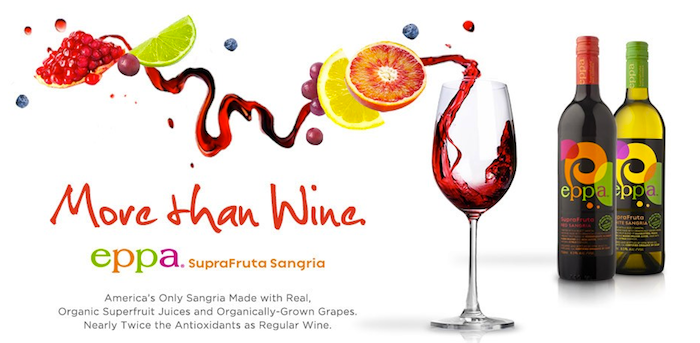 While most spirits primarily use flavoring, Eppa is crafted in Mendocino, California with a blend of real, organic juices – which are rich in antioxidants – and premium varietal wine made from organically-grown grapes. Eppa Red has a blend of pomegranate, blueberry, blood orange, and açai juices, giving it almost twice the antioxidants as a glass of red wine, and Eppa White has mangosteen, peach, mango, and Mediterranean blood orange juices, giving it nearly three times the antioxidants as a glass of white wine.
How do you serve it? Eppa SupraFruta Sangria is delicious chilled, poured over ice and/or garnished with a little fruit. Berries on a cocktail pick would be a nice touch! Adding frozen fruit instead of ice keeps the drink cold without watering it down. I like carbonation, so I also add a splash of seltzer to mine.
How does it compare with handcrafted sangria? I'd say the flavors are very similar. Give me a pitcher of Eppa and a pitcher of sangria from my favorite Spanish tapas restaurant, and I'm not sure I could tell the difference! I may be a traditionalist, but I prefer the red, with its sweet citrus scents of orange, lemon and lime combined with the dark berry flavor of the rich red wine. It's really smooth. The white has peach and mango overtones, with the clean, fresh flavors of lemon, lime, and pineapple. Eppa Sangria is real wine that's refreshing and has just the right amount of balance between sweet and tart. It has a screw cap so you can close it up and put the bottle back in the fridge if you didn't finish it. Because it's made with real fruit juice it does have to be refrigerated after opening.
What about the alcohol content, you ask? 8.5% in Eppa Red & Eppa White.
BUY IT!
Available at grocery stores and wine retailers nationwide, Eppa SupraFruta Sangria is similarly priced as other red blends ($10+). For more information, please visit the Eppa SupraFruta Sangria homepage. Remember to drink responsibly!