Farm Rich is the maker of the #1 selling cheese stick in America, but that's not all they're good at – they also make delicious quesadillas, meatballs, stuffed mushrooms, panini, and more. I've tried several of the different Farm Rich appetizers, and am very happy with what I've tasted so far!
All Farm Rich products are free of trans fats and are made with premium ingredients. Many are fortified with vitamins and minerals, and are a good source of calcium and protein, so they can be a suitable snack option for kids. What I liked most about them is how convenient they are to prepare. While most are microwaveable, I prefer how they come out when heated in a conventional oven. If you're in a hurry and need a quick snack, however, nothing beats something that you can microwave and eat in less than a minute! The resealable packaging works quite well, making it easy to just take out what you need and close the bag up securely.
The first appetizer I tried is the one that I happened to like the most! The mini stuffed paninis. Imagine grilled flatbread filled with mozzarella, romano & parmesan, white meat chicken, crispy bacon, and a yummy artichoke pesto sauce. Is your mouth watering yet? It took just under 20 minutes in the oven for them to be ready. The bread was nicely toasted, the chicken and bacon were plentiful, and the cheese just oozed out with every bite! We ate the first batch right up, so I stuck a few more in the microwave and they were good to go in about a minute or so. I could definitely tell the difference – the microwaved batch was a little soggy and not quite evenly hot. Still good, though.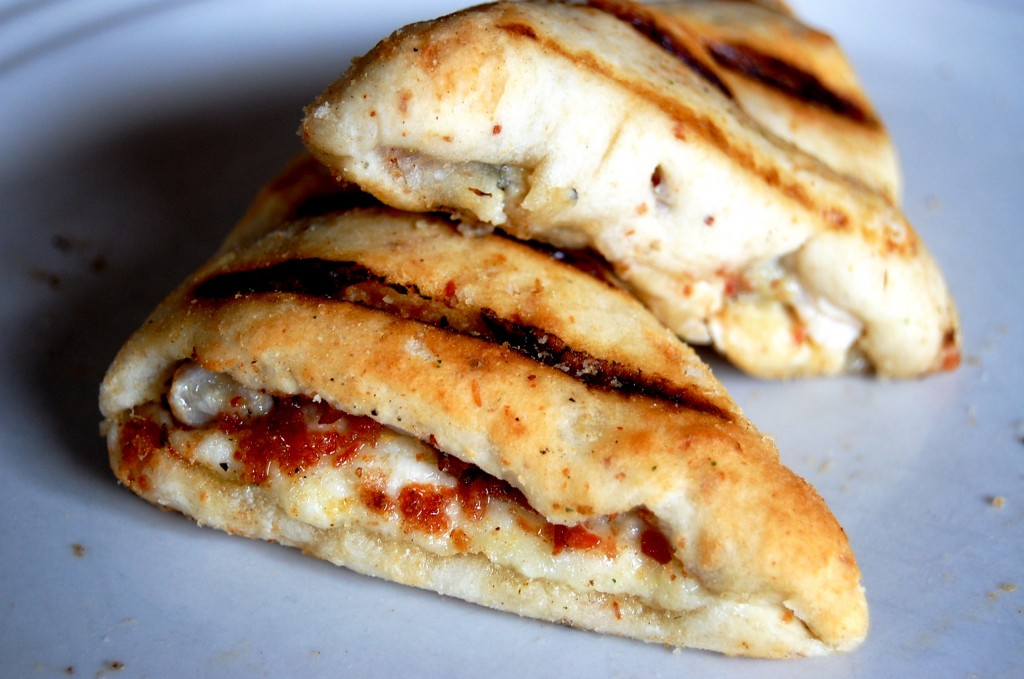 The mozzarella bites reminded me a lot of the crust of Pizza Hut's stuffed crust pizza – pizzeria-style dough formed around a big chunk of 100% mozzarella cheese. I found them to be good by themselves, but even tastier dipped in a little marinara sauce. Since the pieces are bite-size, it only took 6 minutes in the oven for them to be hot. I like them a little crispy on the outside, so I wouldn't recommend these be put in the microwave. The ones I heated in the microwave almost had the texture of raw dough, which I wasn't a fan of. With more than 50 mozzarella bites per bag, it really felt like a good value for the price.
The pizza slices weren't bad, although I'm not sure if I'd buy them again for myself. But my kids, on the other hand, LOVED them. My four-year old described it as "inside-out pizza" and couldn't get enough! We tried the original cheese & pepperoni, and there's also a new four cheese version. I liked that they aren't messy at all. We've bought other pizza-style appetizers in the past (Totino's Pizza Rolls, for example) and the filling always seems to shoot out and all over my kid's clothes and hands. The pizza slices were easy for even my toddler to hold. I'll definitely try to keep these in stock for those times when I don't feel like making lunch! They were ready in less than 15 minutes in the oven, and a minute or so in the microwave. My girls liked them either way, though the slices were a little "floppier" out of the microwave and harder to hold.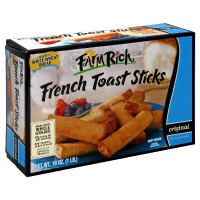 I've had french toast sticks before, so I kind of new what to expect, and Farm Rich doesn't disappoint. Their french toast sticks are crispy on the outside and soft on the inside, and with a few different varieties, not boring at all! It's a convenient breakfast when we're in a hurry, or a great snack anytime. I give Maya a small bowl of warm maple syrup to dip them in, and she is in heaven.
In addition to what I've mentioned above, Farm Rich also makes stuffed mushrooms, meatballs, mini quesadillas, stuffed jalapeno peppers, pizzeria bites, and is always adding something new to their product line-up. Keeping a few of these products on hand in the freezer makes last-minute entertaining easy! They'd also be great for parties where you don't want to be a slave to the kitchen. The Farm Rich website has some great ideas and recipes for other appetizers and snacks you can make with their products. For instance, I would have never thought to make french toast s'mores or use the sticks to dip in a chocolate fondue. Yum!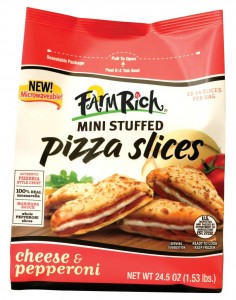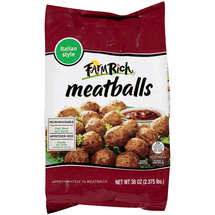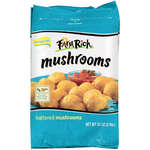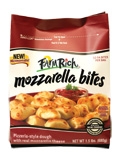 Look for Farm Rich products in the freezer aisles of your grocery store – the french toast sticks in the frozen breakfast section and all the rest can be found in the frozen snack and appetizer sections. I know that Family Dollar, SuperTarget, Wal-Mart, Sam's Club, and several grocery stores carry Farm Rich products. To find a store near you, just select a product from the product locator, enter your zip code, and you'll see the 10 stores closest to you that carry it. You can save up to $1.75 by downloading and printing coupons from the website, and also get more information (recipes, serving tips, contest info, etc.) by joining their email list.
I have two coupons for free Farm Rich products to give to two of my readers! Visit www.farmrichfun.com and leave a comment on this post telling me which product you'd get if you win a free coupon.
Please leave a separate comment for each entry and leave a valid email address or blog URL in your comment. US entries only. This contest ends at 11:59 pm EST on March 20th, 2009. Winners will be chosen at random, and have 48 hours to claim their prize.